Looking for a Blackstone griddle with side burner that's also compact? Then you're in look because the Blackstone Adventure Ready 17″ tabletop griddle with range top could be exactly what you're looking for. Unlike the larger Blackstone Range Top Combo 28″ with Bonus Fryer, this smaller version is perfect to take with you camping, hunting, fishing or tailgating.
This handy combination cooking device is perfect for someone who wants a compact gas griddle with the convenience of a side burner built in. Having a side burner in addition to a griddle allows you to cook many more dishes and types of food than a standalone griddle. 
Even better, you can operate this tabletop griddle with side burner nearly anywhere since both the griddle and side burner are fueled by propane. Let's take a closer look at this Blackstone tabletop griddle.


Design & Construction
The Blackstone tabletop griddle with range top features a sleek, compact design that's ideal for small cooking spaces and outdoor areas. It has a 17″ griddle cooktop providing 267 square inches of cooking space. Additionally, the griddle comes with a built-in hood with heat resistant handle to trap in heat and reduce grease splatter.
The side burner of this Blackstone tabletop griddle features a thick cast iron grate so it can accommodate any type of cookware and handle high temperatures. The griddle and range top both ignite using Blackstone's Piezo ignition system allowing you to fire up the griddle or side burner quickly and easily.
This griddle & range top combo comes equipped with an adapter to operate with a 1 pound propane tank which makes it ideal for on-the-go cooking. In addition, Blackstone also includes a bulk propane adapter allowing you to use larger tanks like the typical 20 pound tank. This gives you the flexibility of using small mobile propane tanks or a larger propane tank when at home.
Both sides of this appliance feature thick handles with textured, non-slip bright orange plastic coverings. That means this Blackstone portable griddle much easier to transport, and the touch of orange is a nice contrast on the black frame.
This model Blackstone uses the same rear grease management system found on newer models. Excess grease and food debris can be easily scraped into a rear grease trap and disposed of after cooking.
The addition of the side burner does make this model larger and heavier than the regular Blackstone Adventure Ready 17″ Griddle so if the side burner doesn't interest you, the standard model may be sufficient. Overall, this griddle & side burner combo is still nice and compact while still providing ample cooking space and the added versatility of a range top.
Cooking Performance
One of the most crucial things to consider when choosing a portable griddle is its versatility and cooking ability. This model Blackstone griddle comes with a side burner that provides you with many more options when cooking. The side burner allows you to cook foods you couldn't usually prepare on a griddle like pasta, soup, or sauces.
The side burner is great for making side dishes to accompany an entree cooked on the griddle or anything else that would require a stovetop. Another versatile Blackstone tabletop griddle to consider is an air fryer and griddle combo instead of a range top and griddle combo.
 And of course, you still have a 17″ griddle to cook up the familiar favorites like smash burgers, cheesesteaks & breakfast favorites like bacon, eggs & French toast. Like the basic Adventure Ready 17″ model, the griddle does an excellent job cooking food. The attached hood is very helpful for certain foods such as chicken breasts and thick steaks because it traps in heat, helping cook the food internally.
The most significant drawbacks are the size of the griddle cooktop and that it only has one cooking zone. But to sell this model as a tabletop griddle and keep it compact enough, it would be difficult to make the griddle cooktop bigger and add additional cooking zones. 
Overall, the quality of food you can make is excellent. Plus, having a built-in griddle hood and range top are fantastic features that make this model stand out. 
Cleaning & Maintenance
Cleaning and maintaining the Blackstone Adventure Ready Griddle and its range top are pretty straightforward. You'll perform the initial seasoning of the griddle before cooking on it the first time. 
The seasoning process helps protect the cooktop and forms a non-stick cooking surface that gets better as you continue to cook on it. The built-in grease management system at the rear of the cooktop makes scraping excess food scraps and oil off of the cooktop using your scraper quick and easy.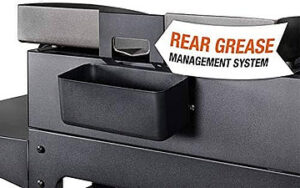 Cleaning the griddle consists of scraping the surface clear of excess food and oil, using a bit of room temperature water as needed to help loosen any stuck-on food. You then use paper towels to absorb any extra residue using tongs or heat-resistant gloves.
Once the cooktop has been sufficiently cleaned, you'll apply a thin layer of cooking to the cooktop using a paper towel to protect it until the next cooking session. 
Regarding the range top, there's not much needed to keep it cleaned and maintained. Just like your stovetop at home, you may need to wipe it down periodically if you spill something, but that's about it. 
Portability
If you're looking for a portable griddle, then the Blackstone Adventure Ready 17″ with side burner could be precisely what you're looking for. Though it's heftier than a handful of smaller tabletop gas griddles, it's still light enough for a single person to carry.
Because of its size and the griddle and the range top are powered by propane, this Blackstone is perfect for camping trips, tailgates, fishing trips, and more. Another key feature is it can accommodate 1-pound propane tanks, which is helpful when taking it on the go.
The 1-pound propane tanks are much smaller and easier to take with you. When you're using the griddle at home or by your RV, you have the option to use a larger bulk propane tank instead. Bulk propane tanks typically hold 20-30 pounds of propane but are much bulkier.
Overall, this Blackstone griddle has above-average portability and is a great option if you want the additional versatility provided by the side burner. If maximum portability is the most important feature for you, the regular Blackstone Adventure Ready 17″ is your best bet.


Pros & Cons
One of the best ways to determine whether the Blackstone Adventure Ready 17″ tabletop griddle with range top might be right for you is to analyze its positive and negative qualities. For that reason, we've broken down the pros and cons of this model.
Pros:
Combination griddle and range top
It has a built-in griddle hood
High portability
It has two handles on each side to make it easier to transport
This griddle and range top don't require electricity
Rear grease management system 
Cons:
Smaller cooktop than some other tabletop griddles available
Griddle only has one cooking zone
It's too big and heavy for backpacking or transporting long distances
Final Thoughts on the 

Blackstone Griddle with Side Burner 

The Blackstone Adventure Ready 17″ tabletop griddle with range top is excellent for a beginner griddle cook or experienced Griddler looking for a compact and versatile model. It is highly portable but also perfect for home use too. 

With both a griddle and a side burner, you can cook almost anything with this model. You can enjoy everything from grilled cheese, fried eggs, and pancakes to savory soups and mac & cheese.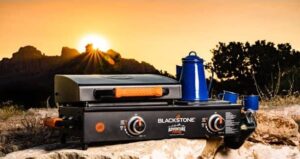 That said, this griddle-and-range combo might not be suitable for everyone as it's not ideal for backpackers or hikers traveling long distances. But if you're able to drive your car or truck to the campsite or plan on using the griddle at home or outside your RV, it's an excellent griddle option.