Bacon is by far one of the most popular items people like to cook on their flat top grill/griddle. Whether you like your bacon chewy or crisp, thick-cut or thin, we'll show you how to cook bacon on a Blackstone griddle to perfection.
This is an obvious breakfast staple, but you'll find yourself making bacon more and more on your griddle to accompany other dishes like bacon smash burgers, bacon jalapeno poppers, and bacon-wrapped scallops. Let's take a look at everything you need to know about cooking bacon on a griddle.
Cooking Bacon on a Flat Top Grill
Gas griddles are perfect for cooking bacon because you can cook a lot at one time, and it's easy to remove excess grease as you cook. Besides cooking big batches, you can also get it cooked just how you like it, whether that's chewy, crispy, or right in the middle.
When cooking up a big batch of bacon on your Blackstone or another brand of flat top grill, there's some crucial steps and tips to follow, so it comes out just how you like it. Let's review everything you need to know for perfectly cooked bacon.
Tips for Making Perfect Bacon
Take your bacon out of the fridge 20-30 minutes before cooking, so it's room temperature. This will help it cook better.
Each bacon pack is unique and may cook faster or slower, so be flexible with the cooking time.
Unlike most foods cooked on a griddle, no oil is necessary to be placed on the cooktop. The bacon will provide more than enough as it cooks.
Griddle Temperature for Bacon
What's the ideal griddle temp for bacon? It's 325-350 degrees and here's why. If you cook the bacon at too high a temperature, it's more likely to cook unevenly and burn. You want it to cook at a nice even temperature that allows the bacon's fat to render slowly.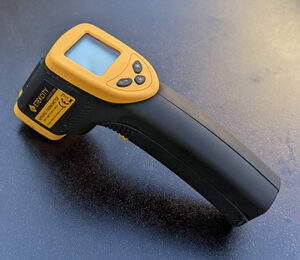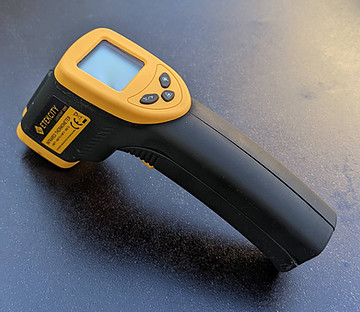 Try to avoid temps approaching 400 degrees. The best way to measure this is with an infrared thermometer. This will allow you to accurately measure the temperature of the griddle cooktop.
Using a Griddle Press
A griddle press (sometimes called a bacon press) is a tool you can use when cooking your bacon. Using one when cooking can help in a handful of ways. For starters, bacon tends to curl up off the griddle as it cooks.
Placing the press on top of the bacon will keep it flat, so the entire strip of bacon stays in contact with the cooktop and will cook evenly.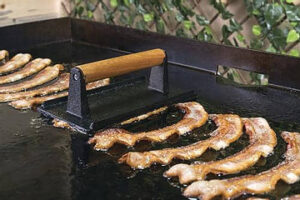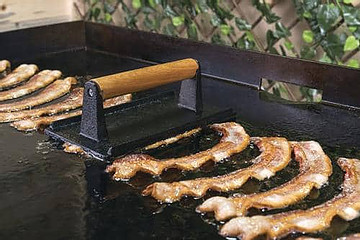 Another advantage of a bacon press is that it can help cook the bacon from the top and the bottom at the same time. You can place the press on the griddle and allow it to heat up. 
Once nice and hot, you place it on top of the bacon, so the bacon is cooked on both sides. This also cooks the bacon more quickly, so it shortens the time needed to make it.
Using a griddle press is definitely not a requirement but can help in the process, so choosing whether to use one or not is up to you.
How to Cook Bacon on a Blackstone Griddle
We've covered the things you'll need to be aware of when cooking bacon on your griddle, but now we'll walk you through the cooking process including the griddle temp for bacon and how long to cook bacon on griddle. 
What You'll Need:
Bacon
Tongs
Paper towels
Plate
Bacon press (optional)
Step 1
Take your bacon out of the fridge 20-30 minutes before cooking, so it comes warm up to room temperature. This helps the bacon cook better. Fire up your griddle and set it to medium heat. If you have an infrared thermometer, aim for 325-350 degrees.
If using a bacon press, place this on the cooktop now so it can heat up. Once the griddle has reached the appropriate temperature, begin to place the bacon strips on the cooktop. Make sure the strips are not touching and have some space between them.
Step 2
Allow the bacon to begin cooking. It will cook for approximately 5-8 minutes on the first side, depending on the bacon cut's thickness. Grease will begin to accumulate, so use a spatula or scraper to push any excess into the grease trap.
Once the bacon has cooked for between 5-8 minutes, use your tongs to carefully flip each piece and allow it to continue cooking for another 5-8 minutes.
If using a bacon press, place it on top of the bacon right after placing it on the griddle. The bacon should cook in approximately 4-6 minutes, depending on the thickness of the bacon. There's no need to flip the bacon if using a press.
Step 3
Once the bacon has reached your desired level of crispiness, carefully remove it from the griddle using a clean pair of tongs and place it on a plate with paper towels. Once all the bacon is removed, place additional paper towels on top of the bacon to absorb the extra bacon grease.
How to Know When it's Done
Even if you like your bacon very chewy, it needs to be cooked to at least 160 degrees for food safety purposes. It may be tough to use a food thermometer because it's thin, so you'll probably be eyeballing it.
When cooked sufficiently, the bacon's meat should no longer be pink and should be a reddish color. The fat should not be bright white anymore but a translucent off-white color.
If you like your bacon crispy, you'll want to cook it even longer, and the color of the meat will be an even darker red, and the fat will be light brown.
Extra Griddle Bacon Tips
Bacon can be reheated easily by popping it back on the griddle. This will help maintain the taste and texture better compared to other methods like a microwave.
Used bacon grease can be saved for cooking other dishes and adding flavor.
The temp to cook bacon on griddle should be no higher than 350 degrees. 325 degrees is the best temp to cook bacon on griddle so the bacon can render slowly without burning.
Final Thoughts
Griddle-cooked bacon is a magical thing and now you know how to cook bacon on a griddle. Being able to cook up massive batches on your flat top grill is great. 
Not only can you cook lots of bacon at the same time, but you can also cook other breakfast foods like eggs or pancakes while cooking the bacon too.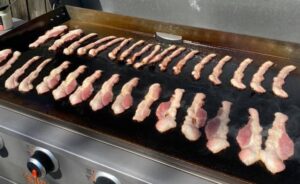 You should now know everything you need to know about cooking bacon on a griddle. Bacon and eggs are great, but bacon is also great for other griddle-cooked foods like sandwiches, smash burgers, and more. 
If you're looking for more tasty breakfast items to cook up, check out Griddle Sizzle's articles on cooking pancakes on a griddle, cooking French toast on a griddle and cooking eggs on a griddle.