If you frequent the great outdoors during the warm months, or if you're a big fan of tailgating for your favorite team's games, you're probably looking for a way to bring the comforts of home cooking with you on your adventures. That's where Blackstone comes in. Their Adventure Ready line is chock full of easy creature comfort products for the adventurers among us.
The latest addition to their lineup is the Blackstone Adventure Ready 17 Griddle with Electric Air Fryer. It's a travel-oriented version of their previous 28-inch air fryer griddle combo & 36-inch air fryer griddle combo and comes in at around half the price. 
This is a fantastic option for those looking to take it on the road though it can work just as well at home on your patio. But is it worth it? Let's take a look at the details of this Walmart exclusive griddle and find out.

Design and Construction
The Blackstone Adventure Ready 17 Griddle with Electric Air Fryer is made of thick, sturdy stainless steel. It has the classic profile hood over the cooktop and one long, pull-out air fryer drawer on the right-hand side, but this is a slightly different setup to their previous combo, which had drawers beneath the cooktop. The cooktop is 275 square inches with an H burner underneath a rolled steel griddle top.
The griddle portion of the 17-inch combo runs off of standard propane. They recommend a one-pound tank, which is relatively small. The air fryer runs on electricity, with plug storage on the back of the machine. 
There's no information readily available for the amount of electricity it takes up, but it is built to run on a standard camping generator. The air fryer also has a pretty large basket or at least a very long one. It could easily fit a family's worth of food in the air fryer basket alone.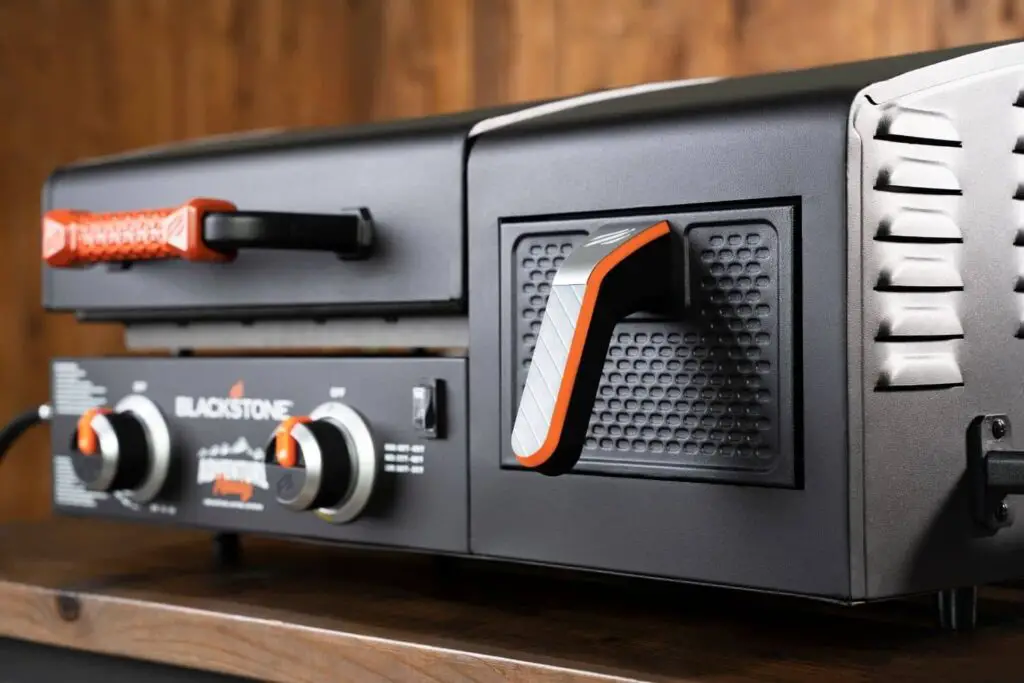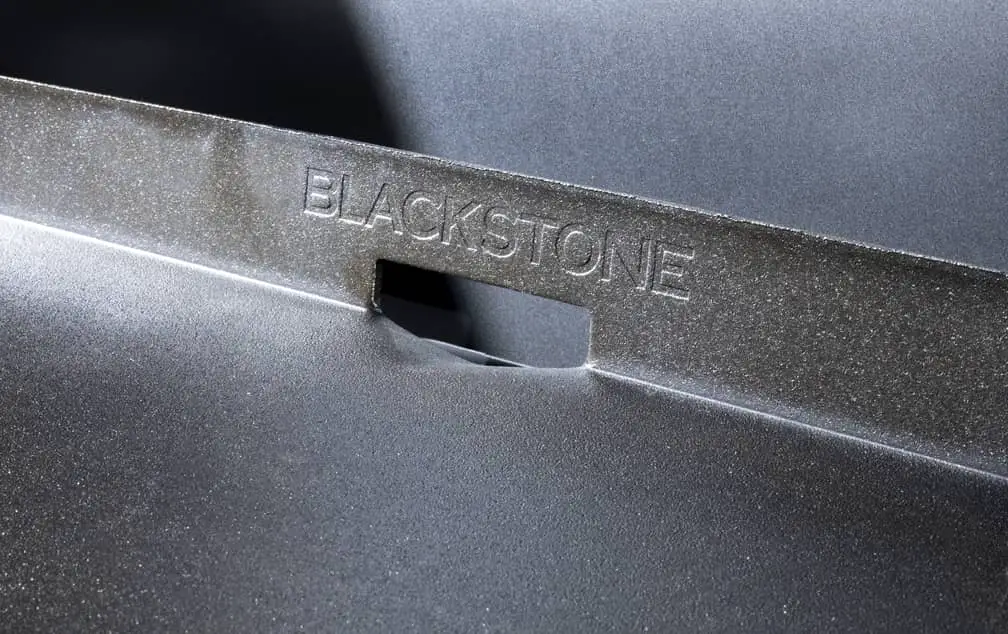 New to the 2021 model, the Blackstone Adventure Ready Air Fryer combination has thick, orange, heat-resistant grips on both sides and the front of the griddle hood. These handles allow for easy movement and handling without grabbing the main unit when running or cooling down. This reduces the risk of burns while moving the machine.
This model is available through Walmart for $247, with the option to add a protection plan for $34 (3 years) or $45 (4 years). This is a pretty reasonable price point when you consider that the average non-portable home air fryer can come in between $100 and $200 on its own. It seems to be one of the only reliable combo cooktops on the market.
The Blackstone Adventure Ready 17 inch Griddle with Electric Air Fryer can't be picked up in stores, but they do offer free 2-day delivery, as well as relatively simple returns. It does not come preassembled.
Blackstone Adventure Ready 17 Cooking Performance
The air fryer basket is long and relatively wide, making it easy to cook lots of food in one go. Its long, low basket means that everything cooks evenly. The 17-inch griddle cooktop has a single cooking zone and disperses heat over the entire surface, meaning that all of your food cooks evenly throughout.
You also have great control over the intensity of cooking heat for both the griddle and the air fryer. The air fryer has three settings (low, medium, and high) with corresponding Fahrenheit temperatures listed beside the control knob for easy temperature control. It's a 6.4-quart drawer that they advertise is perfect for roasting, baking, and frying.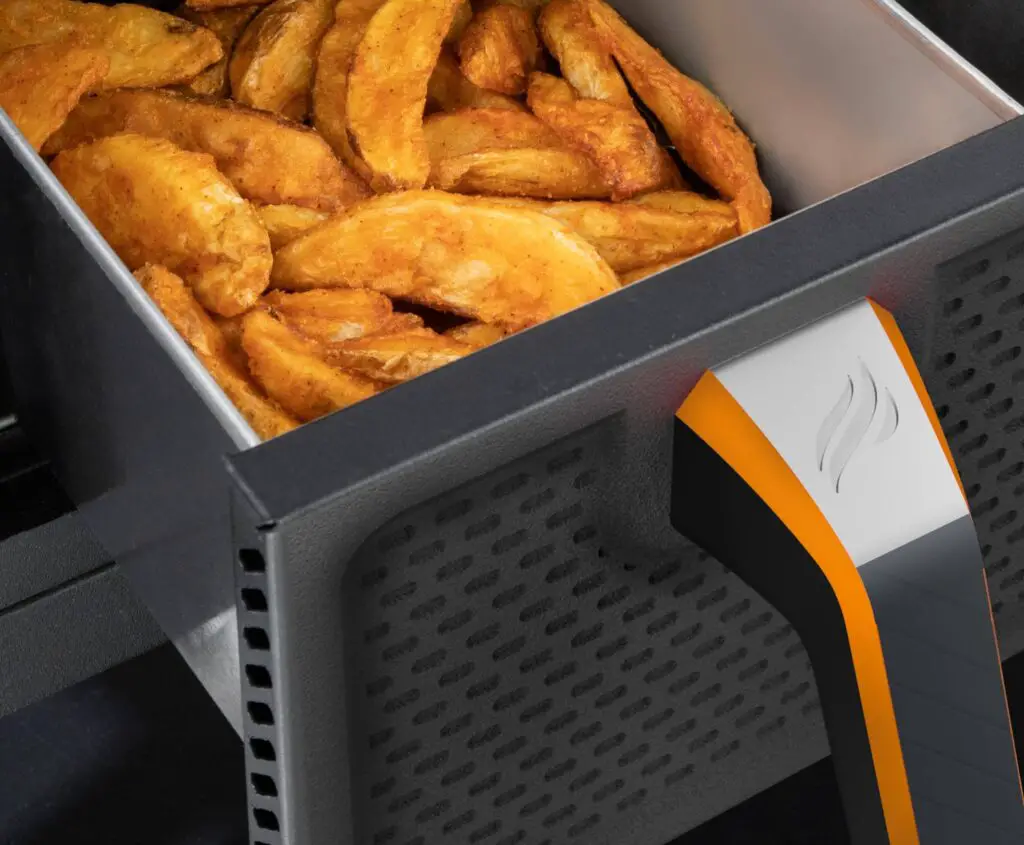 With just the right amount of space and control, this model is perfect for any meal of the day. It can cook multiple parts of the meal at once, meaning your food is on the table faster and fresher.
The Blackstone Adventure Ready 17 inch Griddle with Electric Air Fryer has enough space and features to almost make you forget that you aren't using the rest of your kitchen.
Blackstone Adventure Ready 17 

Cleaning and Maintenance

The Blackstone Adventure Ready 17 inch Griddle is built with a rear grease management system that collects grease and waste in a replaceable container at the back of the cooktop. This makes for easy cleaning and grease disposal.

That being said, early adopters of this model have found some issues with the grease management system. There isn't enough of an extension from the drain over the collection cup, meaning that there have been some problems with grease building up behind the machine. 

This is solved relatively easily with a piece of tin foil to create a ramp but is still worth noting for new buyers.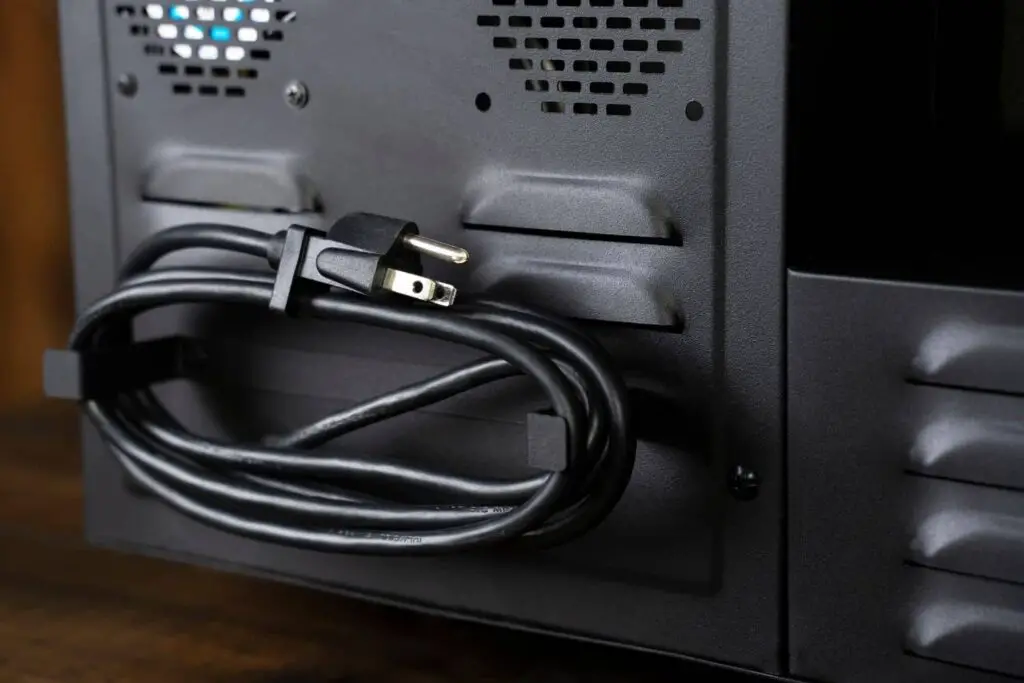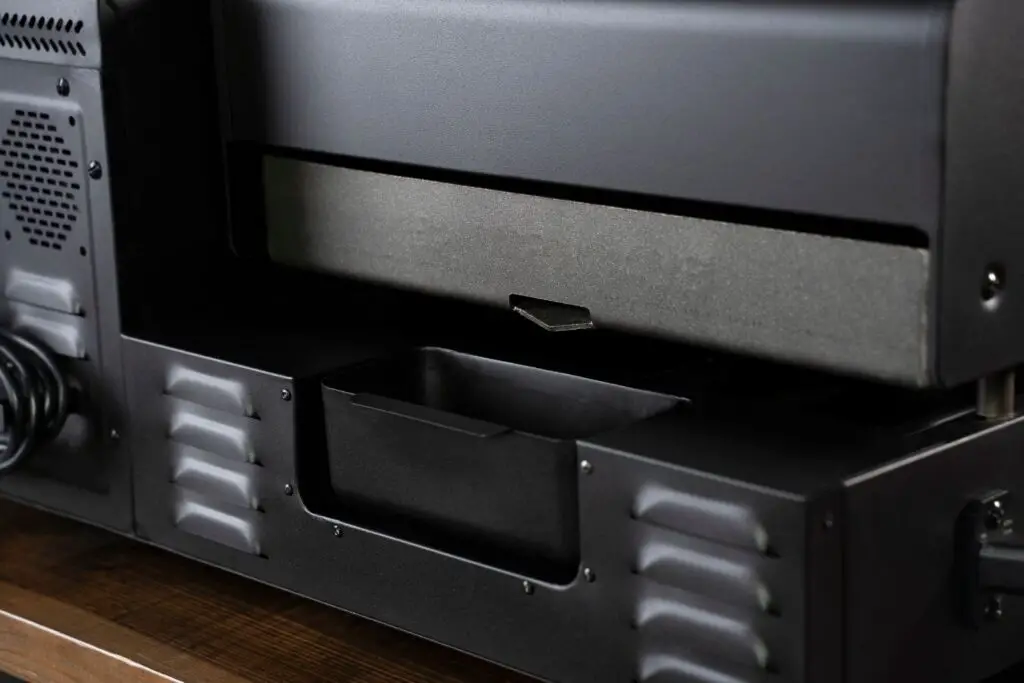 Blackstone griddles need to be seasoned before initial use, but it's relatively easy. We have a full article on how to season your flat top grill, but essentially it consists of applying thin layers of cooking oil to the cooktop and allowing them to burn off. 
This creates the protective (and also non-stick) coating on the griddle cooktop. Blackstone sells their own brand of griddle seasoning oil; however,  the initial seasoning can be accomplished with many other cooking oils.
The griddle cooktop will need to be cleaned after each use, but that only takes a few minutes. This consists of using a scraper to remove excess oil and food from the cooktop. Wiping down the surface using paper towels and applying a thin layer of cooking oil at the end. Here's a breakdown of how to clean your flat top grill.
The system does require at least a one-pound propane tank, which is slightly larger than your standard travel tank. It also requires an electrical hookup to run the air fryer, meaning it isn't ideal for off-the-grid camping unless you have a generator with you.
Blackstone Adventure Ready 17 

Portability

This version of the Adventure Ready griddle is significantly smaller and more compact than its predecessors, the 28-inch air fryer griddle combo & 36-inch air fryer griddle combo. It's designed as a tabletop cooking surface rather than stand-alone like the 28-inch, at the cost of only having one drawer for frying.

The whole thing is 36 inches long by 24 inches wide by 13 inches tall, meaning it can fit most countertops or truck tailgates. It's closer in size to the previous 17-inch model with the regular fryer combination.

This switch to a tabletop design does make it perfect for camping and tailgating. It is advertised as a portable alternative to the 28-inch model. It has carrying handles and can run off a small propane tank and generator combination. The griddle & air fryer combo can be brought along to sporting events and campgrounds with very little fuss.

While it's significantly more portable, it is still slightly heavy at 65 pounds. This means it would be difficult to move longer distances, but it is stable and secure when put in place. You aren't going to be in danger of moving or bumping the machine, meaning there's much less of an opportunity for injuries than with some other models.

Pros and Cons
We've assembled a list of the most important specifications and features of the Blackstone Adventure Ready 17 inch Griddle with Electric Air Fryer for you to consider. We've also included a list of easy-reference pros and cons to help you decide whether this model is right for your next adventure.
Specs and Features:
17-inch griddle cooktop
12,500 BTU output cooking zone with a single control
Stainless steel H burner
6.4-quart electric air fryer drawer
Orange Adventure Ready carry grips
Rear grease management system
Exclusive control knobs
Piezo ignition
Pros:
Reasonably and competitively priced
Aesthetically simple and elegant
Easy to season and maintain
Long air fryer drawer
Compact and portable
Cons:
Not available for in-store pickup
Requires assembly upon arrival
Heavy and somewhat awkward to maneuver over longer distances
Air fryer runs off of electricity
Problems with the grease drainage system
Final Thoughts
Though you won't be able to do any hardcore camping with the device, The Blackstone Adventure Ready 17 inch Griddle with Electric Air Fryer is an excellent addition to the arsenal of any tailgate enthusiast. It can make game day meals more manageable than ever. It's also great for campground fans who want to prepare everything from pancakes, eggs & bacon to delicious smash burgers and fries.
If you are looking for a way to cook food evenly, or if you are looking to manage multiple methods at once, this might be the model for you. The versatility of this griddle can help in preparing a multitude of foods for your friends and family.
Even with some minor issues with weight and grease management, it's still a significant step up from the last model. It utilizes the newest Blackstone tech to make portable cooking more accessible. 
With a price point that's hard to beat, it's safe to say that the Blackstone Adventure Ready 17 inch Griddle with Electric Air Fryer is a good investment for those who are looking to cook more and better on the go.