Traeger is well known for their wood pellet grills & smokers, but they've recently gotten into the increasingly popular world of flat top grills with their all-new Traeger Flatrock Griddle. If you're looking for a grill that can do more than cook burgers, steaks, and brats then a flat top grill could be your answer. 
While the grated cooking surface of traditional grills limits you to cooking only foods that won't fall through the grate, a flat-top or griddle surface allows you to cook just about anything. There is no worry of smaller items falling through the grill and burning or flames flaring up and charring your food.
You can still cook steaks and burgers (and most importantly, smash burgers) but also smaller foods like chopped or sliced vegetables. You can even cook liquid foods like eggs and pancake batter. Additionally, the flat surface can act like a flat-top stove and accommodate a saucepan if you have a sauce you want to warm up with your food.
A flat-top griddle can become just as versatile as your indoor stovetop. You can cook bacon, eggs, pancakes, and hashbrowns for breakfast, fajitas for lunch, and shrimp and veggies for supper. Could Traeger's new gas-powered griddle be right for you? Here's what you need to know about this versatile cooking appliance.

Design & Construction
The Traeger Flatrock Griddle is a versatile workhorse in the outdoor cooking world. The entire unit features solid construction and metal parts. It is a sturdy grill built to last. The cooktop is made of cast iron, and is 33 inches wide and 18 inches deep, providing 594 square inches of cooking space and excellent temperature control.
Additionally, the cooktop has built-in handles at each end, so you can easily remove it if you ever need access to the burners or inside the grill for any reason.
While most of Traeger's other grills burn wood pellets, the Flatrock is fueled by propane. The benefits of a gas grill are a short warm-up time and the ability to cook at higher temperatures. The Flatrock has a maximum temperature of 600 degrees Fahrenheit.
You can customize your Flatrock with pop-and-lock (P.A.L.) accessories. Choose from storage bins, tool hooks, paper towel roll racks, and more. Whatever Traeger griddle accessory you use most can always be within easy reach when you need it.
The shelves on the sides of the grill feature rails around their edges, and these rails allow you to attach your chosen accessories in whatever location is most convenient for you.
The lid is low profile, which allows you to store the grill with less vertical area. It opens smoothly and easily, but it should not be closed while cooking, limiting the ability to cook with 360-degree heat.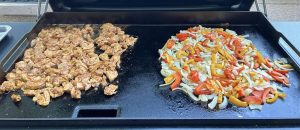 Sometimes, small features can have a significant impact, and if you've ever run out of fuel while cooking, you know how big a difference something as small as a fuel gauge can make. The Flatrock's built-in fuel gauge means you always know exactly how much propane is in your tank, so you can plan accordingly and don't have an unpleasant surprise part-way through cooking.
The front of the grill also has a light for each burner, indicating when they are on. This safety feature lets you know for sure when the grill is off and able to be stored away safely.
The Flatrock does not have a lower shelf between the legs as many other flat top grills do. Instead, it has the propane tank located underneath the grill, which allows the side shelves to fold completely flat along the sides of the grill without any interference from the propane tank.
The large shelves on each side of the griddle are heavy-duty construction, lock securely in place, and fold down flat, which allows for easier moving and storage of the grill. They offer plenty of areas to work on, and even the edge closest to the heat source stays fairly cool to the touch.
Since the igniter, fuel gauge, and burner indicator lights require electricity, the grill needs to be plugged into an outlet for all the features to work. However, it can be unplugged and used without electricity.
To use the griddle unplugged, you would need to light it manually, which would require lifting the cast iron cooktop out of the way. While it's not the most convenient way to use the Flatrock, it can be done.
Cooking Performance
One of the best features of the Traeger flat-top grill is its three cooking zones. These zones allow you to cook foods at different temperatures on a single surface. You can also turn down one section to keep food warm if some finishes sooner than the rest. Or if you are only cooking for one or two, you can use just one section of the grill.
With TruZone total temperature control and heat shield insulation, the zones remain truly separate temperatures.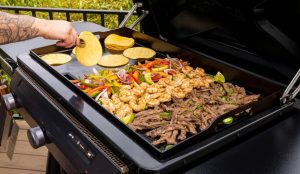 While most grills and griddles have a straight burner design, the Traeger griddle uses a triple U-shaped burner design, providing two times the burner-to-cooktop coverage of competing griddles. This arrangement also provides consistent heat across the entire surface, eliminating hot and cold spots. Your food cooks evenly, and you can use every inch of your cooktop.
Another feature of the Traeger Flatrock is the FlameLock construction, which protects the flame from the wind and keeps it in the grill where it belongs. This is possible because the griddle surface sits down inside the grill just a little, eliminating the gap that can allow wind inside. With other brands like Blackstone, you may need to purchase wind guards to address this issue.
Keeping the flame in place provides more consistent cooking and reduces propane use by up to 28 percent compared to other griddles. There is also less risk of a large gust of wind blowing out a flame while you're cooking. However, if that were to happen, the burners are connected in such a way that if one goes out, the others will relight it.
Cleaning & Maintenance
Before cooking on your cast iron cooktop, it needs to be seasoned. This process requires adding several coats of a cast iron conditioner or high-smoke-point oil and cooking the oil off in between. Once seasoned, the griddle is ready to cook on.
Caring for your Traeger grill is simple, and with proper cleaning and maintenance, it will continue to work well for many years.
Make sure to clean the grill surface in between uses. This step is best done after cooking since any food residue will come off more easily when not given the opportunity to dry on. While the grill is still warm, use a scraper to push any bits of food into the grease chute, which is conveniently located along the front of the griddle.
Use Traeger® Flat Top Grill Seasoning & Cast Iron Conditioner or an oil with a high smoke point, like grapeseed or canola oil, to season the grill. Use a paper towel held by tongs to spread the oil over the entire surface.
The rest of the grill can be wiped down with an all-natural cleaner. Empty the grease keg as needed, and ensure you use a grill cover once the grill has cooled off to protect it from the elements and scratches.
For long-term storage, keep the grill in a location that doesn't get below -20 degrees Fahrenheit, and clean the burners before use, if needed.
Portability
Weighing in at 189 pounds, the Traeger Flatrock is not the most portable flat top grill. It does have caster wheels on its legs, allowing it to roll from place to place on a hard surface. The caster wheels also lock to hold the grill in place once you have it where you want it.
Additionally, the shelves on each side of the cooking surface fold down against the legs so that they are out of the way to make handling the grill easier.
That said, the Flatrock is not a small camping griddle. It was designed to be able to cook large amounts of food well, and that benefit comes with a trade-off of portability. If you plan to keep it in the same general location, this won't be an issue for you.
If portability is an important feature for you, you'll likely want to look at some other griddles on the market. Here's our list of the best camping griddles for some options.
Blackstone vs. Traeger
One of the leading griddle maker brands is Blackstone so naturally the question is how the new Traeger griddle stacks up to the competition. Blackstone has many different models ranging in size and price so it's best to compare the Traeger griddle to the most similar Blackstone model which would be the Blackstone 28″ XL with Hood & Front Shelf.
They are both surprisingly similar when compared. They have similar size cooktops, basic features, and pricing but there are some differences between them. The Blackstone griddle cooktop is cold rolled steel while the Traeger Griddle is made of cast iron though the care needed is essentially the same. The Traeger also has some additional features which we've outlined that the Blackstone model does not have. 
Both model griddles are excellent, but I prefer the Traeger model between the two because of the U-shaped burners, recessed griddle cooktop, and built-in electronic features. 

Pros and Cons
When choosing a gas griddle, it's crucial to weigh the pros and cons along with your own needs and desires to see which grill best stacks up.
Pros:
Almost 600 square inches of cooking surface
Three temperature zones
A flat griddle surface can cook foods a grill can't
The heat source is protected from the wind
Features a fuel gauge
Pop-and-lock accessories allow you to customize your grill
Cleaning and maintaining the grill is simple
Cons:
The size and weight make it less portable than smaller griddles
You cannot cook on the griddle with the lid closed
It needs to be plugged into an electrical source for the fuel gauge and igniter to work
One of the more expensive griddles on the market
Overall Thoughts on the Traeger Flat Top Grill
When choosing a flat top grill, you'll want to compare many different aspects such as the cooktop size, fuel type, and features — and several brands — Blackstone vs. Traeger vs. Weber. Which you choose will depend on what details are most important to you.
Though they are late to the game getting into the griddles, they've been able to use that to their advantage when engineering the Flatrock griddle. They have learned from the shortcomings of previous flat top grills and upgraded the design and features of the griddle.
If you're looking for a camping griddle, this isn't a good option however if you are a fan of Traeger products and you want a reliable flat top griddle with some great features the Traeger Flatrock Flat Top Grill is definitely a worthy option.