If you are looking for a versatile flat top grill, then the Blackstone Range Top Combo – 28″ Griddle with Bonus Fryer may be exactly what you're looking for. This model not only provides you with enough cooking area to feed a large party, but it also gives you the ability to cook a wide variety of dishes not possible on a standard griddle alone.
It is hard to deny the Blackstone Range Top Combo as a quality griddle option with benefits like a 28″ griddle top and 2 side burners. There are many flat top grills on the market competing for your attention. So, what makes the Blackstone Range Top Combo stand out among the rest? Read on to find out more about this Walmart exclusive griddle.

Blackstone Range Top Combo Design and Construction
The design of the Blackstone Range Top Combo is one of its main selling points. To show you how impressive this model is, let's begin by exploring the three main ways you can cook with this range.
The most notable feature of the Blackstone Range Top Combo is the large griddle surface. The 28″ griddle cooktop is made of a high-quality carbon steel material and is large enough to cook up to 18 hamburgers at a time.
The Blackstone Range Top Combo also includes a stovetop with 2 individual burners. The stovetop expands your cooking options drastically and includes a sturdy cast iron grate. The griddle and the stovetop are not your only cooking options with the Blackstone Range Top Combo.
One of the main features of this range is the bonus fryer that comes with it. This fryer can store up to 4.3 liters of oil. It also has a cover and a stand that allows it to sit directly above the stovetop.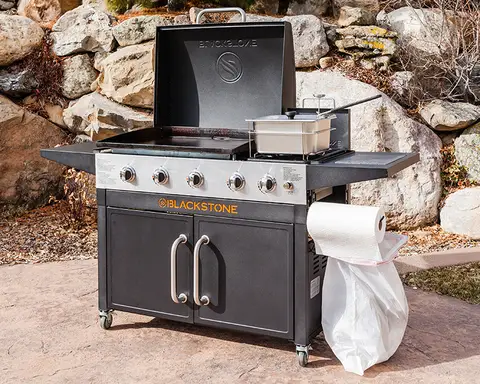 If you thought the valuable design features of this range ended there, you would be wrong. This range does not just allow you to cook. It also supports all of the essential kitchen functions you need to make a great meal.
The Blackstone Range Top Combo includes a cutting board, trash bag holder, and a paper towel holder. Along with those additions, you will find counter-height shelves that serve as a great working surface.
To make your life easier and keep your range looking clean, the Blackstone Range Top Combo has a rear grease trap management system. All grease from the griddle moves through an open on the backside to keep grease out of sight.
All of those features might lead you to believe that the Blackstone Range Top Combo is a cumbersome piece. But that is not the case. The Blackstone Range Top Combo maintains a reasonable size and weight while providing comprehensive cooking options.
You should know that a few components of the Blackstone Range Top Combo are not the most durable. The most prominent examples of this are the paper towel holder and the trash bag holder. 
But considering those are not the main features of this range, their lack of durability does not detract too much from the overall value of the Blackstone Range Top Combo,
Blackstone Range Top Combo Cooking Performance
Some people assume that a tool that can perform many functions may not perform any of them well. Although the Blackstone Range Top Combo has many different functions, you will be surprised to find that it gives a top-notch cooking experience as well.
Let's begin by discussing the output of this range. You will be pleased to find that the Blackstone Range Top Combo has a 65,000 BTUs output from its burners. That output ensures that you will have plenty of cooking power for your griddle
The best performance comes from the griddle surface. This surface is sturdy and is capable of giving the perfect sear to any piece of meat you place on it. As you use the griddle, you will have some flexibility as well.
Unlike the standard 28″ Blackstone model, the Blackstone Range Top Combo has 3 separate burners under the griddle instead of just 2. The 3 burners give you the ability to heat specific portions of the griddle cooktop to different temperatures rather than the entire surface at one heat level. This is very helpful when cooking multiple items that require different cooking temperatures.
The griddle may be the star of the show. But the side burners and fryer perform well too. These two features come with quality construction and expand your cooking repertoire to a significant degree. Now any foods you would cook in your deep fryer or on the stove indoors can be done outside on your Blackstone simultaneously.
Overall, the most remarkable aspect of cooking performance with this model is the volume it can accommodate. The manufacturer claims that the griddle can cook 24 eggs at once and meals for 2 to 20 people. While the Blackstone Range Top Combo can cook great quantities of food, it does not sacrifice the quality, and you can cook some amazing dishes on it. 
Cleaning and Maintenance
One of the downsides of this range is that it requires a decent amount of regular cleaning; however, this is the case with all gas griddles. Of the many features of the Blackstone Range Top Combo, the griddle is the one that needs the most attention.
Just like other Blackstone griddles, you'll need to clean it after each use. If you neglect this routine cleaning, you can experience a build-up of grease, rust, and other deterioration.
In reading the owner's manual, you will see that the manufacturer places great emphasis on the need for thorough cleanings. By heeding those instructions, you will be making a good faith effort to keep the Blackstone Range Top Combo in the best possible condition.
Fortunately, most of the features of this range are easy to clean. The reason for that is that many pieces are detachable. So, for instance, you can easily remove the stovetop grate, cutting board, and fryer components any time you want to wipe them down.
Beyond staying on top of cleaning, you won't need to perform much maintenance for this range. However, if you notice any structural weaknesses in the frame, you can resolve those fairly easily. Use a Phillips head screwdriver to tighten the loose screws.
You will also want to be careful in handling a few of the pieces of this range. For example, the lid of the side burners is not very sturdy. Unfortunately, however, there is not much you can do from a maintenance standpoint to remedy this.
As a responsible range owner, the best approach you can take is to adhere to the manufacturer's directions. Since they created this piece, they know best how to maintain it. To your benefit, the Blackstone Range Top Combo comes with a complete manual that will tell you everything you need to know so you can use it without issues for years to come.
Portability
With so many built-in components, the Blackstone Range Top Combo is surprisingly portable when moving around your deck or patio. However, when it comes to transporting the griddle to a new location such as a campsite or tailgate, it's not a good option. 
Due to its size and weight, it would be challenging to move this griddle over long distances. But if you are looking to switch locations within a single yard space, you should have no issue.
If you want to move the Blackstone Range Top Combo just a few feet, the effort on your part will be minimal. The Blackstone Range Top Combo includes four swivel caster wheels. 
Those wheels allow you to push this range in any direction you wish. They also come with a sturdy locking mechanism that will hold this range in place for safety as you cook.

Pros & Cons
By now, you have a decent understanding of what the Blackstone Range Top Combo has to offer. But we thought it would be helpful to leave you with a summary of the main pros and cons before we conclude this review.
Specs & Features:
28″ X 21.75″ carbon steel griddle surface
3 individual burners beneath the griddle totaling 65,000 BTUs
2 stove-top burners
4.3-liter capacity fryer
Cutting board
Garbage bag holder
Paper towel holder
Rear located grease trap
68.25″ X 27.5″ X 41.25″ exterior dimensions
Total weight: 190 lbs.
Pros:
Multiple methods of cooking
Large 28″ griddle with 3 cooking zones
Convenient grease management system
It comes with many additional features
Raised shelves improve the cooking experience
Cons:
Deep fryer doesn't always stay hot enough
Some features such as the towel rack are not the most sturdy
Igniter can lack longevity
Final Thoughts
There are very few ranges on the market that can offer you as much as the Blackstone Range Top Combo – 28″ Griddle with Bonus Fryer. The Blackstone Range Top Combo has a fantastic 28″ griddle, 2 side burners, and a deep fryer, allowing you to serve a large variety of different dishes to as many as 20 people. 
Blackstone also offers the Blackstone 2-Burner 28″ Griddle with Electric Air Fryer and Hood if you prefer an air fryer over the range tops and deep fryer. This is another great option if an air fryer is a more appealing feature.
Overall, this is a strong offering from Blackstone that provides lots of versatility.  If this sounds like the right model for you, don't forget that this is a Walmart exclusive, so you won't find it at other stores. If you're still on the fence, see our reviews section for more expert griddle reviews here on Griddle Sizzle!