Who doesn't love a stack of delicious warm pancakes fresh off the griddle? Cooking pancakes on a griddle is the best way to cook them, and we'll make sure you're armed with all the knowledge you need to make your best pancakes yet.
Whether you're cooking on an outdoor flat top grill, electric griddle, or griddle pan on the stove, you can create amazing pancakes if you follow the appropriate steps. Also, be sure to check out our griddle buttermilk pancake recipe at the end of this article. Now, lets cover how to cook pancakes on a griddle!
Making Griddle Pancakes
Whether you're using a box mix or making your pancakes from scratch, there are important steps you need to take to ensure your griddle-cooked pancakes come out just right.
If you've never made them from scratch, I highly encourage you to give it a shot. The recipes are simple, and the taste and texture will be on par with the pancakes at your favorite breakfast spot.
Cooking pancakes is fairly easy, but cooking them properly can be a challenge. Keep reading, and we'll make sure you have all the knowledge you'll need to cook incredible pancakes on your griddle.
Tips for Making Perfect Pancakes
Don't overmix the pancake batter, as this can lead to tough pancakes.
After mixing the pancake batter, allow it to rest for 5-10 minutes before cooking.
Heat your griddle slowly. Turn the heat to low and then slowly bring it up to medium.
Make sure you have all the ingredients and tools you need before getting started.
Griddle Temperature for Pancakes
One of the most important parts of cooking pancakes on a griddle is using the correct griddle temperature. What is the ideal pancake griddle temperature? It's 375 degrees, and here's why.
Cooking the pancakes at a lower temperature will result in tough pancakes instead of light and fluffy ones. If you cook your pancakes at a higher temperature, it won't cook them faster, but it will cook them unevenly and result in the outside is burnt.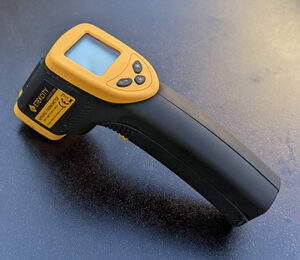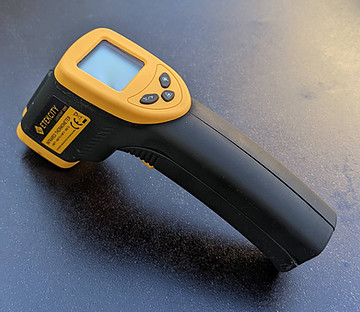 Cooking at 375 degrees is the ideal temperature, so your pancakes come out light and fluffy and not overcooked or burnt. It's better to cook at a lower temperature than a higher temperature so 350 degrees would be better than 400 degrees.
The best way to know your griddle cooktop is heated to 375 degrees is by using an infrared thermometer. If you don't have one, just set your griddle's heat to medium. Place a drop of water on the preheated cooktop surface, and if the water slides across the surface of the griddle, the current temperature is good. If the drop of water sizzles, then the griddle temperature is too hot.
What Oil to Use on the Griddle
When cooking pancakes on your griddle, you'll want to apply a thin layer of oil to the surface before pouring the batter on. This helps cook the pancakes and, most importantly, helps prevent them from sticking to the cooktop.
If you are cooking on a nonstick griddle pan or electric griddle, you may not need to use any oil, but if using cast iron or a flat top grill like Blackstone, you'll definitely need to apply some, or the pancakes may stick and fall apart when attempting to flip them.
You might think that butter is the ideal choice, but this is not the case due to its low smoke point. Since you'll want to cook the pancakes at 375 degrees, butter is not a good option since the smoke point is between 300-350 degrees.
A good healthy oil with a high smoke point and a neutral flavor is avocado oil. If you want a more buttery taste, use clarified butter (ghee) which has a higher smoke point than regular butter. You can cook with butter, but don't turn up the heat too high.
How to Cook Pancakes on a Griddle
If you want to cook delicious, golden brown, light, and fluffy pancakes, then follow the steps below, and you'll be serving perfect restaurant-quality pancakes every time.
Step 1:
Make sure your griddle has been properly cleaned. Preheat your griddle on low heat to around 250-300 degrees. You don't want to crank the heat up to medium right away but rather bring it up to that temperature slowly.
Step 2:
Make your pancake batter, whether that's a box mix or a made from scratch recipe. Once mixed, allow the pancake batter to rest for approximately 5-10 minutes.
Step 3:
While the batter is resting, slowly begin to increase the heat on your griddle from low to medium, aiming for 375 degrees. Use an infrared thermometer if possible for accuracy.
Step 4:
Once the griddle has been slowly heated to 375 degrees and the pancake batter has rested, apply a thin layer of cooking oil to the griddle cooktop. Make sure to apply oil to the entire cooking area you plan to cook the pancakes on.
Step 5:
Once the oil has had a moment to heat up, ladle on the pancake batter. Each pancake should be between 1/4 cup to 1/2 cup of pancake batter, depending on how large you want each pancake to be. Use a measuring cup or pancake batter dispenser.
Step 6:
Allow the pancakes to cook. If you are adding any mix-ins like blueberries or chocolate chips, do this now. Place the mix-ins directly onto the pancakes cooking on the griddle and cover them with a little batter. If you don't, they will be in direct contact with the cooking surface when you flip them and likely burn, giving the pancakes a bad taste.
Step 7:
Once small bubbles appear on the pancakes, it's time to flip them. Carefully use your griddle spatula to slide underneath each pancake and flip them over.
Step 8:
Allow the pancakes to cook for another minute or so until golden brown on the bottom. Carefully check them as they cook on the second side, so they don't overcook. Serve the pancakes immediately with softened butter, warm maple syrup, or whatever toppings you like.
Extra Griddle Pancake Tips
Take the butter out of the fridge ahead of time so it has time to warm up and soften.
Serve the maple syrup warm/hot.
If adding mix-ins like blueberries or chocolate chips, add them after you ladle the batter onto the griddle.
To save extra pancakes, wait till they are fully cooled and then store them in the freezer using a plastic bag and a piece of wax or parchment paper between each pancake.
Griddle Buttermilk Pancake Recipe
Don't think we'd let you go without giving you a top-notch pancake recipe to try on your griddle next time. These made from scratch buttermilk pancakes are sure to become a breakfast favorite in your household.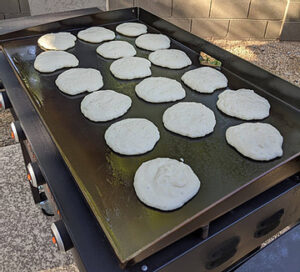 Dry Ingredients:
2 cups all-purpose flour
2 tsp baking powder
1 tsp baking soda
½ tsp salt
2 tbsp. granulated sugar
Wet Ingredients:
2 cups buttermilk
2 large eggs lightly beaten
1 tsp vanilla extract
Directions:
Place all the dry ingredients in a mixing bowl and whisk together until mixed well.
Add the wet ingredients into the mixing bowl with the dry ingredients and whisk until combined. (Don't overmix, some small lumps are fine.)
Allow the pancake batter to rest for 5-10 minutes.
Slowly heat your griddle to medium or 375 degrees.
Apply a thin layer of your desired cooking oil to the cooktop.
For each pancake, ladle 1/4 – 1/2 cup of the batter onto the griddle.
Flip each pancake when small bubbles appear on the surface.
Continue cooking on the opposite side until golden brown.
Serve while warm with butter and maple syrup.
Final Thoughts
Griddles are the ideal tool to cook pancakes on, but as you know now, there are many factors to be aware of when cooking them, so they come out just right.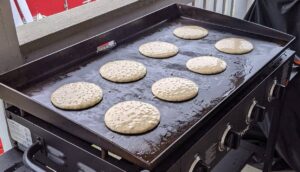 Be sure to take advantage of the information and tips provided here, and your next batch of pancakes will be your best yet. 
If you want to learn how to cook other foods on your griddle, read more articles on Griddle Sizzle on how to cook bacon, French toast, eggs, and last but certainly not least, smash burgers!