The spatulas you use on your flat top grill should be different from those you use to cook with on your stovetop pans. The right spatulas can make cooking on your griddle easier and makes for better-prepared food. But what are the best spatulas for cooking on a gas griddle like a Blackstone?
Shopping for the best griddle spatula set or individual spatula isn't necessarily as easy as it sounds. They come in various sizes, materials and offer different features making it essential for you to be well-informed before you plunge in and select the best griddle spatula for you.
The Top 3 Best Griddle Spatulas
If you want to get right to it, here are our top three spatulas. Please keep reading for more information about selecting a griddle spatula and full reviews of our top 3.
Mannkitchen Professional Grade Stainless Steel Spatula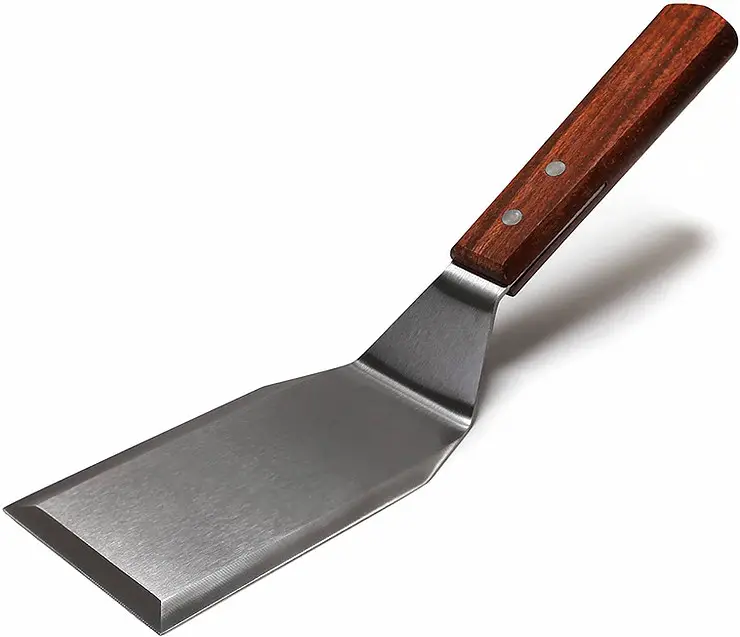 Anmarko Professional Spatula Set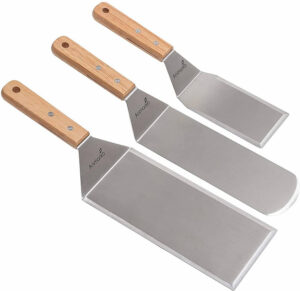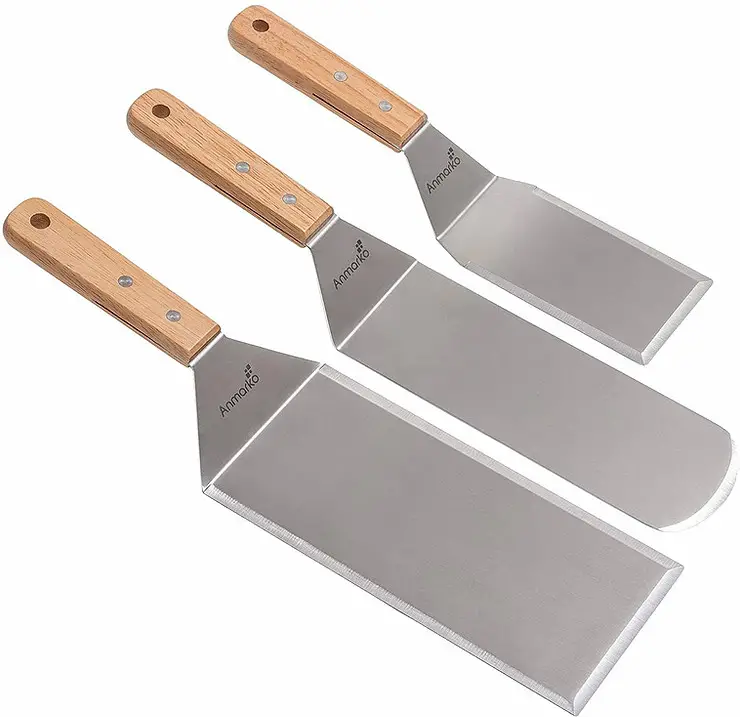 Leonyo Griddle Teppanyaki Slotted Metal Spatulas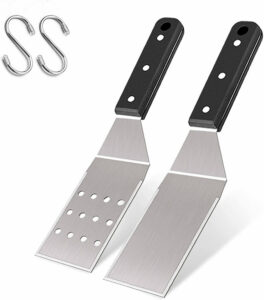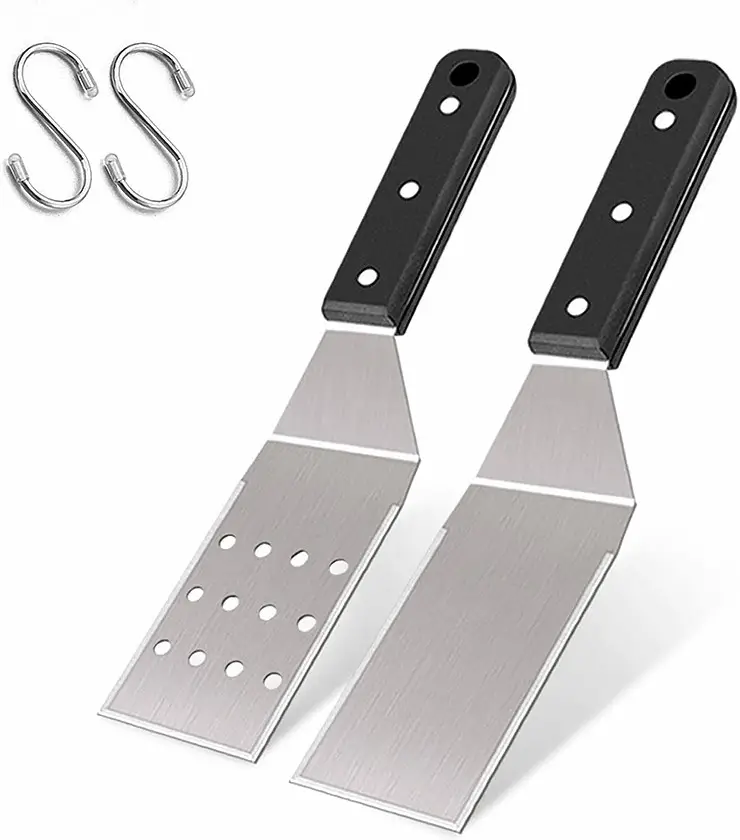 Mannkitchen Professional Grade Stainless Steel Spatula
Anmarko Professional Spatula Set
Leonyo Griddle Teppanyaki Slotted Metal Spatulas
What to Look for in a Griddle Spatula
A spatula is much more than a spatula when you're searching for an enjoyable cooking experience. You'll want to consider these factors when making your purchase.
Build Quality
A spatula could be made of the highest quality materials but be poorly built. The tang (also identified by the number of rivets on a spatula handle) represents how secure the blade is attached to the handle.
A tang is the back portion of the blade that extends into the handle and will either stop partially through the handle or reach the end entirely. Spatulas with a short or halfway tang is more prone to bending and are typically less durable. This could be an issue when flipping heavier foods, so you want something sturdy.
Materials
When cooking on a flat top grill, you want to avoid wood, plastic, and other nonmetal spatulas. You'll want metal spatulas, and they are almost always made of stainless steel.
Buying a spatula made of high-quality materials is essential to performance and longevity. Low-quality stainless steel can warp, rust, and erode, even when you're following proper cleaning procedures.
Cost
There's a reason people say, "you get what you pay for."
A spatula you grab off the shelf from the dollar store will not perform the same as a high-quality spatula you purchase from a certified manufacturer. At the same time, you also want to explore the market to ensure you're not overpaying for a set or one spatula.
Cost is determined by other factors such as country of origin, quality of materials, and the number of spatulas.
Handle
Wooden handles don't conduct heat, which means you can leave them near the cooktop without having to worry about melting or burns. Wooden utensils, and utensils with wooden handles, are typically not dishwasher safe, however.
Plastic handles are dishwasher safe but risk melting if left unattended. Different handle materials have different advantages and disadvantages, so you need to decide which option you prefer.
Slotted or Not
A slotted spatula is a regular spatula with holes in the blade. Chefs prefer to use these for cooking in heavy fats or oils like eggs or fried foods because the slots allow fat and grease to filter easily and not be carried with the food.
Many griddle chefs prefer to have one slotted spatula and one nonslotted spatula when cooking on their flat top.
Number of Spatulas Included
It would be great to find one spatula that can do it all, but having a great set that can perform various functions is the best option for home chefs who don't have the time or money to try out multiple spatulas.
Some spatulas are sold individually, while others come with 2 or more in a set. More often than not, you'll be cooking with 2 spatulas simultaneously rather than 1, so this is something to be aware of.
Top 3 Griddle Spatulas
Now that you know what to look for in the best griddle spatulas let's get into our top picks. Each of these spatulas will be great for cooking on your Blackstone griddle or other flat top grill brand.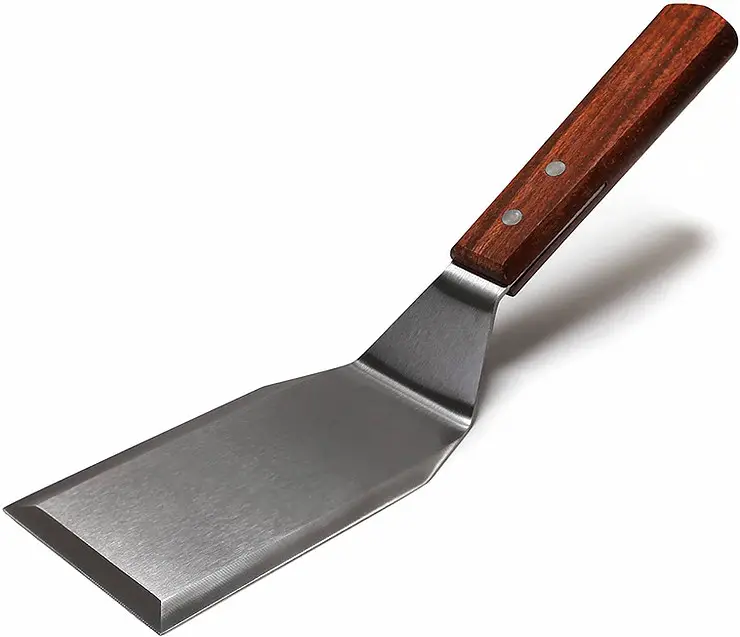 The professional-grade stainless steel spatula by Mannkitchen is a popular, highly revered flat top grill spatula on the market.
It's made of high-quality, heavy-gauge 420 stainless steel, which eliminates flex and resists rust or corrosion; complete challenging scraping tasks and battle smash burgers with ease.
The precision beveled edge slides easily beneath fragile food like eggs, chops up rough ingredients with little resistance, and levels cast iron surfaces.
Its tapered hardwood handle is heat-resistant and provides a comfortable, secure grip.
Pros:
1.8mm thick 420 stainless steel is durable and high-quality
Precision beveled edges help chop and flip with ease
Perfect for flat, cast-iron surfaces
Heat-resistant tapered handle for ultimate comfort
Cons:
It only includes one spatula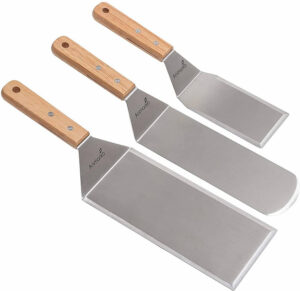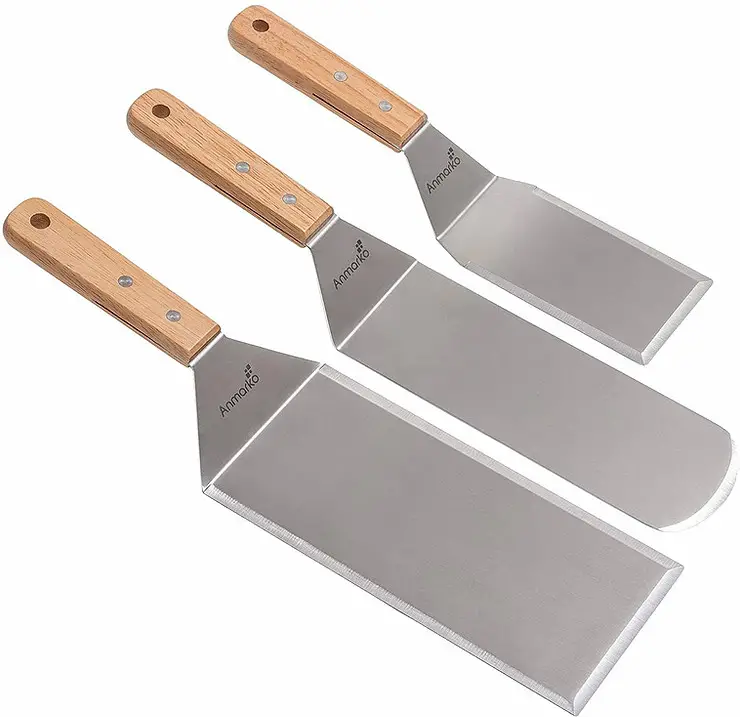 If you're looking for more variety in your griddle tools, then we recommend taking a look at the Professional Spatula Set by Anmarko. It includes one cooking spatula turner, one grill spatula, and one griddle scraper.
The stainless steel blade is 1.1mm thick and is durable, non-reactive, and hygienic. The best thing about this spatula set is that it can be used for much more than griddle-cooking burgers and steak.
The middle spatula's rounded edges are great for flipping pancakes, and it has a longer surface area. On the other hand, the griddle turner has sharp, sturdy, beveled edges that are great for scraping, cutting directly on the griddle, and sliding underneath thin foods. The smaller kitchen spatula complements these by handling smaller foods or surface areas.
The handles are an ergonomic design made out of wood, with a hole so you can hang it from a rack or on the wall. None of the spatulas are dishwasher safe.
Pros:
Three separate spatulas for a variety of uses in the kitchen or on the griddle
1.1mm thick, durable steel
Ergonomic handle design with holes for hanging
Cons: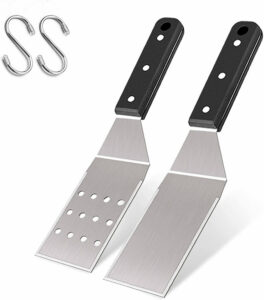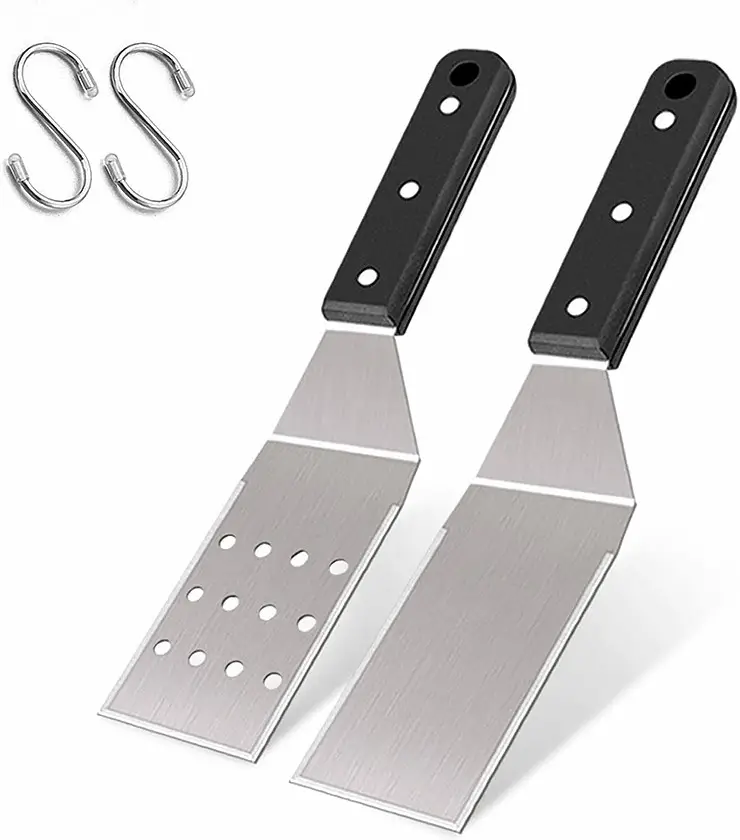 We're finishing off this product roundup of the best spatula for a griddle with the Griddle Teppanyaki Metal Spatulas by Leonyo. It includes one small regular spatula, one small slotted spatula, and two metal "S" hooks for easy hanging.
The frosting spatula blades are made of 420 stainless steel, non-toxic, high-quality, and durable.
If you're looking for easier cleanup and want to stick your spatulas in the dishwasher after use, then shoot for the set of spatulas with ABS plastic handles that have high heat resistance. 
You can choose the same set of spatulas with wooden handles for the same price, but these are not dishwasher safe and are prone to fading.
Pros:
Full-tang handles provide more stability when scraping and flipping heavy foods.
High-quality 420 stainless steel
It comes with a slotted spatula for filtering oil
Choose between plastic or wooden handles
Cons:
Both spatulas are the same size
No rounded edges, which minimizes the number of tasks you can perform

Final Thoughts
If you're looking for a versatile set of spatulas to serve you in different areas of the kitchen, then you can't go wrong with the Anmarko Professional Spatula set. Of course, every chef has different preferences regarding the best griddle tools, and you may be interested in different features.
The Leonyo set of 2 is the only set that offers a slotted spatula, which is great for cooking foods in heavy fats or oils. Also, the plastic handles are dishwasher safe, which makes for a quick and easy clean-up. They also have full-tang handles for more stability.
The Mannkitchen Stainless Steel Spatula is the most durable spatula we covered with a blade thickness of 1.8mm, which is great for cooking heavy steaks or constantly pressing smash burgers. The other spatulas covered have a thickness of 1.1mm.
We hope that we've helped you narrow down the best griddle spatula for your home. If you're interested in expanding your collection and griddle skills, check out our guide on using flat top griddle tools and accessories.
Read more of our top lists on Griddle Sizzle now!