If you're thinking of getting a griddle for your home or camper, you want to do your research before investing. The Blackstone Adventure Ready 17″ Tabletop Outdoor Griddle is a very popular model and could be a worthwhile investment.
This Walmart exclusive is versatile, durable and can be used for cooking a variety of foods. It's also very compact and can quickly come on the road with you, whether you're going camping or to a tailgate. 
Best of all, it can cook a large quantity of food at once—which is just what you want when you're on an outdoors excursion with a big group. Read on for a comprehensive review of the Blackstone Adventure Ready 17″ Griddle, including the pros and cons.


Design and Construction
The Blackstone Adventure Ready 17″ Griddle has a sturdy design that's both durable and practical. You can tell that this device is made to last. This attests to the excellent reputation of the Blackstone brand.
The aptly named "adventure ready" grill is perfect for taking on the road, whether you want to pack it into your recreational vehicle, take it to a tailgate, or bring it on a camping trip. It's also a great option to use at home in your backyard or on your patio. The flat top grill is easy to put together and relatively compact.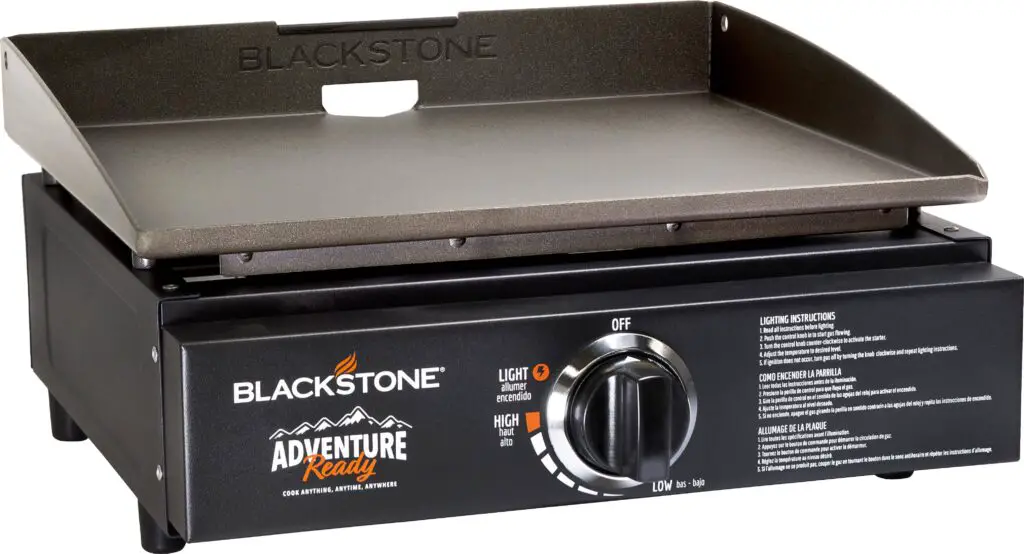 The Blackstone Adventure Ready 17″ Griddle has 12,000 BTUs of power. This means that it will heat up relatively quickly. It features an H-style burner designed to distribute heat evenly across the entire cooking surface. The griddle top is made of rolled carbon steel, which is resistant to damage and corrosion.
When it comes to capacity, this flat top grill offers an impressive amount of space. The entire cooking surface is 278 square inches. The cooktop can accommodate approximately 9 burgers or 9 pancakes at a time. You will need to season the griddle before cooking on it the first time. 
Seasoning the griddle involves applying thin layers of cooking oil to the cooktop and allowing them to burn off. This creates a crucial nonstick and protective coating on the surface. For full details, see our article on how to season your flat top grill. 
This Blackstone device runs on propane and comes with a propane regulator. The griddle uses a one-pound propane bottle to fuel the single burner (the propane bottle isn't included). You can hook the propane regulator up to an RV propane tank if you want to take your griddle on the road. A single bottle of gas will get you multiple cooking sessions.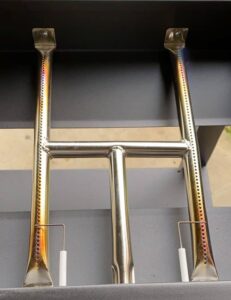 Alternatively, if you want a longer-lasting fuel source, you can use a 20-pound propane tank. You will need a propane adapter to convert the griddle to a bulk propane tank (these items aren't included). The 1-pound tank is great if you're taking the griddle with you on the go, but when using the griddle at home, using a 20-pound makes more sense.
The griddle features rubber feet for sturdiness. You'll have to screw them on yourself, but this takes no more than a few minutes to complete. The feet are adjustable, allowing for added stability on uneven surfaces. This can be especially useful if you're setting up your cooking griddle when camping or hiking in the great outdoors.
 There have been some complaints about the quality of the welding. Additionally, while the advertisements claim that heat is distributed evenly across the cooking surface, this isn't necessarily the case. Higher heat tends to concentrate in the middle, with the perimeter of the cooktop being slightly cooler.
Blackstone is a reputable company, so you can anticipate top-quality customer service. If you want to ensure longevity, invest in the added warranty offer. A one-year warranty costs $13.99, a two-year warranty costs $26.00, and a three-year warranty costs $39.99.
Cooking Performance
The Blackstone Adventure Ready 17″ Griddle is a very versatile cooking device allowing you to cook a huge variety of foods. Breakfast foods like pancakes, French toast, eggs, and hash browns are perfect for this flat top grill. It is also great for lunch and dinner foods like smash burgers, chicken, fish, vegetables, and even sandwiches!  
You can prepare up to 12 eggs, 12 slices of bacon, or four steaks on a griddle at a time without any doubt that it will provide the necessary heat to cook these items properly.
The griddle has a built-in lighter, so lighting the burner is as simple as turning the knob on the device's front. Use the knob to set the cooktop to your desired temperature, and you'll be cooking in no time.
Despite being smaller than other tabletop griddle models, you'll have lots of space to work with. This griddle earns points for its large cooking surface and is capable of feeding two to four people. You can confidently prepare a lot of food at once.
This model griddle only has 1 cooking zone compared to other tabletop griddles with 2, so the griddle can only be set to one temperature. As mentioned previously, the center of the cooktop will be the hottest point, and the edges will be slightly less hot, so you may need to account for this when cooking.
The cooktop does maintain heat well and does an excellent job of cooking up all kinds of foods without issue. Whatever you plan on cooking on the Adventure Ready griddle, it can handle it, resulting in high-quality meals.
Cleaning and Maintenance
Cooking on the griddle will leave the cooktop with food scraps and excess oil on the surface, requiring you to clean it properly. This Blackstone flat top grillhas an external grease trap that's located on the back of the cooktop.
The griddle's patented rear grease management system makes the cleaning process pretty quick and painless. To clean the Blackstone Adventure Ready 17″ Griddle, use a scraper or spatula to scrape any food scraps and remaining oil into the rear grease trap. Use some water as needed to loosen any stuck-on food, as the steam created will help loosen it.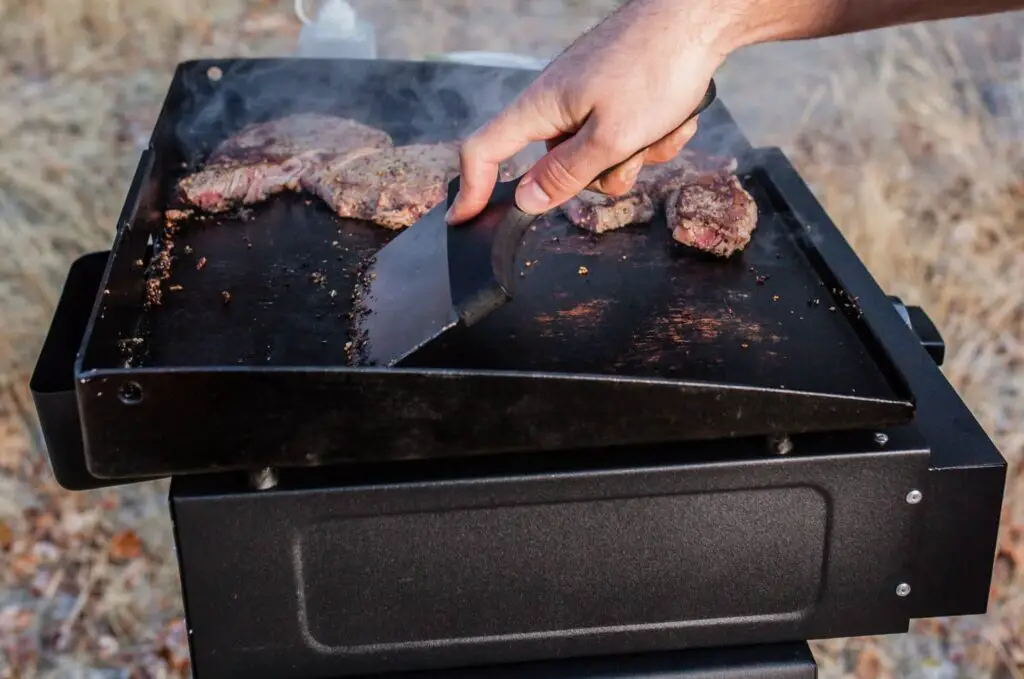 Using paper towels, wipe down the cooktop surface. Griddle safety is critical, so be sure to use tongs or heat-resistant gloves so you don't get burned. You can use some more water to help get any remaining residue off when wiping the surface with paper towels. 
To preserve the longevity of your griddle, there is one more step. Follow up the water cleaning by applying a thin layer of cooking oil to the griddle's surface. Just add a few drops and then wipe the oil across the entire surface of the cooktop. This will help prevent corrosion and rust and help to maintain the nonstick surface.
The griddle should always be stored in a dry place, protected from moisture and the elements. Storing the griddle inside is ideal; however, a proper griddle cover will allow you to keep it outdoors. For an even more in-depth look at cleaning and maintenance, see our article on how to clean a flat top grill.
Portability
One of the best features of the Blackstone Adventure Ready 17″ Griddle is its portability. It is extremely popular amongst the camping community, tailgaters, and RV-lovers because of this. The griddle measures 18 inches wide, 20 inches deep, and 6 inches tall and weighs only 25 pounds. This means that it can be carried by 1 person, unlike larger and heavier models that can take 2 people to transport. 
It's compact enough to fit into any car or camper storage easily. Blackstone even sells an Adventure Ready Heavy-Duty Backpack for this model for even easier transportation of the device, allowing you to keep your hands free. 
The only drawback is that it costs nearly as much as the griddle itself, but if you plan to take the griddle with you frequently, it may be a worthwhile investment. Like the Blackstone Adventure Ready Griddle, The backpack is a Walmart exclusive.
You'll want to be aware of another after-market product, which is the Blackstone 5013 Universal Griddle Stand.  Since this griddle is a tabletop model, it does not come on a cart with legs. If you're using the griddle at home on your deck or have access to a table, then this product may not be helpful. 
If you are going camping, for example, and won't have a table to place the griddle on, the griddle stand will be beneficial. The griddle stand legs are foldable, and the side shelf is removable for convenient portability.
As we cover in our gas griddle buyers guide, portability is a key factor to consider when selecting a new flat top grill. Because of its size and weight, this is one of the best griddles on the market regarding portability.


Pros & Cons
The above guide has covered a significant amount of information. Are you feeling overwhelmed? Here's a quick overview of the pros and cons of the Blackstone Adventure Ready 17″ Griddle.
Specs:
Dimensions: 22 5/8″ x 18 1/4″ x 8 3/4″
Weight: 25 pounds
17-inch griddle cooktop
12,000 BTU output 
Single cooking zone
Stainless steel H burner
Rear grease management system
Pros:
Extremely portable 
Quick and easy to set up
It can be converted to use a larger propane tank
Prepares food for two to four people
Capable of preparing a large variety of foods
Cons:
Single cooking zone 
Griddle temperature tends to be hotter in the middle and cooler on the perimeter
Helpful aftermarket products are pricey
Final Thoughts
If you're looking for a durable, sturdy, and easily portable cooking device, the Blackstone Adventure Ready 17″ Tabletop Outdoor Griddle is an excellent option. It features a high-quality yet compact design and is capable of cooking for up to four people.
You can prepare all kinds of tasty dishes on this flat top grill, from eggs and pancakes to hibachi stir fry. You can't go wrong if you decide to purchase this model but if you want something slightly larger or are just interested in other great tabletop griddles on the market, see our top 5 tabletop griddles.
Read more expert griddle reviews on Griddle Sizzle now!