Flat top grilling is about more than cooking. It's about bringing people together, whether they're friends, family, neighbors, or people from work. If you're planning a large gathering, you're going to need a flat top grill that can handle the extra mouths to feed.
The 360 XL Griddle is the largest in the Cuisinart line of flat top grills. The cooking station is designed to cook all kinds of things like steaks, smash burgers, sausages, sandwiches, and stir fry. Don't forget about breakfasts consisting of bacon, eggs, and pancakes. 
It's large enough to handle multiple dishes at once, so you can griddle your burgers at the same time you're sautéing the veggies. In this Cuisinart 360 XL Griddle review, we'll cover everything you want to know about this flat top grill offering from Cuisinart.


Cuisinart 360 XL Design & Construction
The Cuisinart 360 XL Griddle has an astounding amount of cooking space. It comes with over 700 square inches of griddle top space, an upgrade from the Cuisinart CGG-888 22-inch griddle.
Its 30-inch diameter surface comes with three main burners, resulting in 45,000 BTUs and the ability to cook at temperatures above 650 degrees.
The surface area is round in shape, so the three different cooking zones are on the two sides and in the middle, which offers some flexibility when cooking. You don't have to worry about food and grease falling through the grate onto the heating elements like on a traditional grill with the griddle top.
The Cuisinart 360 XL Griddle comes with a large, stainless steel lid with a built-in venting system. This is a great feature that allows you to smoke, bake, steam, or roast foods, unlike some other griddle offerings without lids.
If you are keeping it outside, you will want to buy a Cuisinart 360 XL Griddle Cover for the cooking surface because the last thing you want is moisture damaging the cooking surface and causing rust.
The flat top grill is positioned on a rolling cart to make it easy to move from place to place. It features a front door for the propane tank and has two folding tables on either side. It also has a handy paper towel roll holder, which you'll be using every time you cook.
The cooktop is composed of heavy, cold-rolled steel. This is a great cooking surface as the steel absorbs and holds onto the heat for consistent cooking.
Of course, it needs an initial seasoning and continued care, but the more you cook with it, the better the cooktop gets. Over time you will develop a well seasoned, non-stick griddle.
The grease trap wraps around the entirety of the griddle, so it's easier to clean. You have to push the grease down a tiny hole with some griddles, so this is a much bigger advantage than you might think.
Overall, the circular shape makes it easy for multiple people to gather around. So, if someone has something they want to throw on, clear them a small space and let them have it. It's a fantastic family griddle that you'll be happy to have around for your next big get-together.
Cuisinart 360 XL Cooking Performance
The cooking performance for the Cuisinart 360 XL is quite impressive. You have three different burners, allowing you to cook multiple foods at different temperatures across the griddle's surface. This is a good number, but some models have 4 cooking zones like the Blackstone 1554 or the Camp Chef 600.
What's more, the cooktop is huge! We cooked an entire meal on this thing, including meat, veggies, potatoes, and tortillas. We were impressed by the griddle cooktop to cook all the ingredients simultaneously while still having each ingredient come out perfectly.
You can lock the juices in your proteins and trap grease with the griddle cooktop, which a grill with grates can't do. You end up with juicier food and easy frying. Unlike a traditional grill, you can't lose food through the grates, and you can cook things like eggs and pancakes.
Before use, you'll want to season the cooktop thoroughly. Coat the top with a thin layer of oil and spread it around with a paper towel, soaking up any excess. Then, turn the heat up until the oil begins to smoke. 
We recommend repeating this process a couple of times to achieve the ideal non-stick cook surface. See our article on seasoning your flat top grill for a more detailed breakdown.
Cleaning and Maintenance
Cleaning the Cuisinart 360 XL is surprisingly straightforward when compared to other griddles. Like all griddles, it is essential to clean them thoroughly after each use and reapply an oil coating.
As we mentioned above, the grease tray is around the grill's entirety, so you do not have to funnel all of the oil and grease into a small hole. Instead, you scrape it off and then wipe the fat out of the trap.
Portability
The Cuisinart 360 XL Griddle comes mounted on rolling wheels for easy transport. After assembly, it weighs about 120 pounds. This is pretty lightweight for a flat top grill of this size and makes it easy to move around your porch or yard.
That said, the Cuisinart 360 XL Griddle is not designed to take on the go, so if you are looking for something to take on picnics or camping trips, this is not the one for you. There are more portable models like the Blackstone Tailgater or Royal Gourmet PD1300 if traveling with your griddle is important to you.
The 360 XL Griddle is not oversized by any means and stores easily enough in a shed, garage, or porch.
Cuisinart 360 XL Griddle vs. Blackstone Griddle
A common question is how the Cuisinart flat top grill stacks up against Blackstone flat top grills. When it comes to the quality of the griddle itself and its cooking performance,  the 360 XL is just as good as the Blackstone's.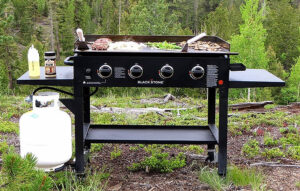 The biggest thing you need to think about when deciding between them is the overall design. The Cuisinart's has a round griddle with no edges like you see at Mongolian BBQ restaurants, while the Blackstone's have a square or rectangular shape and have edges. 
Both are worthwhile options, so it's a matter of personal preference to the style of griddle cooktop you prefer. Also, the additional features and cost of Cuisinart vs. Blackstone should be factored in. 


Pros and Cons
Like any product, the Cuisinart CGG-999 360 XL Griddle Outdoor Cooking Station has its pros and cons. It mostly comes down to your needs and how you plan to use the griddle.
Specs:
45000 BTUs
Three separate burners
700 square inch cold-rolled steel cooktop
Assembled dimensions: 60.5 x 37.5 x 42.5 inches
Assembled weight: 119 pounds
Pros:
It has a large, heavy cooking surface.
The grease trap is accessible all the way around the griddle.
The circular cooktop allows room for multiple people to cook.
A vent built into the lid enables various cooking methods, including roasting, steaming, and baking.
It has an excellent heat output potential of up to 650 degrees.
It has three cook zones.
Cons:
Open edges on the grill's cook surfaces make it easy to lose food off the side of the grill.
It takes some practice to learn how the heat distribution is set up on the cooking surface.
It has a lightweight grease tray that could be of better quality.
You'll need to purchase a Cuisinart 360 XL Griddle cover to protect it from the weather and will need some griddle accessories as well.
The bottom line is, there are higher quality grills available, and there are lower quality ones. The Cuisinart 360 XL Griddle Cooking Center is a great offering though comparable models from Blackstone and Camp Chef are also excellent options.
While the rounded design and placement of the three heating elements may be a little different than you're used to, the Cuisinart 360 XL Griddle is a good buy for those who like to entertain, have large family gatherings, and cook a lot of food at once.
Overall, it's an excellent griddle for home cooks and grilling aficionados. It certainly gets the job done and will provide you with a versatile griddle experience for years to come.
Final Thoughts
If you are looking for a large griddle for a patio or backyard, we hope this Cuisinart 360 XL Griddle review has given you the information to make an informed decision.
This flat top grill makes outdoor dining fun and easy. It has a large cooking surface and the ability to cook entire meals at once. With three burners, incredible heating power, and the ability to cook all around the flat top grill, this cooktop is a family favorite.
This model is a good option if looking for a larger size griddle, especially if you prefer the round shape over a rectangular one. There are other options available on par, but if you like what this model offers, it is worth the purchase.