There's nothing like spending quality time in the great outdoors, but there are a few things you might miss, like cooking food on the griddle. Luckily, portable gas grills make it easy to have the food you want without all the extra equipment camping requires.
One of our favorites is the Royal Gourmet PD1300. This flat top grill has three individual burners, quality construction, and it's extremely portable. You can take it anywhere as long as you have the propane gas to fuel it. Even though it's a top choice for many people, it's essential to do some research before purchasing.
Please keep reading for our honest Royal Gourmet PD1300 review to learn everything you need to know about this griddle.


Royal Gourmet PD1300 Design & Construction
Don't be fooled by the affordability of the
Royal Gourmet PD1300
. This propane gas grill has the sturdy construction you need to use it no matter where you are.
Weighing only 30 lbs. when assembled, it's lightweight enough to load and carry in the travel case.
It has three individual ring-shaped burners that are all cased in a stainless steel frame. Each one has 9,000 BTUs of power, which adds up to a combined 27,000 BTUs. Use one burner or all three to create a fast and even heat distribution.
The cooking surface is a smooth porcelain enamel griddle with a surface area of 316.20 square inches to grill on. The PD1300 features Piezo Ignition controls to top it all off, which allows for a spark-free startup for your portable propane-powered griddle.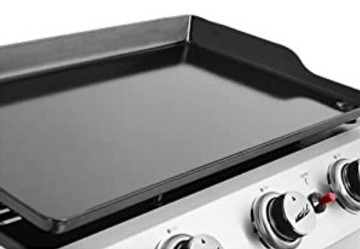 When it comes to powering the Royal Gourmet PD1300, you'll need a 20 lb. propane gas tank. The grill even comes with a 4-foot hose to connect your tank and a regulator to properly distribute the correct amount of gas.
Overall, this grill has a solid design that is simple to use, but there was a downside when it came to getting gas to each burner. There were times when one burner would have more gas than the other ones. If this happens, unhook the fuel line and let the regulator reset, and it should resolve the problem.
Royal Gourmet PD1300 

Cooking Performance

With the Royal Gourmet PD1300, you'll have your backyard hibachi that works just as well outdoors as it does at home. Although it's not a full-size griddle, it's still large enough to cook food for three to four people.

The PD1300 doesn't just deliver in terms of the amount of food you can cook. This grill will give you unlimited cooking power since you can take it anywhere. Whether you're camping, having a backyard cookout, or serving up breakfast, this griddle has you covered.

Many people tend to think griddles are just meant for meat, but it's excellent for cooking many other things like vegetables, pancakes, and eggs. The flat porcelain enamel surface retains heat, helping distribute it evenly no matter what you're making.
If cleanup is a concern for cooking on a griddle, you won't have to worry about that with the PD1300. The porcelain top is a non-stick surface that you can wipe down effortlessly. There's also a removable oil cup that collects grease while cooking that's just as easy to clean as the grill.
We were more than satisfied with the cooking performance of the Royal Gourmet PD1300, but there were times when the heat wasn't being distributed evenly. This was due to the problem we mentioned earlier about the gas getting to each burner. You may need to unhook and reconnect your fuel if this happens.
Royal Gourmet PD1300 Portability
The excellent portability of the Royal Gourmet PD1300 is one of the top reasons to consider this griddle. Royal Gourmet designed the PD1300 to go wherever you want to take it.
Use it at home in your or backyard or patio, or take it out to picnics, tailgate parties, and camping. If you have an R/V, this griddle is a perfect addition.
It comes with a convenient carrying case and cover, which not only makes it easy to transport, but it protects it during storage. The PD1300 is significantly lighter and smaller than a full-size grill, coming in at only 30 lbs.
It also has a measured cooking area of 23.6'' L x 13.4'' W and 3.5 mm thickness and includes a regulator for a 20 lb. propane tank. The compact size, protective case, and small weight make it a top choice for people looking for a griddle they can take on the road.


Pros and Cons
Now that you know some background about its design and performance, it's time to get to the nitty-gritty. Below are the key specs, benefits, and downsides to consider before investing in the Royal Gourmet PD1300.
Specs:
27,000 BTUs
Three burners at 9,000 BTUs each
316 square inch detachable porcelain attached flat top
Assembled dimensions: 25 x 18.1 x 9.1 inches
Assembled weight: 30 lbs.
Pros:
High-quality porcelain enamel griddle top
Non-stick top for a variety of foods
Easy to clean with a removable grease collection cup
Extremely portable and comes with a durable carrying case
Three individual burners with 9,000 BTUs of heat each
Cons:
It can take a while for the griddle to heat evenly
Temperature can run too hot or not hot enough
Final Thoughts on the Royal Gourmet PD1300
If you're looking for a portable grill or griddle to take on your adventures, the Royal Gourmet PD1300 is an excellent choice. If you want to look at a competing model, we also liked, check out the Blackstone 1666 Tabletop Griddle.
Although the PD1300 is small, it packs quite a punch. These griddles are well-made, easy to transport, and flexible enough to cook a variety of foods.
With the three burners, porcelain enamel griddle, and 27,000 BTUs worth of heating power, this is one of the best portable grills for the money. For a fraction of the cost of a full-size griddle, you can get this professional style one by Royal Gourmet that can go anywhere.
If you're looking for something larger and more versatile, check out our review of Royal Gourmet's Portable Propane Gas Grill and Griddle Combo.