Want the best of both worlds? If you're having trouble deciding between a grill or a griddle or desire the convenience of being able to cook on both at the same time, then this Royal Gourmet GD401 grill griddle combo might be exactly what you're looking for. Versatility is the name of the game when it comes to this gas grill/griddle combo.
Anyone who loves cooking out with fire and metal may feel forced to choose between a griddle or grill for their outdoor cooking needs. Often, the griddle wins the battle due to its versatility, but you must learn to live without the delicious flavor and texture you can get from a grill.
The product design team at Royal Gourmet must have grown tired of seeing people divided over grill and griddle, so they decided to combine them into one grill and griddle combination device.
The Royal Gourmet GD401 Premium 4-Burner Folding Gas Grill and Griddle possess all the advantages of a propane grill and griddle in one. One side has a gas-powered cast iron griddle, and the other has a gas-powered cast iron grill.
Besides boasting a grill and griddle cooking surface, the portability of the Royal Gourmet GD401 is another great feature. The dimensions are 66.1"x 21.7"x 36.6", weighing just over 100 pounds. The legs also fold down, making it perfect for loading up in the back of your vehicle for a tailgate party or camping trip.


Design & Construction
The Royal Gourmet GD401 excels in size, portability, and versatility with its multi-purpose grill and griddle design.
You have access to both cooking options at once, so if you want to grill a steak and griddle some eggs simultaneously, you can. Each portion has 292 square inches of cooking space, giving you enough area to make food for up to 5-6 people at a time.
Initial assembly only takes about 15-20 minutes, and you are good to go. The legs can collapse and fold, so you can easily carry the grill griddle combo from your backyard to your vehicle for transport. It employs four caster wheels with a brake system to safely and easily relocate the device around your porch and secure it from moving.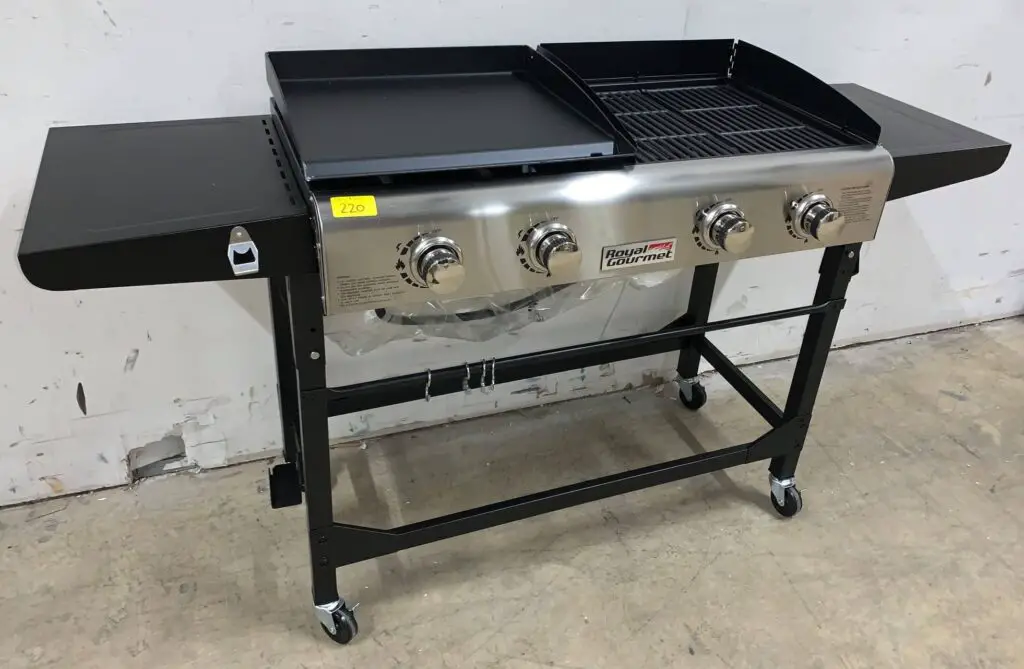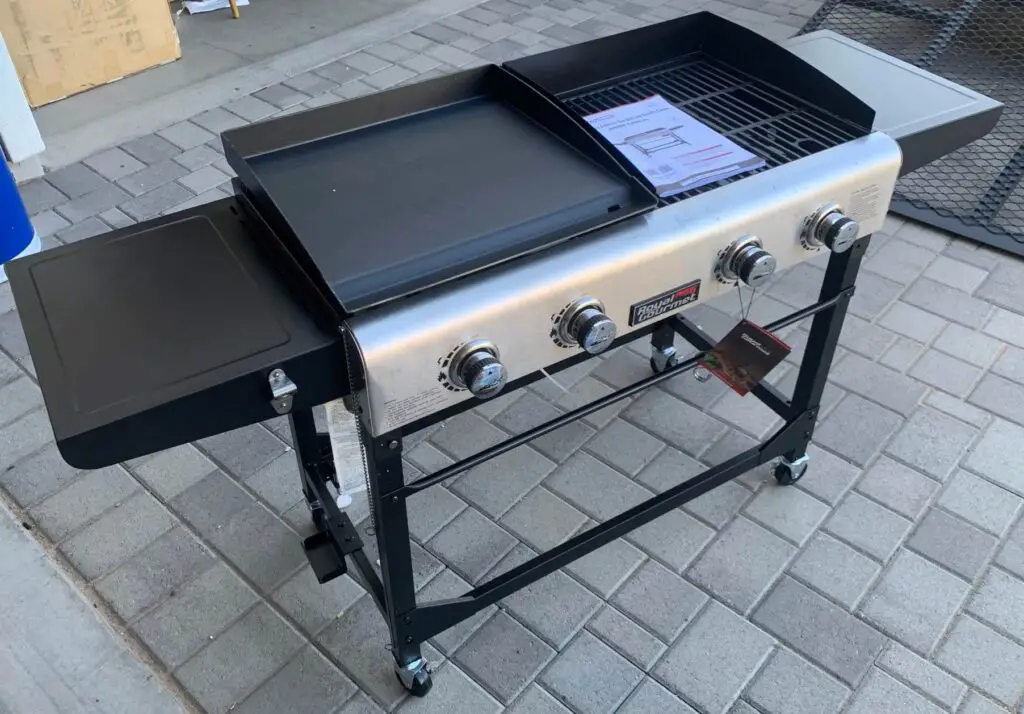 The design utilizes side tables to prepare your food as well as store condiments and drinks. Between the front legs is a bar to hang your gloves, spatulas, and other griddle tools on. It even has a built-in bottle opener!
Royal Gourmet boasts about its efficient oil channel system with a grooved drip tray that channels grease into a removable cup for quick cleanup. The four stainless steel burners output 12,000 BTUs each, and the black porcelain-coated flame tamers evenly distribute the heat.
The last feature I adore is the automatic ignition system. The stainless steel control panel has four big knobs for a fast and easy startup each time.
The grill grate and griddle surface are made of a quality cast iron material, providing even heating and proper maintenance, offering excellent product longevity.
Cooking Performance
The Royal Gourmet GD401 Premium 4-Burner Folding Gas Grill and Griddle delivers 48,000 BTUs of heat efficiently and evenly across 4 burners.
The cast iron griddle lets you maintain a seasoning layer through repeated usage, which helps minimize food from sticking and adds flavor. It is important to scrape it clean after each cooking session and reapply some cooking oil to prevent rust and maintain the seasoning.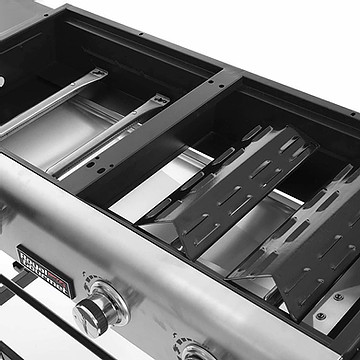 The propane grill functions like a standard grill, but the lack of a top removes the high-heat oven effect you get with a traditional grill. That being said, the grilling quality is excellent for any foods that don't require this functionality, like burgers or thinner cuts of meat.
Overall, the 4 burners, cast iron grill, and cast iron griddle flat top perform very well and yield the types of results you'll want from each. There are no noticeable hot spots, and because there are 4 burners, you can adjust the temperatures accordingly depending on what you're cooking in that section of the cooking space.
Cleaning & Maintenance
Maintenance and cleaning are fairly straightforward. As far as cleaning the griddle side, the grease channel makes it a breeze to remove oil from the Royal Gourmet GD401's flat top.
Grease and food scraps can be scraped into the grease trap using a griddle scraper, which then drips down into a cup that you can remove to dispose of its contents.
Making sure to clean the griddle after each use is very important. If there is no food stuck on the flat top surface, a simple wipe down with some paper towels may be sufficient.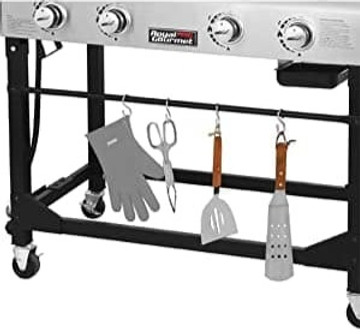 Cleaning the grill side is also not overly complicated either. You can scrape the grill grates clean after grilling using a grill brush like you would on any other grill. Applying some oil afterward to maintain seasoning on the grill grates is advised since they are cast iron.
Occasionally you'll want to do a more thorough cleaning of the grill side as food particles and grease will drip down below the grates onto the flame tamers and surrounding area. Remove the grates (once cooled!) and remove any excess debris.
Portability
If you want to travel with your Royal Gourmet grill & griddle combo, it does offer some features to make that easier. If you want to take it camping, tailgating, or with you in an R/V, the legs fold up, allowing you to transport it with you more easily.  The griddle and grill combo can fit it in a truck bed and most car trunks.
Though the legs fold down, it's certainly not as portable as smaller model grills and griddles. Tabletop griddles for example are much lighter and easy to take on the go however you would be losing out on the grill and griddle functionality. 
Because of the size and weight of this device, it's a two-person job to move it. It's not the most portable grill or griddle on the market but if you like this model, you can definitely take it on the go without too much fuss.


Pros & Cons
In this Royal Gourmet Premium 4-Burner Folding Gas Grill and Griddle review, we've broken down the products' advantages and disadvantages. Here's a quick summary of the specs, pros, and cons we found with the Royal Gourmet GD401.
Specs:
48,000 BTUs
4 burners
584 square inches of cooking surface
103.6 pounds
Assembled Width: 66.1 in
Assembled Height: 36.6 in
Assembled Depth:21.7 in
Pros:
The grill griddle combo allows for versatility in outdoor cooking
Propane gas ignites quickly, stays hot, and gives a clean flavor to the food
Four burners and flame tamers for evenly distributed heat
Built-in grease channel system for easy cleanup
Collapsible legs with wheels and brakes for portability and stability
Durable cast iron and stainless steel design
You can expand the broad cooking area with additional grill grates or griddles
Storage for grilling tools and accessories
Side table for food preparation
Cons:
Cast iron can be higher maintenance than other types of cooking surfaces
One year warranty is shorter than many other brands
It does not come with a lid for the grill
It May be difficult to transport without a second person due to the weight.
Final Thoughts
With the Royal Gourmet GD401 Premium 4-Burner Folding Gas Grill and Griddle, you get a portable grill and a whopping 582 square inches of cooking space which is enough to cook a proper meal for up to six people. Features like the side tables and bar to hang tools from making cooking on the device super convenient.
The caster wheels with brakes mean you can take it with you or leave it on your patio as your regular grill. It is collapsible and transportable yet sturdy enough to be a standalone grill/griddle in your backyard too.
The four burners mean different portions of the grill griddle combo can have different temperatures, and the cast iron material and flame tamers evenly distribute up to 48,000 BTUs of heat.
This grill griddle combo is reasonably priced considering its versatility, functionality, and build quality. If you're looking for a combination grill and griddle, this will be an excellent option that will meet all of your outdoor cooking needs.