Are you a frequent tailgater? Do you spend hours deciding what to make and what tools you'll need for the food? The Blackstone 2- Burner Tailgater Combo Grill and Griddle can cook just about anything.
It features a grill top and griddle top, but both are removable to expose open burners. That way, you can cook pasta or soups with a large pot.
You don't have to choose between bringing a grill or griddle, and you can cook foods you usually need a stove to prepare. It's sturdy but not too heavy, so it's perfect for your next tailgate or camping trip. Here's what you need to know in our Blackstone griddle review.


Tailgater Design & Construction
The Blackstone 2- Burner Tailgater Combo Grill and Griddle is flexible and suitable for cooking a variety of things. It has two burners, and you can use one with the traditional grill top and the other with a griddle.
You can remove one or both to use them as open burners, so you can cook anything from burgers to pancakes to pasta. The grill box and griddle are easy to remove and place back on, and you can use the grill in any configuration.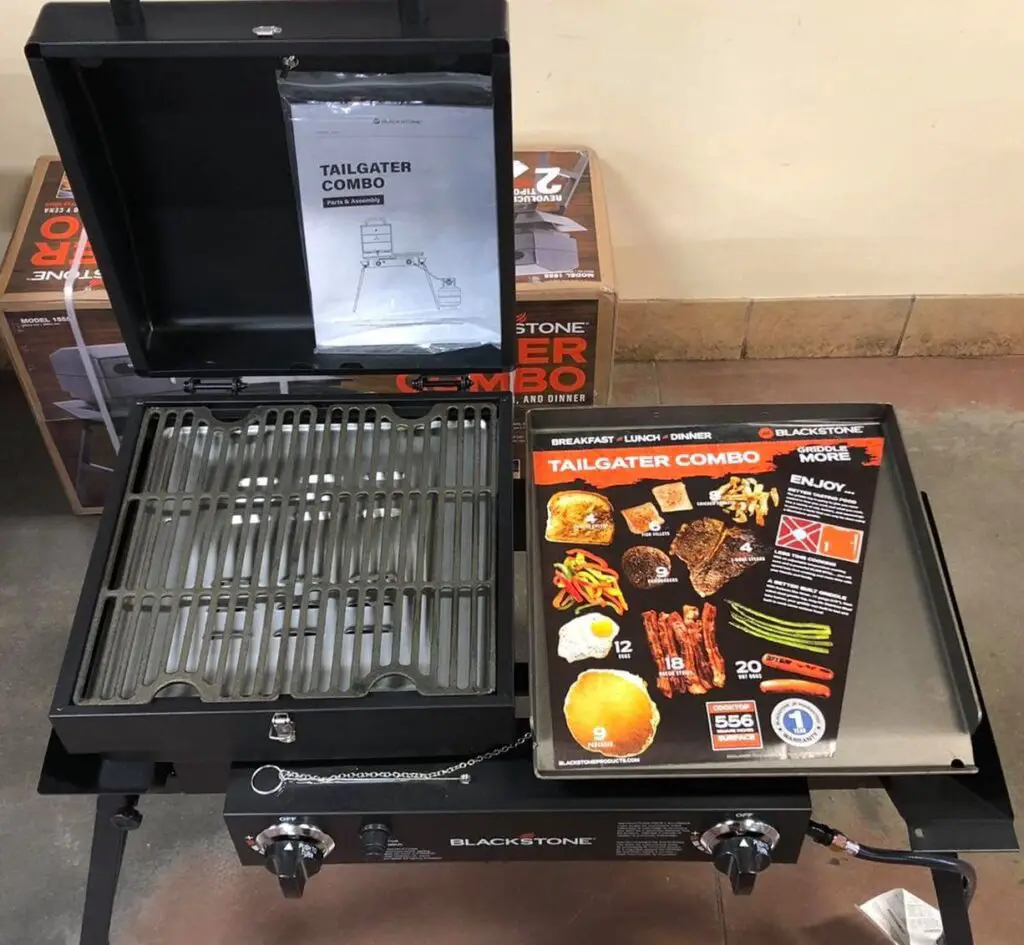 Both burners are independent, so you can also use one side or the other. This unit features a heavy-duty grill box with a vent and handle. It also has a sturdy cast iron grill, and the grill plate is rolled steel.
There's a strong powder coating over the entire grill, which helps the grill last a long time. You can take the grill to your next tailgate or on a camping trip. The grill's legs are also adjustable, so you can use the grill on even or uneven surfaces.
It doesn't take much time to assemble this gas grill griddle combo, so you can start cooking in no time. The grill features an H tube burner with 15,000 BTUs, and the cast iron burner produces up to 20,000 BTUs.
This grill has 512 inches of cooking space divided between the two burners, and it can reach up to 500 degrees Fahrenheit.
Tailgater Cooking Performance
Between the two burners, you can get up to 35,000 BTUs. While the cast iron burner is more powerful than the H tube burner, both are relatively powerful. Drip trays help keep grease from piling up and make it easy to clean the grill and griddle.
You can connect the flat top grill combo to a 20-pound propane gas tank and use it as a regular grill. The grill side has enough room to cook about six or seven pieces of meat at a time. If you decide to remove the grill or griddle, you can use a large pot on the open burner.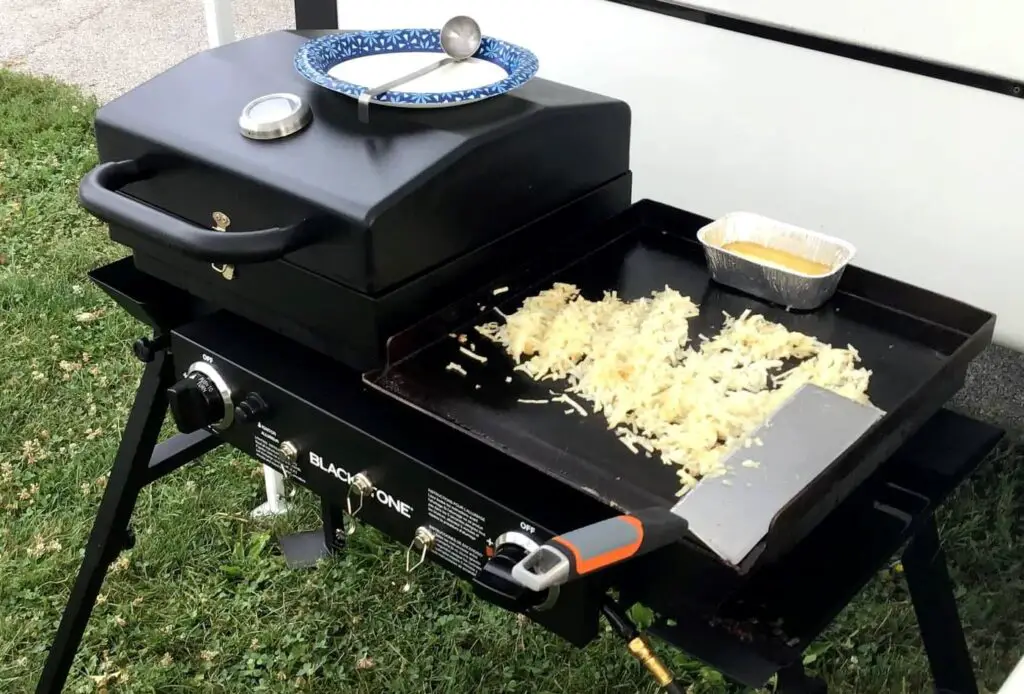 While there aren't specific temperature controls, each burner has a knob that you can use to turn it higher or lower. The grill also has an ignitor that helps you heat the grill up at first.
Depending on what you want to cook, you can also switch the sides. That way, you can use the grill or griddle with the cast iron or H tube burner. The grill typically goes over the cast iron burner, but you can swap it with the griddle to get the right amount of power and performance.
Tailgater Portability
One of the best features of the Blackstone Tailgater combo is that it's very portable. You can adjust the legs and move the grill to take it camping or for a day in the park. However, the legs don't have wheels, so you may need someone to help move the grill.
It weighs about 75 pounds, but you can take off the grill and griddle to make it easier to move. The grill measures 52 in. by 24 in. by 38.5 in. so you'll need a big enough truck bed or trunk to fit the grill. Once you set up the griddle grill, you can quickly and easily connect a propane gas tank to fire it up and get cooking.
The griddle and grill surfaces are easy to clean, and you can remove them to make it even easier. After you finish grilling, you can clean the surfaces. But if you use the open burners, you don't have to clean them.
Whether you want to use the grill, griddle, or burners, you can take the grill almost anywhere. Fortunately, you don't have to worry about placing it on a perfectly even surface because the legs can adjust. The grill works well for just about any event, from family gatherings to tailgating to camping.


Pros & Cons
In this Blackstone Tailgater review, we looked at the design, performance, and portability. Here's a rundown of the specs, advantages, and disadvantages of using this Blackstone portable griddle grill over others.
Specs:
35,000 BTUs
2 burners
512 inches of cooking space
75 pounds
Assembled Width: 52 in.
Assembled Height: 38.5 in.
Assembled Depth 24 in.
Pros:
Flexible cooking surfaces to cook different meals
Easy to set up and take down for added portability
Works well inside and outside
Gas connects to the hose for quick setup
Adjustable legs for portability and stability on uneven ground
Steel construction and strong powder coating
Grill and griddle surfaces have drip trays to help catch grease
Can reach temperatures up to 500 degrees Fahrenheit
Two independent burners
Cons:
The gas grill griddle combo doesn't have wheels
No storage space for tools or food
Nowhere to put the grill or griddle tops when not in use
It doesn't work well in windy or cold weather
Final Thoughts
It would be best to consider a few factors when searching for the best griddle and/or grill. Essential factors include burners, cooking space, versatility, and portability.
The Blackstone 1555 flat top grill combo features 512 inches of cooking space so that you can cook food for up to 5 or 6 people. You can choose between the grill, griddle, or open burners to make cooking a breeze.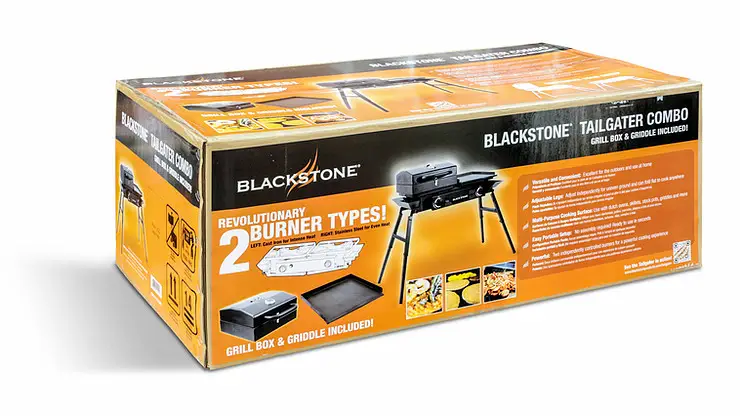 Because this was designed with portability in mind, the legs fold up to make it easy to transport the device, and it weighs less than other models that can be 100 lbs. and up.
Between the two burners, you get 35,000 BTUs, and you can adjust the two burners independently of the other. The ignitor makes it easy to heat the grill to the temperature you need.
With a price tag in the upper $200 range, you get excellent value for your money. All of the features that make this gas grill griddle combo powerful and portable are worth the cost. If you want a versatile combination grill and the Blackstone brand's reliability, this is the model for you.