The Blackstone 36-inch air fryer & griddle combo or Blackstone 1868 is ideal for someone looking for a lot of cooking space with an air fryer's versatility. This griddle is only for sale at Walmart or Blackstone's website so you'll need to purchase it from one of those two places.
Blackstone has also released the Blackstone 2-Burner 28″ Griddle with Electric Air Fryer and Hood and a smaller tabletop model, the Blackstone Adventure Ready 17 Griddle with Electric Air Fryer.
The Blackstone 4-Burner 36″ Griddle with Air Fryer and Hood is an excellent option for everyday use. The specifications for the product give it a competitive edge in the current market. 
There are some significant advantages this cooking appliance has over the competition. Blackstone has undoubtedly brought a versatile new griddle for consumers into the flat top grill market.
You want a reliable option when it comes to a backyard griddle. If you're going to spend money on a gas griddle, make sure that it's a quality choice that helps you cook all meals you and your family love. 
The Blackstone air fryer griddle combo is an upgraded version of the regular Blackstone 1554 36-Inch Griddle model. This combination model gives you all the options and control you want, backed with a well-built construction.
The Blackstone 4-Burner 36″ Griddle with Air Fryer and Hood is a strong contender if you're looking for versatility in your cooking. If you need an easy-to-use griddle that cooks food quickly and evenly every time, consider this one of your best options. Let's take a more in-depth look in our Blackstone griddle review.

Design and Construction
The Blackstone air fryer griddle combo has a tank-build, weighs 133 pounds, and the dimensions are 67 3/8″ x 27″ x 42 3/4″. 
While you can move your Blackstone around, thanks to its wheels that also lock, you'll want to make sure you have enough room to cook at your convenience.
The cooker's frame and all the pieces are well-built, and the stainless steel tube burners are easy to clean and resist rust. To ensure that your Blackstone stays clean and in optimal condition, we strongly recommend using a cover to protect your air fryer griddle combo when not in use.
Not only did Blackstone design their air fryer griddle combo with versatility and healthier cooking in mind, but they also wanted something durable enough to last a long time and for many backyard gatherings. You will need to assemble your new cooker, but keep in mind that you're constructing a heavy-duty griddle that you can use quickly and easily as soon as you set it up.
The Blackstone 36 inch griddle model comes with four independently heated burners, which allows you to cook various foods at varying temperatures. The combined cooking power of all the burners is 60,000 BTUs, making it one of the most powerful Blackstone gas-powered griddles to date.
Other features that make this Blackstone griddle and air fryer combo an awesome investment include:
Warming drawer
Rear grease management system to prevent flare-ups and easy to clean
Side hooks
Magnetic toolbar
Side shelves
Cooking Performance
Steaks, chicken, pancakes, burgers, and even donuts all come out great when using this Blackstone griddle. You can count on quality taste and a thorough cook.
The 756 square inch top gives you plenty of room to allow simultaneous cooking of different meats or vegetables. The adjustable levels of the burners give you greater heat control for other temperature requirements.
While the varying temperatures might be initially intimidating, it's no more difficult than cooking on your stovetop indoors. The only difference is that your Blackstone will cook more quickly, efficiently, and evenly. You can have all the meat you need for your meal cooked at the same time.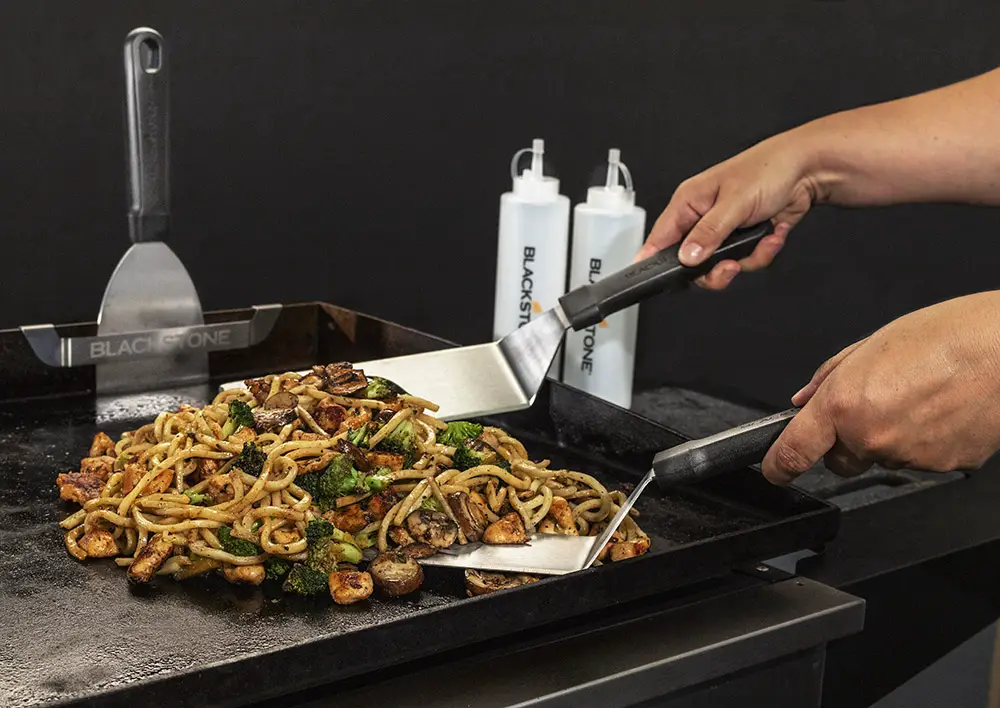 The air fryer is a great asset and addition to this griddle. Temperatures for the fryer can go from 300-475 degrees. You can go for a healthier and crispier cook using the built-in air fryer. There are three drawers built into the cooker. Two are for frying; the third is a warm area while you wait to cook other batches.
The Blackstone model's hood acts as a great splash guard when using the griddle, and the hood behind the griddle blocks off the excess oil that might jump up. There's also a slightly raised perimeter around the griddle that protects others standing nearby the griddle when it's cooking to be splashed by oil that will heat up.
Maintenance
No one wants a dirty griddle when cooking, and no one wants a griddle that's hard to clean either. With the Blackstone air fryer griddle combo, cleaning and maintenance are a breeze. 
The grease from your cooking is funneled to the back of the griddle and gathers into a tray. You can dispose of the oil by removing and replacing the tray.
Cleaning
Cleaning the griddle top is a breeze too. You won't need any unique cleaning materials, but a few handy materials will help you through the cleaning process. You will want to avoid using soap and water as this is bad for the seasoned cooktop.
You will need a scraper for food remaining food particles, a cleaning rag or paper towels, some water, and some cooking oil. First, you'll need some water on the griddle to help you scrape off the remaining food particles. When that's finished, you can add a bit of oil to the griddle top.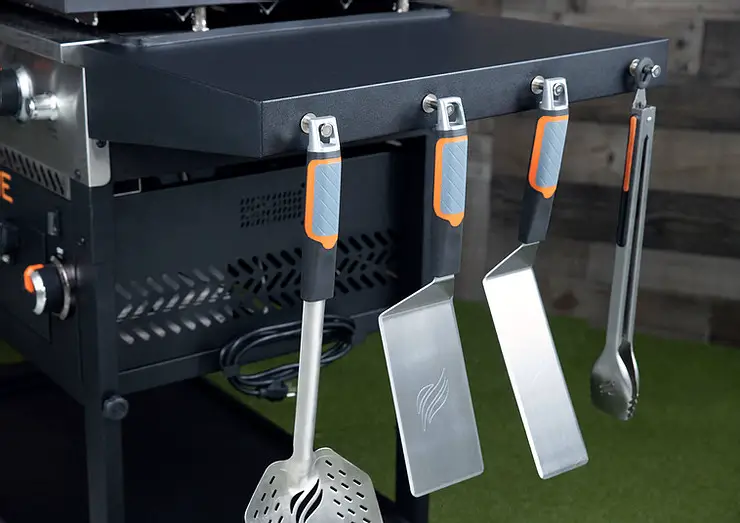 Use your paper towels to spread the oil out on the surface. Once that's finished, your Blackstone griddle is clean and ready for your next cook.
Be sure to clean the Blackstone air fryer griddle combo before you use it the first time. There may be some leftover manufacturer residue that you should burn off before cooking food.
Improvements on the Previous Model
This Blackstone 4-Burner 36" Griddle with Air Fryer and Hood is a definite improvement from the previous Blackstone griddles. The overall build with stainless steel frame, smooth turning temperature knobs, and built-in air fryer make this griddle an all-in-one griddle for great cooking.
The Blackstone air fryer sits at a comfortable height for cooking. You won't have to bend down to manage your food. There are also fully collapsible side shelves on the griddle. You can use these to hold your food, utensils, or seasoning securely. If you're cooking in a tighter space, you can collapse these shelves to give yourself more room.

Pros and Cons
While there are improvements and strengths for the Blackstone 4-Burner 36" Griddle with Air Fryer and Hood, no product is perfect. This product's ability to cook is its strength zone along with its build, and its quality.
You should inspect your griddle for these defects if you purchase one. Some Blackstone reviews report that their regulator was defective. The heat would either go too hot or not hot enough. One study noted that the griddle began to warp after just a few uses.
Some users report that their air fryer wasn't functional at all. There seemed to be no heat generated for its use. Report any of these issues to Blackstone if you find that your unit has any of these problems.
Specs:
36-inch griddle
Four independently controlled burners
756 square inch griddle cooking surface
Dimensions: 67 ⅜" x 27" x 42 ¾"
133 pounds
Up to 60,000 BTU
Four wheels
Magnetic bar for easy tool access
Rear grease management system
Collapsible side table
Pros:
Strong steel frame
Good for daily use
Cooking versatility
Lots of room on the griddle for cooking
Cons:
Instructions don't specify all tools needed for assembly
Heavy weight makes it difficult to move
One side-shelf will stop at the propane tank when collapsed
Final Thoughts
The Blackstone 4-Burner 36" Griddle with Air Fryer and Hood is a great option for a new griddle. The heavy-duty build, along with its cooking variety, could make this the perfect griddle for you and your family. It's an all-in-one option; ready with new features that upgrade from Blackstone's previous griddles.
You can cook all kinds of meals on this griddle and use the air fryer for healthier fried foods with a crispier finish. The four independently operated stainless steel burners give you lots of control while cooking different meats. The air fryer has its individual temperature control and a separate section for keeping fried food warm.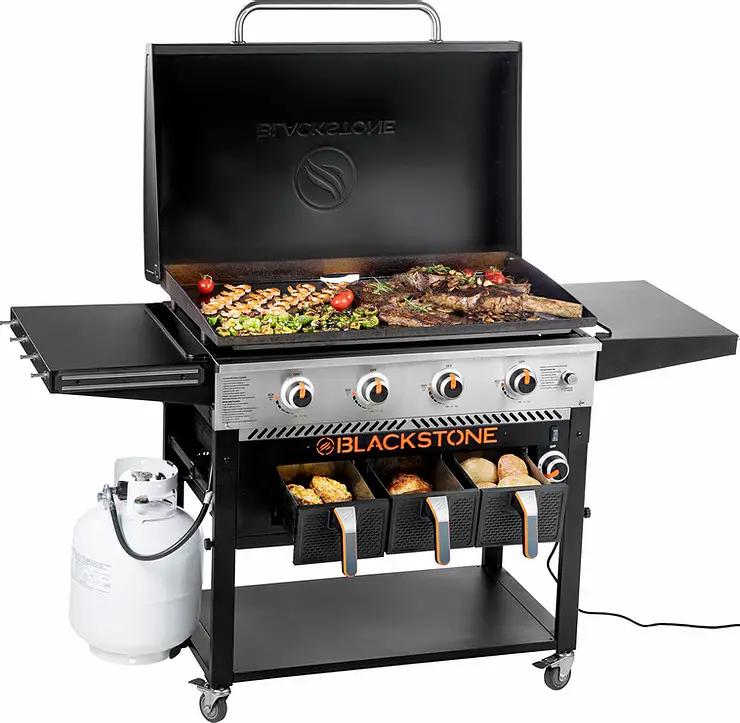 You should make sure that your unit has none of the previously specified defects. Make sure your regulator, heat controls, and other components are fully functional. These reviews had stressed customer disappointment with their griddle when they ran into these issues. If you run into a problem, let Blackstone know right away.
In addition, make sure that you take the time to clean your griddle before its first use. Use some heat to burn off any manufacturer residue. You want your griddle to be chemical-free before you start to cook your meals on it.
The Blackstone 4-Burner 36" Griddle with Air Fryer and Hood is pricey for sure, bu overall, this griddle is well worth the money. The versatility and upgrades that come with it make this a formidable choice for an outdoor gas griddle.