After the success of Blackstone's 4-Burner 36" Griddle with Air Fryer and Hood, they have released the Blackstone 2-Burner 28″ Griddle with Air Fryer and Hood and 17-inch Blackstone Adventure Ready Griddle with Air Fryer and Hood. If a combination air fryer and griddle sounds exciting, you want to be sure to pick the right one for you. 
In this review, we'll detail all the best aspects of the Blackstone 28-inch Griddle with Air Fryer, along with areas of improvement. We will also compare it to the other griddle air fryer combos offered by Blackstone currently. 
All in all, it comes down to buyer preference, but the Blackstone 2-Burner 28-inch Griddle with Air Fryer is a very good offering and might be the right griddle choice for you. 


Design and Construction
The Blackstone 28″ Griddle with Air Fryer features a 524 square inch griddle cooktop made of rolled steel for even and controlled heating each time. It also comes equipped with an air fryer and warming drawer underneath the griddle cooktop. The air fryer and warming drawer each have a capacity of 4 quarts. The griddle and air fryers sit on a cart with 4 lockable wheels. 
It can fit up to 18 burgers, 44 hotdogs, 12 steaks, 24 pancakes, or 24 eggs at a time. It also has terrific storage space with an underneath shelf and two collapsible side shelves with tool hooks and a magnetic strip to hold all your griddle cooking accessories.
It boasts 47,000 BTUs between the griddle and air fryer and has an electronic start ignition. The griddle is powered by propane, while the air fryer element actually runs on electricity. 
This is key to mention as you'll need access to an electrical outlet to use the air fryer. The griddle also offers two independent cooking zones allowing you to have one side of the griddle set to a different temperature than the other.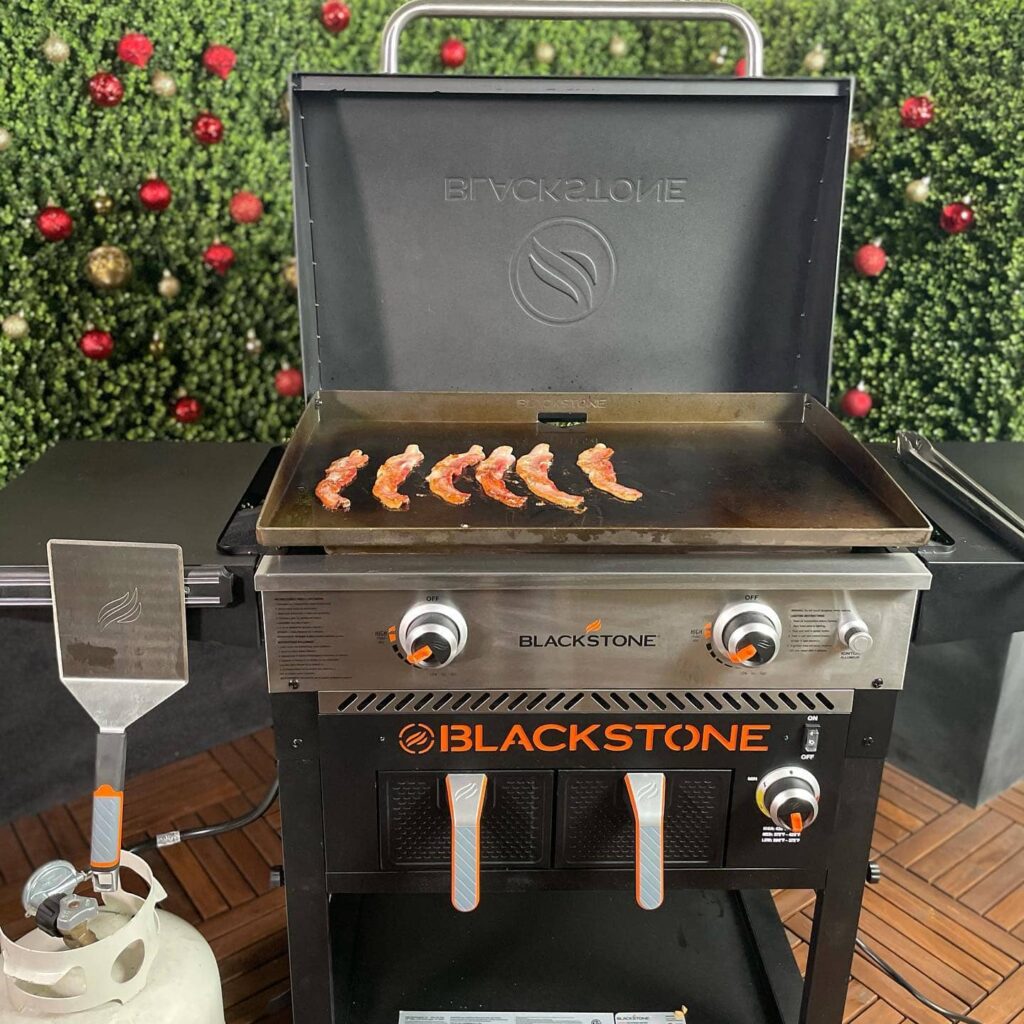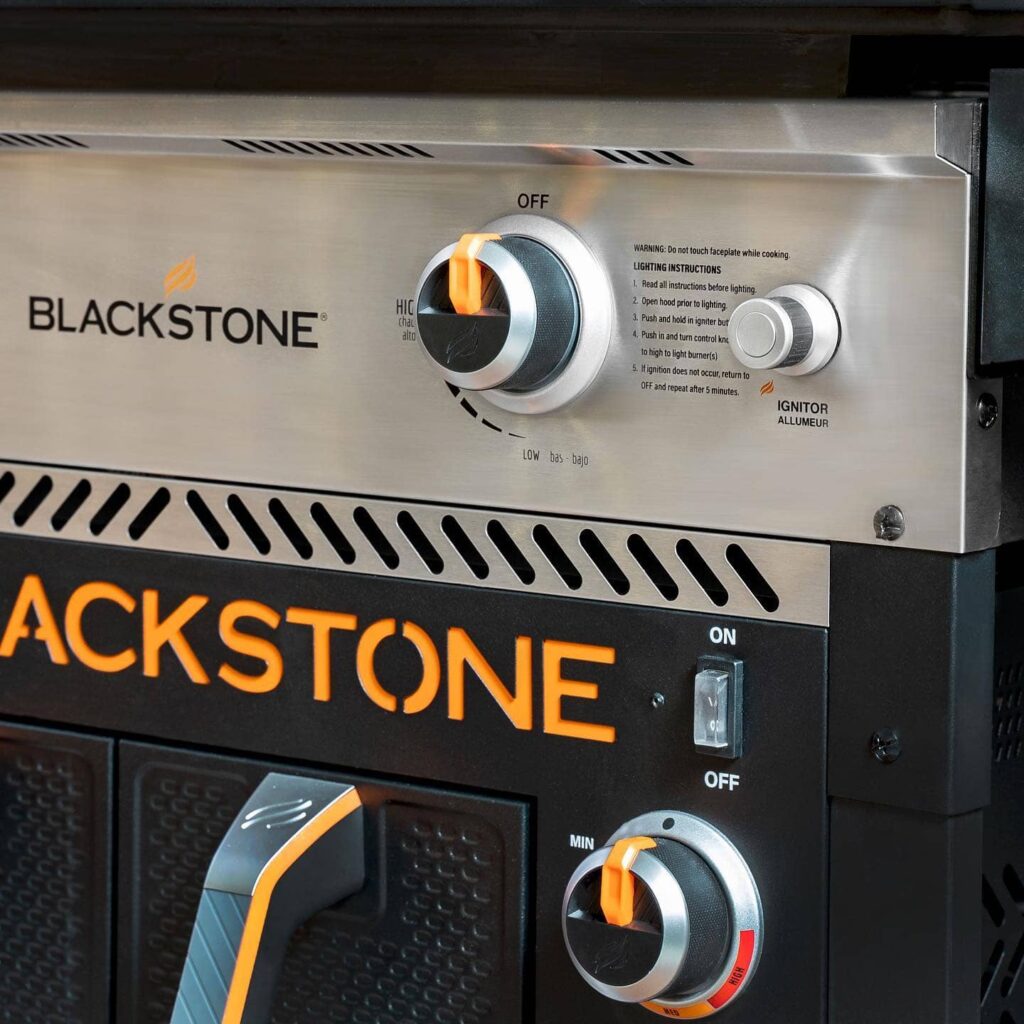 An often overlooked feature of this flat top grill is its built-in hood. The hood not only protects your griddle when not in use but can also help cook certain dishes and reduce grease splatters. It also comes with a rear grease management system to handle excess oil and food scraps on the cooktop.
Overall the Blackstone 28″ Griddle with Air Fryer is well built, provides a lot of versatility, and has some beneficial features. Now the question is, does it cook well?
Cooking Performance
Griddles may look intimidating, but they can be beneficial when preparing large quantities of food. If you love to entertain and love to grill (or, in this case, griddle), investing in a Blackstone griddle with air fryer will go a long way.
The Blackstone 2-Burner 28-inch Griddle with Electric Air Fryer and Hood allows you to sear, air fry, sauté, roast, and bake all in one place. Using a gas griddle and air fryer at the same time means lots of versatility and opens the door to many more cooking options.
This griddle air fryer combo makes it easy to cook big meals for all your family and friends. It can cook for anywhere from 2 to 10 people at a time.  If you are cooking in batches, you can accommodate even more people.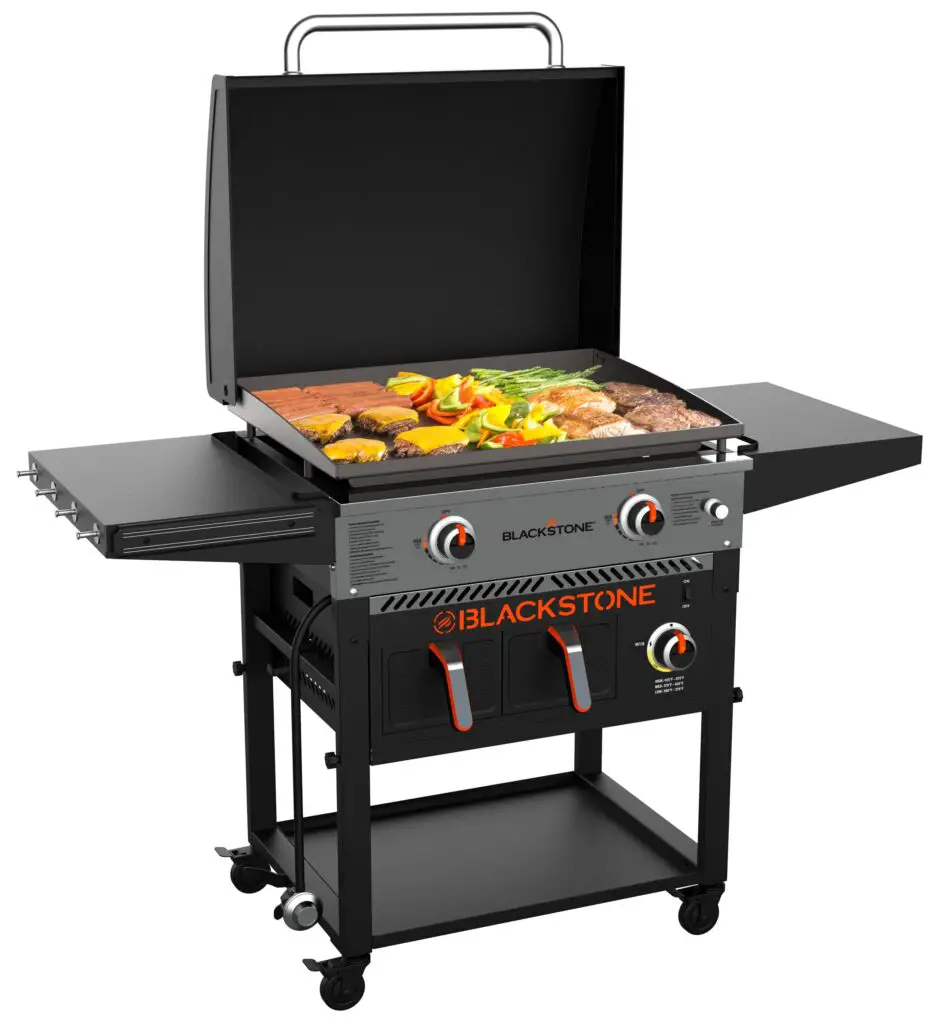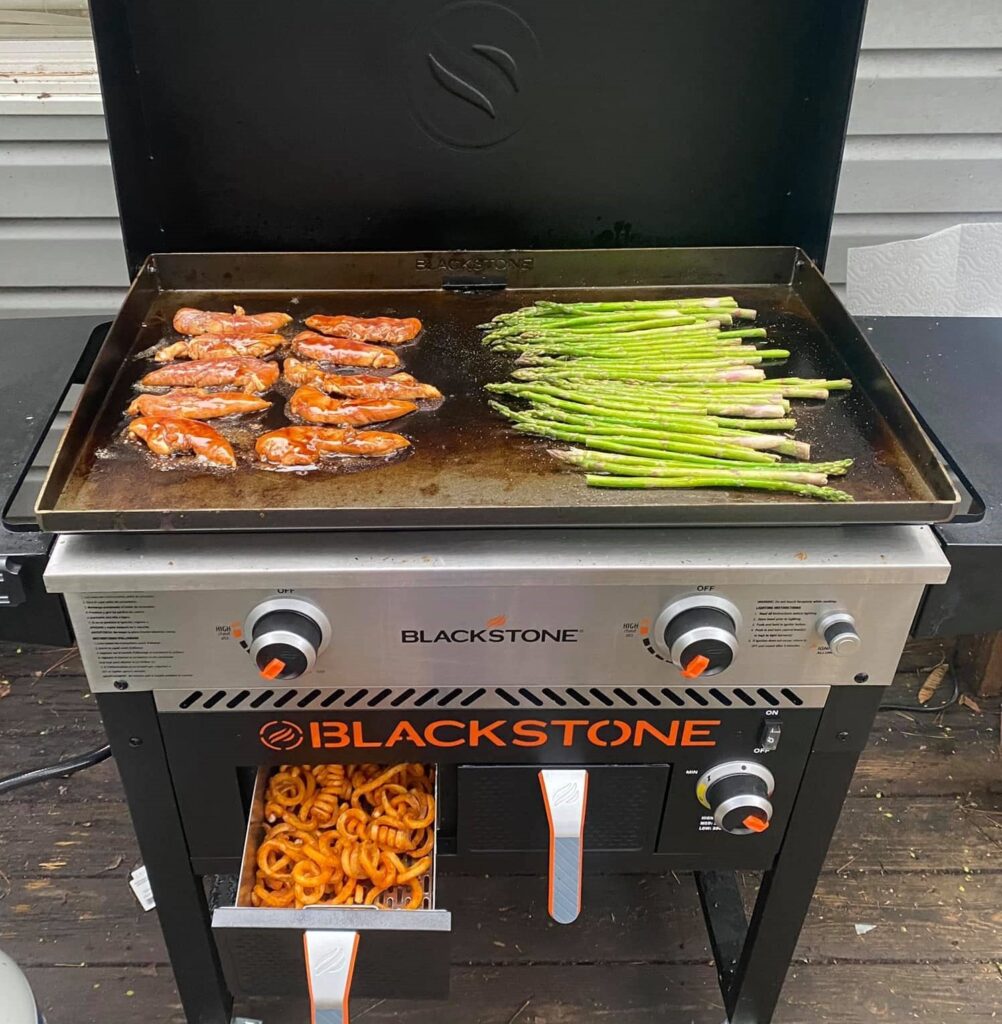 The griddle does an outstanding job cooking a variety of different foods. It can handle large breakfasts with bacon, eggs, hash browns, and pancakes and complex lunch and dinner meals like fried rice and sandwiches. 
The air fryer does a nice job cooking things you typically deep fry like french fries or wings. The warming drawer is very helpful in keeping cooked foods warm while other dishes are finishing. 
Cleaning and Maintenance
Before using the griddle the first time, you will have to perform the initial seasoning. Seasoning the griddle involves heating the cooktop on high heat and applying thin coats of oil that burn off. This is repeated several times, leaving a protective and nonstick surface. This extends the life of the griddle and also prevents food from getting stuck to the cooktop.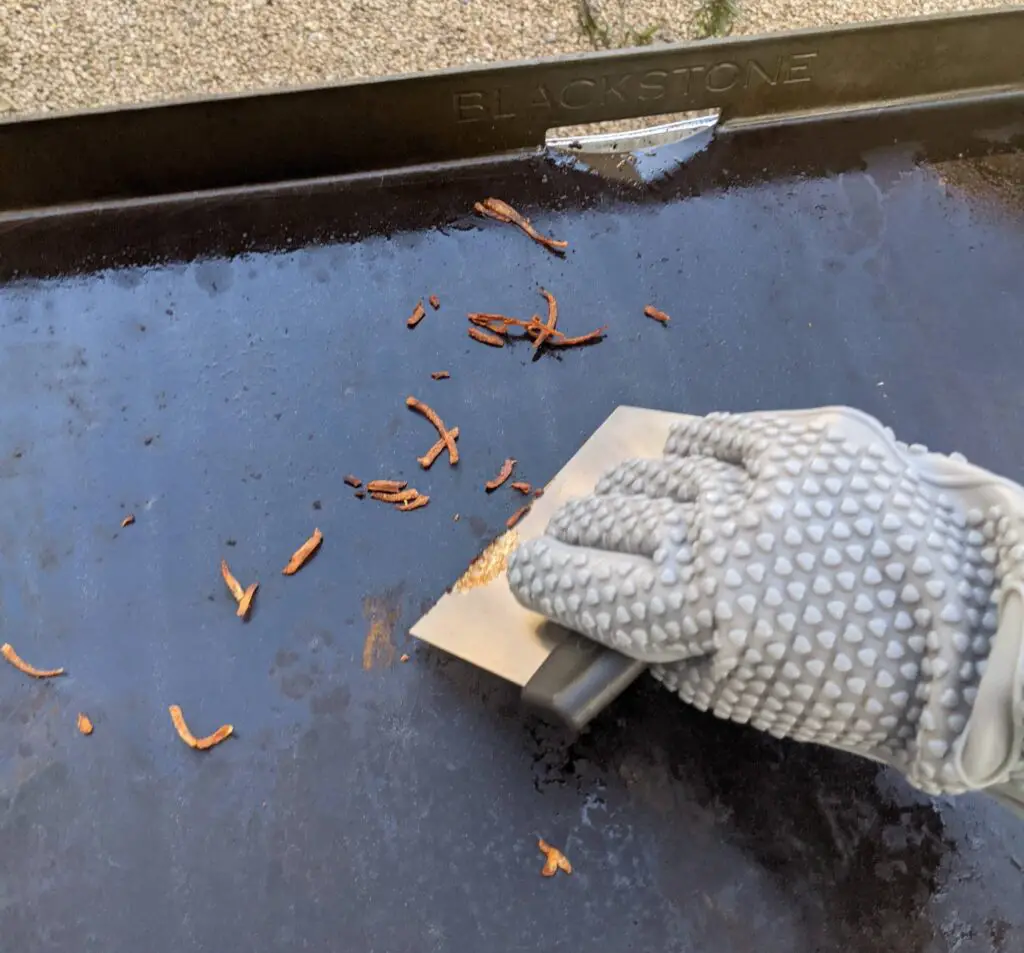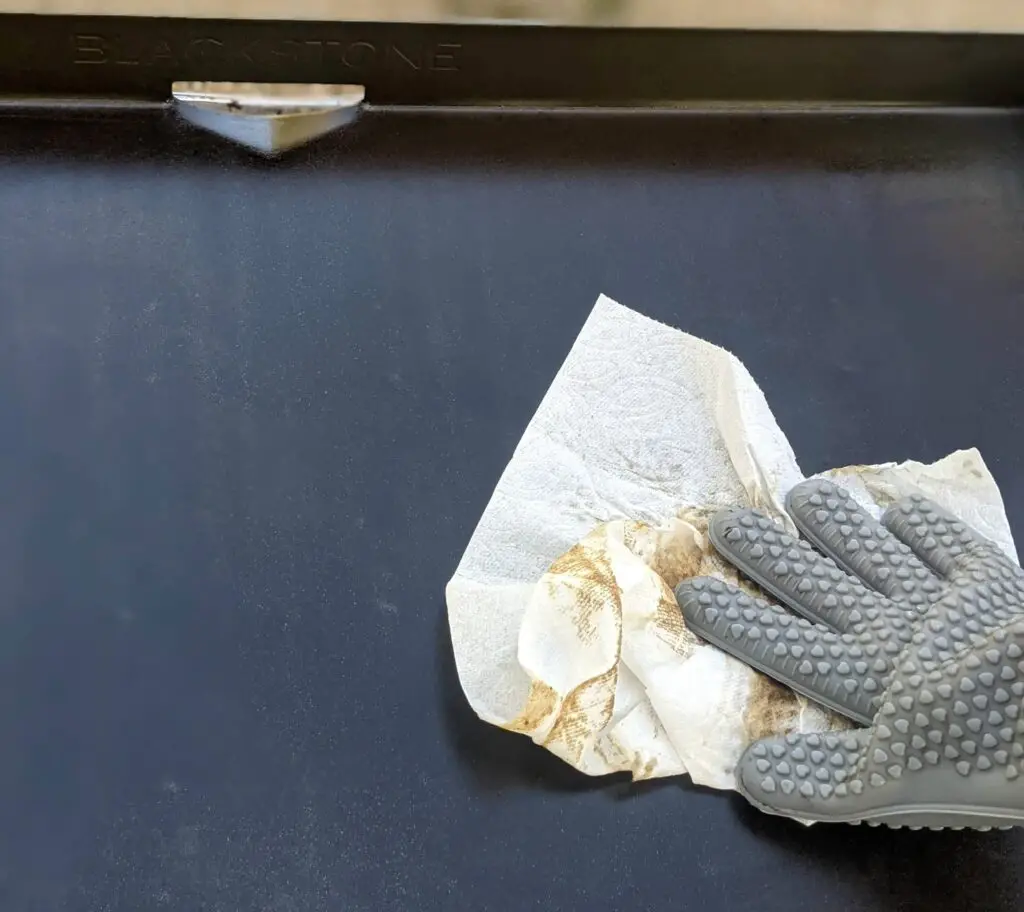 The griddle does need to be cleaned after each use. This involves using a scraper to remove any excess oil and food scraps that remain into the rear grease management system. You'll then wipe the cooktop with paper towels and water to remove additional residue. Once finished, you'll need to apply a very thin coating of cooking oil to the cooktop, and you're done.
Much like the 17-inch and 36-inch Blackstone air fryer combo models, the 28-inch Blackstone air fryer combo model has a rear grease management system to help with easy cleanup. You will need to clean this out, but disposable drip cups can make your life a lot easier when cleaning out the grease trap. These are sold separately and not included.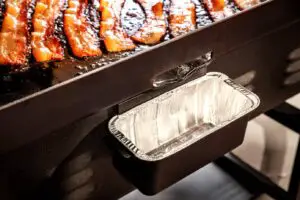 The air fryer portion, both the fryer itself and the warming tray, are dishwasher safe. That means you spend less time cleaning up and loads more time cooking and serving food for yourself, friends and family.
Not every Blackstone model comes with a hood, but fortunately, this one does. The hardcover hood will help protect the griddle top when not in use. You'll likely want also to purchase a softcover for it to protect it from the elements further if you'll be storing it outdoors. It's a great way to preserve the griddle top and avoid any rust or other deterioration. 
Portability
Unfortunately, the 28" Blackstone griddle with air fryer is not particularly mobile. It weighs 132 pounds and is quite bulky because of the griddle, hood, air fryer, and warming drawer. It does come on wheels, making it easy to move around its designated area like your deck or porch. Transporting it to a tailgate or camping would be much more difficult in comparison to other models.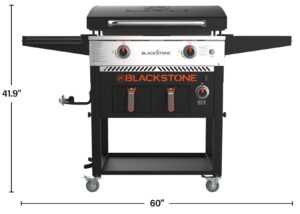 It's probably not advisable to move the entire piece of equipment to a new location unless necessary. Another portability issue is that the griddle needs to be plugged in for the air fryer to work. If you're in a stadium parking lot or at a campsite, there is an excellent chance you won't have access to electricity.
If having a highly mobile gas griddle is important for you, then this model likely isn't the right choice for you. See our review section for numerous other options that provide better portability.  
Blackstone Air Fryer Models
Comparing the other two models, the 36-inch Blackstone Griddle with Air Fryer and the 17-inch Blackstone Adventure Ready Griddle with Air Fryer, they each have their advantages and disadvantages. The different models are similar because they are all a griddle and air fryer combo.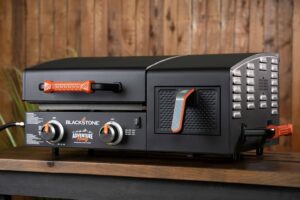 The 17-inch model is a tabletop griddle making it easy to transport, and it costs the least among the 3 models. It also has the smallest cooking space with a 275 square inch cooktop. The 17-inch model also doesn't have a warming drawer, which is handy when cooking multiple things at once, especially for crowds.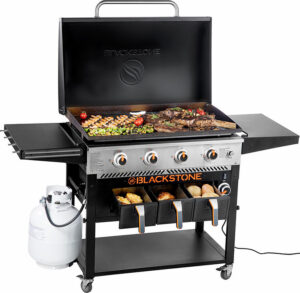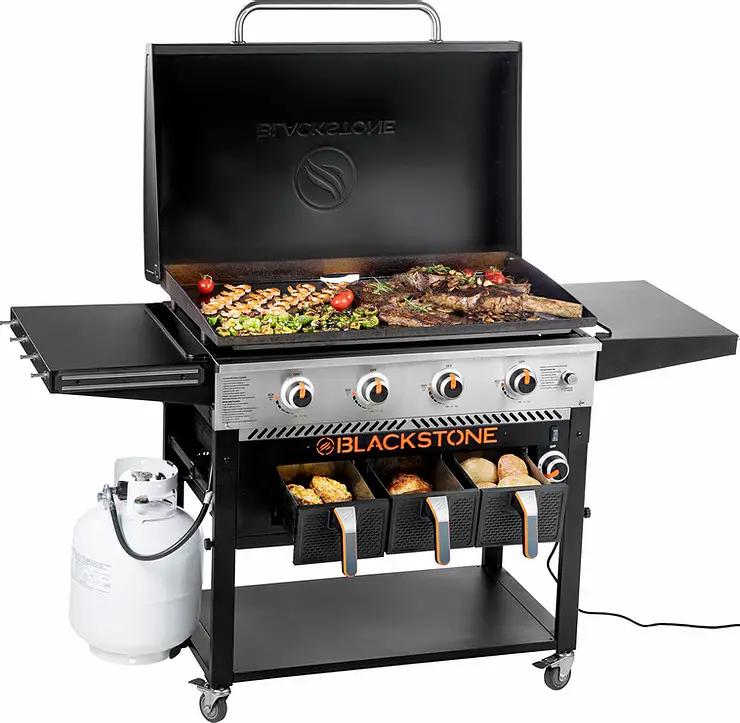 The 36-inch model is also a fantastic choice, but it's also the most expensive option. It has the largest cooktop space with an impressive 756 square inches, but you may not require that large a cooking area. It comes with an additional air fryer drawer, perfect for air frying two things at once or serving larger crowds.
All 3 are excellent choices. It's more about how much cooking space you want and cost. 


Pros & Cons
With all the information presented, it's easy to see why the Blackstone 28-inch Griddle with Air Fryer is an excellent investment. Nevertheless, let's looked at a bulleted list of the griddle's specifications and the pros and cons.
Specifications:
524 square inch rolled steel cooktop 
Two independent cooking areas
Electric air fryer & warming drawer
Rear grease management system
Stainless steel burners
Four industrial strength wheels
Propane attachment hose included
Pros:
Large 524 square inch griddle cooktop
It has both an air fryer and warming drawer
It comes with 2 side shelves with hooks and a magnetic toolbar
Convenient rear grease management system 
Can feed anywhere from 2 to 10 people
Has 2 independent cooking zones
A hardcover griddle hood is included
Cons:
Pricier than similar-sized models because of the additional features
Heavier and bulkier than other 28-inch griddle offerings
Poor portability
It is a Walmart exclusive product
Final Thoughts
If you like to entertain or just like having a large griddle and air fryer at your disposal, investing in a 28-inch Blackstone griddle is a great way to go. This particular model works excellent and has a ton of room for both griddle cooking and air frying. Plus, griddles are inherently versatile, meaning you can make pretty much anything on there, whether it's breakfast, lunch, or dinner.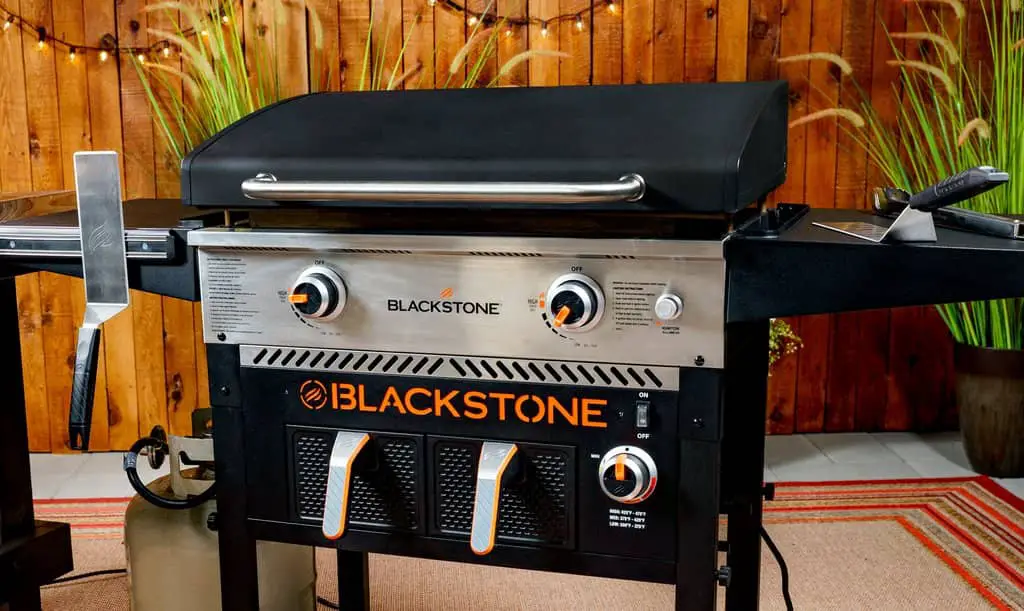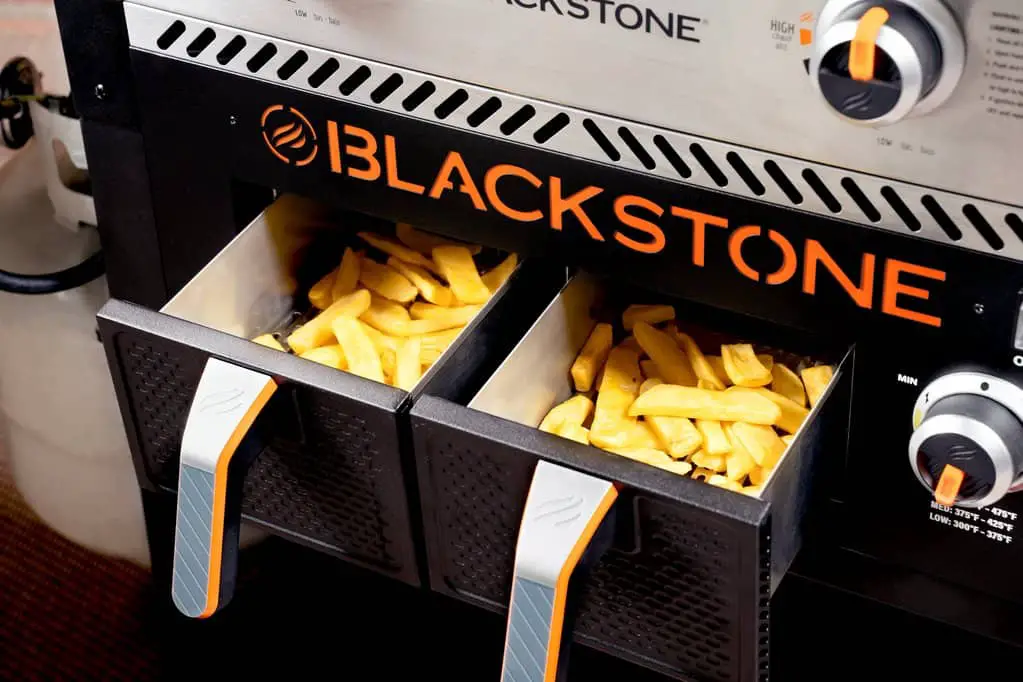 The 28-inch Blackstone Griddle with Air Fryer is a nice sweet spot. Not too big, not too small. It has a smooth, sleek design that's also got tons of helpful features beyond the griddle and air fryer like the shelves, hooks, and magnetic strip.
Overall, the Blackwell griddle with an air fryer is a great investment. Once you start using it, you'll wonder why you settled for anything less. It may be a Walmart exclusive, so you won't be able to find this model anywhere else. Also, be sure to see our top 7 must-have griddle accessories, so you have everything you need to cook like a griddle master.