Induction cooktop stoves are becoming a popular fixture in many homes today, thanks to their energy efficiency and reliability. However, home chefs should keep in mind that cooking with an induction hob isn't quite the same as traditional electric burners.
If you're going to use a griddle pan on your induction setup, you need to find one that will work with your stovetop. Here, we're going to go over the best induction hob griddle options for those looking to amp up their next meal.
Best Cast Iron Induction Griddle Pan
Lodge Pre-Seasoned Cast Iron Griddle
Best Stainless Steel Induction Griddle Pan
360 Stainless Steel Square Griddle
Best Copper Induction Griddle Pan
Ecolution Endure 11 Inch Nonstick Griddle
Best Stone Coating Induction Griddle Pan
Caannasweis Grey Griddle Pan
Best Cast Iron Induction Griddle Pan
Lodge Pre-Seasoned Cast Iron Griddle
Best Stainless Steel Induction Griddle Pan
360 Stainless Steel Square Griddle
Best Copper Induction Griddle Pan
Ecolution Endure 11 Inch Nonstick Griddle
Best Stone Coating Induction Griddle Pan
Caannasweis Grey Griddle Pan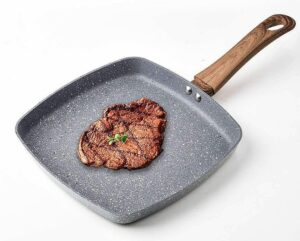 What to Look for in an Induction Stovetop Griddle Pan
Shopping for the right griddle pan for your induction stovetop isn't always easy. No matter which option you go with, there are a few important factors to keep in mind while shopping.
Material
Induction cooktops function differently than conventional propane-powered or electric coils. They use magnetic fields to create heat quickly and efficiently, limiting what type of cookware will work on your stovetop.
With an induction hob, you need to look for a griddle pan made of a magnetic material such as stainless steel, anodized aluminum, or cast iron. If you want to use cookware made with a nonmagnetic material such as ceramic, it should have a magnetic base to distribute heat.
Shape
The body of your griddle is another crucial consideration, as it can affect how your meals come out in the end. You can find high-performance smooth, flat griddles that offer even heating throughout. You can cook anything from pancakes and eggs to seared steaks with a flat griddle.
You can also find griddle pans with raised ridges to simulate grill bars. These are ideal for indoor grilling for those who don't have an outdoor setup. With the right ingredients, you can recreate barbecue favorites such as grilled chicken or cheeseburgers in the comfort of your kitchen.
If you want the best of both worlds, look for griddles that feature ridges on one side and a flat surface on the other. These reversible pans give you more versatility than traditional models, though they may be more challenging to use.
Size
The best size griddle pan for you will depend mainly on your stovetop size and your cooking habits. If you've got a small kitchen setup or cooking for just one or two people, you may want to opt for a small single-burner griddle. You can also find double burner options if you're going to cook more food at once.
Pan Thickness
You can find griddle pans in various thicknesses, from lightweight varieties that claim to cook food quickly to heavy-duty cast iron griddle options. No matter what you plan to cook, it's best to look for a griddle with a thick base.
Not only will a thick pan last longer than thin, flimsy options, but it will also distribute heat more evenly. A thicker griddle may also offer more stability when cooking to prevent accidents and injuries.
Stick vs. Nonstick
Nonstick pans are a relatively modern invention, and today, they're wildly popular in kitchens around the country. Nonstick griddles are easier to clean than other options, and they're naturally corrosion resistant to help them last longer.
Unfortunately, nonstick pans aren't for everybody. There are concerns about common nonstick materials such as PFOA, PTFE, and cadmium being dangerous for human health. Creating these compounds also releases harmful chemicals into the atmosphere, making them less eco-friendly than simple stick pans.
If you opt for a nonstick induction hob griddle, it's best to look for surgical stainless steel. Tri-ply construction with an aluminum core and a stainless steel coating can also resist sticky substances without posing a threat to your health.
Handles
Most griddle pans come with sturdy handles to allow you to move the unit when it's hot. If a griddle pan is missing handles, it's most likely not safe to use, even while wearing oven mitts. Removable handles are fine as long as they have a secure method of attachment.
It's best to always look for something with ergonomically located handles with a robust connection to the pan base. If possible, look for something with a heat-resistant grip such as plastic or silicone.
Portability
Not all induction griddle pans have to stay in the kitchen. If you like to travel or camp, you can find griddles designed for on-the-go portability. Small, portable griddles are also ideal for those with limited kitchen storage space.
A portable griddle may disassemble or fold into a smaller configuration to allow you to carry and store it with ease. Most portable griddles are made of more lightweight materials than their counterparts.
Warranty
If possible, look for a griddle that offers an extended warranty. A good griddle should be made to last a lifetime. Companies that are confident in their product should have no problem providing a long-term warranty to protect your purchase. It's also good to make sure that they have an easily accessible customer service department if you have any issues with your griddle.
Our Favorite Griddle Pans
With so many griddle pans available on the market, it can be difficult to choose which one is right for you. Fortunately, we're here to help. We've rounded up our top choices for the best induction hob griddles for any kitchen.
Best Cast Iron Induction Griddle Pan
Lodge Pre-Seasoned Cast Iron Griddle
This affordable cast iron griddle is ideal for beginners and experienced chefs. It offers all of the bare necessities of an induction hob griddle without unnecessary (and potentially costly) bells and whistles.
This griddle measures 10.5" in diameter, making it a good size for single-burner cooking. It offers plenty of space to cook for one or two people and is ideal for small meals such as pancakes or single meat cuts.
The Lodge Cast Iron Round Griddle can be used on more than just induction stovetops, making it a versatile choice. You can also safely cook on gas stoves, in the oven, or even over an open fire. The durable cast-iron design can withstand heavy wear and tear without warping or breaking.
Unlike many other griddle options, the Lodge Cast Iron Griddle comes pre-seasoned and ready to use. You can start cooking delicious meals straight out of the box without having to go through the lengthy process of seasoning the cast iron base.
When you're done cooking, cleaning is as simple as running hot water over the griddle. For tougher messes, you may have to use a hard-bristled brush. Because the pan is made of cast iron, you never have to worry about using the dishwasher or scrubbing with soap.
Pros:
Made of heavy-duty, durable cast iron
Ideal for a single burner or small meals
Can be used on multiple cooking surfaces
Comes pre-seasoned and ready to use
Easy to clean with just hot water
Cons:
Rusts easily without proper care
Food tends to stick to the surface at high temperatures


Best Stainless Steel Induction Griddle Pan
360 Stainless Steel Square Griddle
This griddle is made of naturally stick-resistant surgical grade stainless steel. It's easy to clean with just soap and water. The griddle is also dishwasher safe for quick, easy, and effortless cleaning after any meal.
Thanks to its stainless steel design, this griddle is healthier and eco-friendly than many nonstick alternatives. 
It's also thicker than other griddles on the market to offer rapid and even heating. If you want to stick this pan in the oven, it's heat resistant up to 500℉. You can also use the griddle on gas, electric, and smooth-top stoves and induction hobs.
360 Cookware is certified green and eco-friendly. Eco-conscious buyers can rest easy knowing that the manufacturing process doesn't release as many dangerous chemicals into the environment as other griddle styles. You also don't have to worry about toxic nonstick components making their way into your food.
This induction hob griddle comes with a lifetime warranty backing your purchase. If it breaks down, you can reach out to 360 Cookware for a refund or a replacement, even after years of use.
Pros:
Made of nonstick surgical-grade stainless steel
Contains no toxic components
Thick design for even heat distribution
Eco-friendly
Comes with a lifetime warranty
Cons:
Prone to warping along the base
The surface is not completely nonstick

Best Copper Induction Griddle Pan
Ecolution Endure 11 Inch Nonstick Griddle
This copper griddle pan heats more quickly and more efficiently than options with surfaces made of a material such as stainless steel or cast iron. 
Its attractive design is ideal for design-conscious chefs looking to match copper fixtures in their kitchen. What's more, copper is both durable and scratch-resistant.
The griddle pan is free of dangerous materials such as PFOA, lead, or cadmium. Instead, a safe, premium nonstick coating keeps your pan safe without releasing harmful chemicals into the air or your food.
A thick aluminum core helps this griddle to heat and cool efficiently while making the unit compatible with induction stovetops, unlike other copper griddles. You can also use it with other hob styles such as gas or electric, and the whole setup is oven-safe up to 375℉.
This griddle measures 11", making it a good choice for single-burner cooking. It's dishwasher safe, making it easy to clean, and has a heatproof dual riveted handle designed for easy hanging.
Pros:
Nonstick and free of hazardous chemical components
An efficient and attractive copper surface
Thick aluminum core for even heating
Suitable for multiple cooking surfaces
Ideal for single-burner cooking
Cons:
Coating chips easily
Handles can be uncomfortable to grip

Best Stone Coating Induction Griddle Pan
Caannasweis Grey Griddle Pan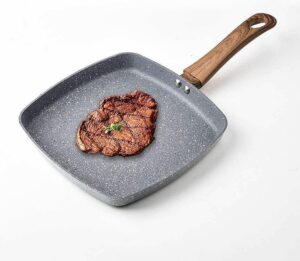 This pan is both attractive and functional, with a coating that imitates the look, shape, and texture of stone cookware. It measures 9.5", making it ideal for single-burner cooking and small meals such as omelets, single cuts of meat, and more.
Beneath the stone veneer, the pan is made of premium aluminum alloy. It's both tough and lightweight, making it ideal for home or travel. 
The alloy is combined with a magnetized base to ensure that the pan works flawlessly with any induction stovetop.
All materials used in this griddle are free of PFOA, PTFE, cadmium, lead, and other toxic components. You don't have to worry about hazardous chemicals seeping into your food or the air when cooking at high heat.
The ergonomic handle is made of wood grain to match the rustic look of the pan surface. It's heat-resistant, easy to grip, and has a hole in the end for easy hanging. If you don't want to hang the griddle, it's compact enough to store upright.
This induction griddle comes with a 30-day moneyback guarantee so that you can be confident in your purchase. If you're not happy with the pan's performance, you can get a refund with no strings attached.
Pros:
Attractive stone veneer
Heatproof, ergonomic wooden handle
Free of toxic components
Ideal for single burner cooking
Comes with a 30-day moneyback guarantee
Cons:
The handle comes loose easily
Coating chips with excessive use

Final Thoughts
If you have an induction hob/stovetop, then having the right griddle for your setup is a must-have. The right griddle allows you to heat food quickly and evenly, allowing you to cook meals such as bacon and eggs to perfection. You can also find griddles designed to bring the taste of outdoor grilling indoors.
Our favorite griddle pan for induction stovetops is the Lodge Pre-Seasoned Cast Iron Griddle. It's more durable than options such as the Ecolution copper griddle pan, and it offers more value for your money than more expensive options like the 360 Stainless steel griddle. 
That being said, we approve of all of these, so if you prefer a specific cooking surface over another, you can't go wrong with any of these options.
See more of our Top Lists on Griddle Sizzle now!