Glass top stoves have become a popular choice due to their sleek, modern appearance and energy-efficient performance. But for all the advantages of a glass top stove, there is a disadvantage. Glass tops are considerably more fragile than coil or gas stovetops.
Griddle pans are a must-have in any kitchen, but not all of them are compatible with glass top stoves. We have put together a guide on choosing the best griddles for a glass top stove and narrowed it down to our top 5 selections.
Top 5 Griddles for Glass Top Stoves
Here's a list of the top 5 griddles selections. These are some of the best griddles on the market that are appropriate for electric glass top stoves.
Nordicware 2-Burner Griddle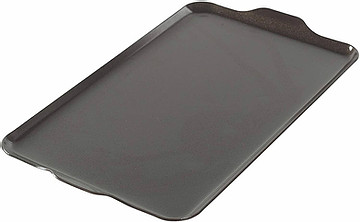 Viking Culinary Hard Anodized Double Burner Griddle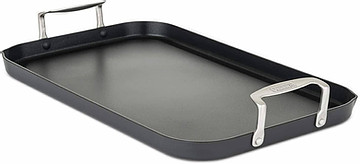 Cuisinart Double Burner Griddle


Chef's Secret 11-inch Stainless Steel Induction Griddle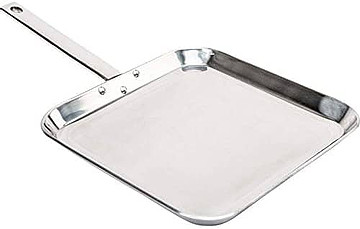 OXO Good Grips Non-Stick 11″ Square Griddle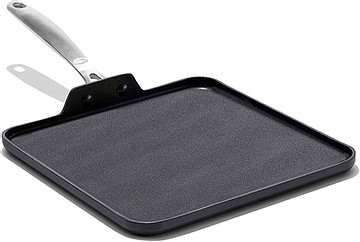 Nordicware 2-Burner Griddle
Viking Culinary Hard Anodized Double Burner Griddle
Cuisinart Double Burner Griddle
Chef's Secret 11-inch Stainless Steel Induction Griddle
OXO Good Grips Non-Stick 11″ Square Griddle
Keep reading for important information about selecting a griddle for your glass cooktop and an in-depth review of each of these griddles.
What to Consider
Griddle pans come in different shapes, sizes, and materials. Some work better than others, and some are better suited for glass cooktops. In general, here are some things that you should look for when shopping for cookware that is compatible with a glass top stove.
Material
Always check with the manufacturer of your stovetop, but glass cooktops have had some limitations when cooking with pots and pans made from certain materials. Nevertheless, some manufacturers have addressed these limitations, and newer models may be less restrictive.
Popular Cookware Materials
| Cast Iron | Traditionally not compatible with glass tops |
| --- | --- |
| Stainless Steel |  Suitable for glass tops |
| Carbon Steel |  Suitable for glass tops |
| Titanium |  Suitable for glass tops |
| Heavy-Weight Aluminum |  Suitable for glass tops |
| Copper | Prone to warping, not suitable for glass tops |
| Stoneware | Not recommended for glass tops |
| Glass | Not recommended for glass tops |
| Ceramic | Not recommended for glass tops |
Using heavy or abrasive materials like stoneware or cast iron on a glass stove may scratch the cooktop. These heavy materials trap a lot of heat underneath them, putting too much stress on the glass top, leading to cracks.
Stainless steel or heavy-weight aluminum are good griddle material options for glass top stoves. They are both durable and lightweight. Stainless steel and heavy-weight aluminum also conduct heat from the glass cooktop and distribute it evenly across the pan.
Size and Shape
Griddles for a glass top stove are only as good as the surface area that they cover. For example, you can buy elongated pans that fit over two burners. This type of flat top grill for the stove offers ample cooking space, but the heat will be inconsistent in the burners' spaces.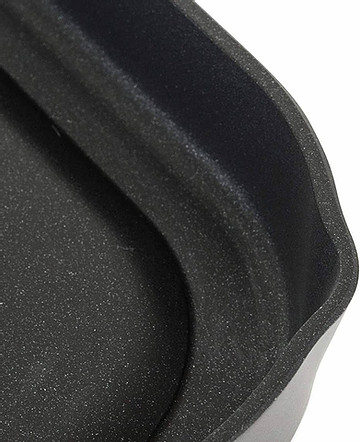 Smaller pans that fit on a single burner provide more consistent heating. The bottom of the pan should also be flat and not domed to ensure consistent heat transfer.
Some griddles also include additional features like raised edges to prevent spillage and grooved surfaces from simulating indoor grilling. Consider what foods you will prepare when contemplating these features.
Coatings
Modern cookware comes with many different coatings intended to keep food from sticking. This makes for a good, oil-free cooking experience and easy cleanup. However, these coatings have received some bad press, as people claim they may not be as healthy as we once thought.

The chemicals used to create nonstick coatings can transfer to the food you are preparing in high heat situations. Since heat and cooking go hand in hand, many people feel safer avoiding these coatings.
Uncoated stainless steel cookware is growing in popularity as the answer to non-toxic, durable cookware. Another good alternative is PFOA-free nonstick coatings on traditional aluminum or steel construction griddles. PFOA is the chemical surfactant found in Teflon and many other products that may be harmful if ingested through prepared food.
Heating Method
Glass top stoves are either Induction-based, which uses electromagnetic fields to direct heat to the burners instead of the entire stovetop, or electric-based heat. Many glass stoves are induction-based, but plenty of glass top stoves still use electric-based heat.
When shopping for cookware, do not assume that you have an induction stove or that you need an induction griddle pan. Always start with the manufacturer to see what heat source your stove uses and what cookware is considered appropriate. It is also a good idea to brush up on your warranty coverage in case something goes awry.
Top 5 Griddles for Glass Top Stoves
Now we know what we are looking for and also what to avoid for a glass top stove. Let's look at our top 5 griddles for electric glass top stove and see how they measure up against one another.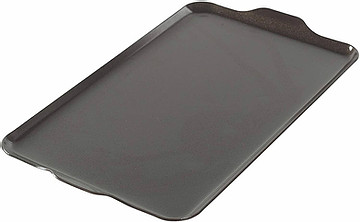 The durability of heavy-weight aluminum makes this griddle more resistant to bending and warping. It also includes a coated, nonstick surface for easy cooking and cleans up.
This griddle is suitable for both indoor and outdoor cooking. NordicWare is an American-made company with 70 years of delivering quality and innovation, and this griddle is no exception.
Pros:
Lightweight cast aluminum construction
PFOA-free nonstick coating for easy cooking
American-made product
Cons:
Lack of handles makes it difficult to handle while cooking.
Not suitable for high heat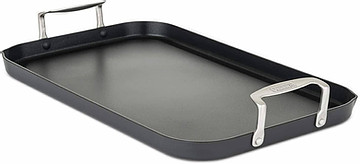 If you are a fan of coated pans and want something more durable, this griddle features three layers of PFOA-free nonstick coating on an anodized aluminum base. There is no need to worry about coatings that chip off.
This one is rated to handle both dishwashers and metal utensils and features a limited lifetime warranty from the manufacturer.
Ergonomic handles and dual-sided spouts and gutters are bonus features that make this griddle easy to handle during cooking and cleanup.
Pros:
Dishwasher safe
Metal utensil friendly, won't scratch or chip nonstick coating.
Spouts and gutters to collect and easily remove grease
Sturdy, riveted handles.
Cons:
The handle design is somewhat awkward.
The pricier than alternative models


This Cuisinart griddle features a durable, 3-ply stainless steel construction with an anodized exterior and a nonstick interior.
It features innovative heating technology for even distribution across the entire surface and sides.
The griddle also has two stainless steel handles, ergonomically designed and safely positioned well above the griddle surface for easy handling.
Pros:
Heat-surround technology provides consistent heat distribution.
Stainless steel riveted handles stay secure and cool while cooking.
Hard anodized exterior with nonstick interior
Cons:
It tends to warp, affecting heat distribution
Nonstick coating is not suitable for high temperatures over 400 degrees Fahrenheit.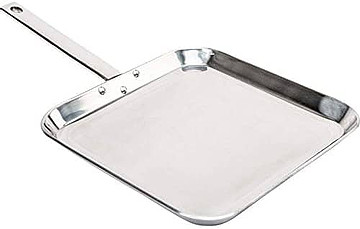 The durability of 5-ply stainless steel that does not bend, warp, or rust will give you a griddle pan that will last a lifetime. Uncoated stainless steel cookware is non-toxic.
The bottom of the pan is flat, allowing for maximum heat transfer from glass cooktops. Stainless steel does not scratch or damage glass cooktops, and you can use metal utensils on them safely.
Pros:
A long, riveted handle allows for safe handling during cooking.
High edges keep food in place on the griddle and off of the stovetop.
Durable, 5-ply stainless steel construction
Perfect for electric or induction cooktops
The timeless, clean design looks great in any kitchen.
Cons:
Stainless steel cookware is uncoated and prone to sticking if not properly oiled.
Smaller cooking area than double burner models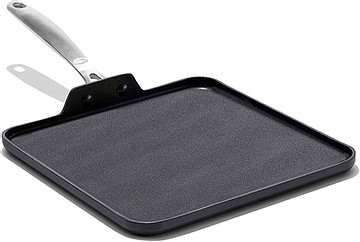 OXO offers the perfect blend of durability and performance with this 11-inch griddle. The hard-anodized body is scratch-resistant and dishwasher and oven safe.
The griddle also features three layers of PFOA-free nonstick coating for healthier cooking. The rolled edges help keep food and grease on the griddle and off of your stove.
Pros:
Stainless steel handle
Low walls with rolled edges to prevent messes
Constructed of anodized steel for excellent heat conduction
Cons:
Nonstick coating is still susceptible to damage from high temperatures.
Although marketing claims this griddle is oven-safe, high temperatures may warp the pan.
Smaller cooking area than double burner models

Final Thoughts
The best griddle for a glass top stove will provide even, thorough cooking without damaging your cooktop.
While glass stovetops, both electric and induction, have become the norm in modern households, they are not as durable as other types of stovetops.
Users should be careful about using cast iron or stoneware on glass top stoves. These materials are often too heavy and coarse for a glass top, causing scratches and cracks. Our favorites for glass top stoves are hard-anodized aluminum and stainless steel.
Our number one pick is a simple, NordicWare 2-Burner Griddle. We like the no-fuss quality and durability offered by a reputable brand with a long history in the industry. This griddle pan has such a simple design; it is great for cooking everything from pancakes to fish fillets.
All of the options on our list are excellent choices. They include a range of appropriate materials for glass stovetops, which means you can find the perfect griddle for an electric glass cooktop from our list above.