Everyone loves burgers, and many people may not know how many of their favorite restaurants cook the burgers on a griddle. Though traditional grills are a great way to cook a burger, cooking them on a griddle is amazing and offers some advantages. 
If you want to know how to cook burgers on a griddle, then you're in the right place. If you are interested in smash burgers, check out our post on how to make smash burgers on a griddle.
Making Burgers on a Blackstone Griddle
Whether you have a Blackstone griddle or an alternate brand of flat top grill, a gas griddle is a perfect tool for making burgers. Unlike a traditional grill, the entire burger patty has contact with the cooking surface, which creates a great texture. 
Additionally, because the burger patty is not exposed to the heating elements, you don't get the fire flare-ups experienced on a regular grill. Last but not least, a gas griddle is perfect for cooking burgers because you can cook additional dishes and burgers toppings like bacon at the same time on the griddle.
If you have a Blackstone griddle fryer combo or Blackstone air fryer combo, then you can cook up some tasty French fries while the burgers are cooking too. Here are some important things to know when cooking burgers on a griddle.
Tips for Making Griddle Burgers
Take the ground beef out of the fridge 20-30 minutes before cooking and allow it to warm up a bit. This will help with the cooking process.
For tasty toasted buns, spread some butter on your buns using a butter wheel and place them face down on the griddle. Remove once lightly browned/toasted.
On a keto or low carb diet? Prepare your burger with your desired toppings and skip the bun or wrap it in lettuce like In-N-Out's Protein Style option.
Making the Burger Patties
I highly recommend making your own burger patties from fresh (never frozen) ground beef. Buying premade or frozen burger patties is obviously easier, but you are sacrificing the quality of the taste and texture of the burgers.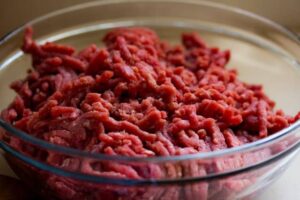 Making the patties yourself doesn't take much time and goes a long way towards making a better burger on your griddle. You'll want to use 80/20 ground beef. That is a mix of 80% lean beef and 20% fat. This ratio will yield a very flavorful and tender burger. 
The size of the patty is up to you. Typically 1/4 pound or 1/3 pound is ideal, but you can always go up to 1/2 pound. Alternatively, if you want a 1/2 pound burger, you can always cook a second 1/4 pound burger instead. You can use your hands to make the patty, or for a consistent patty, you can use a burger press.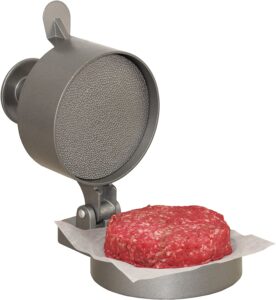 Last but not least, make a small indent in the center of the burger patty with your thumb or a spoon. The center of the burger expands during cooking, so this will compensate for that. This will keep the burger flat as it cooks and prevents it from losing surface contact in the middle.
Griddle Temp for Burgers
Another important item is the griddle's temperature. The best griddle temperature for burgers is 400 degrees Fahrenheit. This will allow them to cook evenly and get a nice texture on the outside.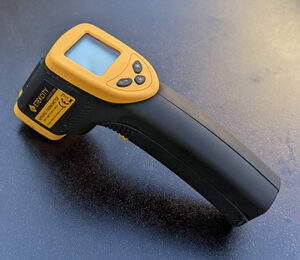 The best way to verify the cooktop's temperature is using an infrared thermometer that can quickly and accurately give you that information. If you don't have an infrared thermometer, turn the griddle's burners to medium-high heat. 
That will get the griddle to approximately 400 degrees Fahrenheit. Now that you know the ideal flat top grill temperature for burgers, lets discuss the cooking oil.
What Cooking Oil to Use
Though the burgers have fat in them that will render, you'll still want to apply a thin layer of cooking oil on the gas griddle cooktop as you do with most foods cooked on a flat top grill. The thin layer of oil will help with the cooking process and help prevent the burger from sticking.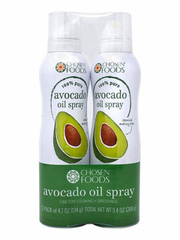 There's no specific cooking oil you have to use; however, you want one with a high enough smoke point and a neutral flavor. I recommend avocado oil because not only does it have a smoke point of 520 degrees Fahrenheit, but it also has a neutral flavor. Here's an article on the best oils for griddle cooking for more detailed information.
How to Cook Burgers on a Griddle
Now that we've covered some key things to be aware of when cooking burgers on a griddle let's cover how to cook them. Follow these instructions below and keep reading for a list of burger condiments and toppings you can add to your burger to make it just the way you like it. Also included below is a recipe for a tasty burger sauce similar to In-N-Out's.
What You'll Need:
Ingredients:
80/20 ground beef
Buns (recommend brioche)
Salt
Pepper
Step 1:
If you have a kitchen scale, you can weigh out the ground beef portions. Shape the ground beef into either 1/4 pound, 1/3 pound, or 1/2 pound burger patties. You can use your hands or a burger press. Sprinkle the patties with salt & pepper or any other seasonings you like. 
Turn on your gas griddle and set the burners to a medium-high temperature. Allow the griddle to preheat to 400 degrees Fahrenheit. 

Step 2:
Apply a very thin layer of your desired cooking oil to the griddle surface. Wait 30 seconds, so the oil is fully heated. Next, place your burger patties on the oiled cooktop allowing at least a few inches of space between them. Let the burgers cook undisturbed for 4-5 minutes. If excess grease is collecting, use your spatula to push it into the grease trap.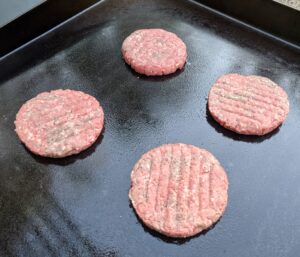 Note: Cooking times may vary depending on the size of the burger
Step 3:
Using your spatula, carefully flip each burger patty over. After flipping the burgers, allow them to cook for another 3-4 minutes. If making cheeseburgers, place the slice of cheese on the burger right after you flip it.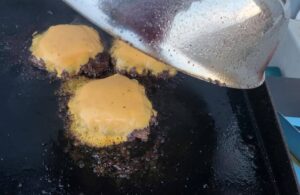 If using a thicker slice of cheese that's not melting fast enough, use a basting dome to cover the burgers. This will accelerate the melting of the cheese onto the burger. 
Step 4:
You can check the doneness of the burger using an instant-read meat thermometer if you have one.
For food safety, the USDA advises ground beef to be cooked to an internal temperature of 160 degrees Fahrenheit to eliminate any pathogens. However, here are internal cooking temperatures for the various levels of doneness. 
Medium Rare: 130 to 135 degrees Fahrenheit
Medium: 140 to 145 degrees Fahrenheit
Medium Well: 150 to 155 degrees Fahrenheit
Well Done: 160 to 165 degrees Fahrenheit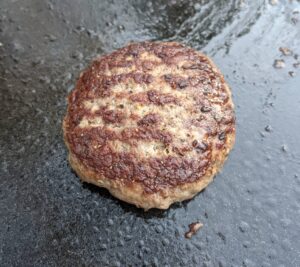 Once your burgers reach your desired internal temperature, use your 
spatula
 to remove them from the griddle onto a plate or prep & serve tray and allow them to rest for several minutes before serving.
Topping Recommendations:
Here are some suggested burger additions you can choose from to craft your perfect burger!
Make it double with 2 patties!
Cheese (American, cheddar, pepper jack, swiss, blue cheese)
Lettuce
Tomato
Onion
Pickles
Avocado
Ketchup
Mustard
Mayo
BBQ sauce
Fried egg
Sautéed onions
Sautéed jalapenos
Sautéed mushrooms
Burger Sauce Recipe
Here's a delicious burger sauce recipe to try. It's quick and easy and adds a great flavor to your burger. Mix all the ingredients in a bowl, and you're done.
1/4 Cup mayonnaise
1 Tablespoon ketchup
½ Tablespoon white vinegar
1 Teaspoon sweet pickle relish
1 Teaspoon white granulated sugar