If you're looking for a burger kit for your Blackstone griddle or alternate brand of flat top grill , the Blackstone Press and Sear Burger Kit may be what you're looking for. This offering by Blackstone is a Walmart & Ace Hardware exclusive product and comes with a spatula, burger press and seasoning shaker. 
This tool kit gives you the tools you need to cook regular burgers on the griddle as well as the ever popular smash burgers. After testing out this product, here's everything you need to know about Blackstone's Press & Sear Burger Kit.
Design & Functionality
The Blackstone Press & Sear Burger Kit comes with 3 tools inside. It has an extra-wide hamburger spatula, a cooking dredge for seasonings, and a stainless steel hamburger press. After having used these tools to make both regular burgers and smash burgers, here is everything you need to know about each of the tools included in this Blackstone burger kit.
Extra Wide Hamburger Spatula
The spatula included in the Blackstone Press & Sear Burger Kit is a great spatula for making burgers on the griddle. The stainless steel spatula is 5.5 inches wide and 6.5 inches long, so it has a huge surface area. It's very sturdy, unlike smaller and thinner griddle spatulas which tend to flex a bit. The spatula can handle hefty burgers, and it can also be used to handle other heavy foods like steaks.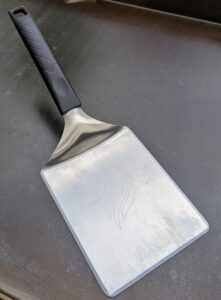 The spatula edges are beveled, perfect for getting underneath burger patties and getting them to release from the griddle cooktop. Especially when making smash burgers, you need to carefully get the spatula under the burger without the patty falling apart, and this spatula does a great job of this. 
Normally I try to use my scraper to move excess oil and food scraps into the grease trap while cooking because most spatulas aren't sturdy enough. Because the extra wide hamburger spatula in this kit is so sturdy, it can easily be used to scrape and clear the griddle of oil and food scraps if desired.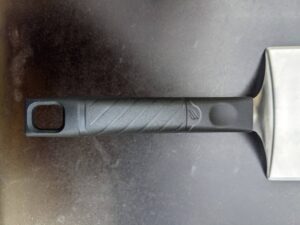 The extra-wide hamburger spatula has a comfortable plastic handle. It also has a hole at the top, so it can be hung on a hook if your Blackstone model has this feature. This spatula was designed for making burgers and smash burgers, and its size and sturdiness make it perfect for the job. 
Cooking Dredge for Seasonings
The cooking dredge makes applying your favorite blend of burger seasonings quick and easy. The dredge included in the Blackstone Press & Sear Burger Kit is made of stainless steel, light in weight, and easy to handle. 
It comes with a plastic lid that will help keep the seasonings fresh and prevent them from spilling. Many seasoning shakers do not come with a lid, but it's a very nice feature.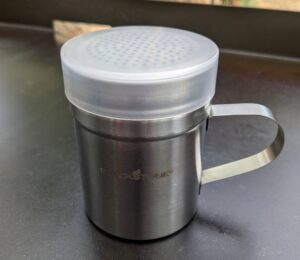 This cooking dredge does a good job of applying seasonings. You can season an entire griddle of burgers in just seconds. The shaker also allows you to use whatever blend of seasoning you like. You can fill it with just salt or add pepper, garlic powder, and more. You no longer need to apply each seasoning one at a time.
The cooking dredge in the Blackstone Press & Sear Burger Kit is a simple but helpful tool, especially when cooking up lots of burgers on your griddle. 
Stainless Steel Hamburger Press
The hamburger press in the Blackstone Press & Sear Burger Kit is made entirely of stainless steel and is 7 inches in diameter. The press is completely flat on the bottom instead of having a small raised edge like the Cuisinart Smashed Burger Press. 
Because it's stainless steel, cleaning and maintenance are easier than with a cast iron burger press. It's well designed for making smash burgers and does a great job flattening the ground beef onto the griddle surface, allowing you to get the desired crust on the burger.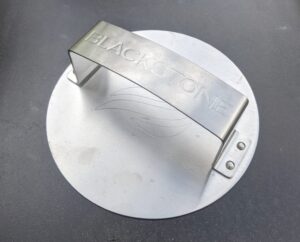 It's great for smashing burgers but lacks some of the functionality you get from a regular griddle press which is typically larger and heavier. Regular griddle presses are typically not round or are too large, making them not as good for pressing burgers. Because of this, this hamburger press is a better option when making burgers.
It's not a major gripe, but a heat-resistant grip would have been a nice addition. Overall though, the hamburger press in the Blackstone Press & Sear Burger Kit is excellent for its intended use as a burger press. 
Pros & Cons
The 3 piece Blackstone Press & Sear Burger Kit was assembled for burger lovers so they can cook up perfect hamburgers and cheeseburgers on their gas griddle. After having used the kit to make regular burgers and smash burgers, here is a summary of the pros and cons of this burger kit.
Pros: 
Well priced for the 3 items included
Stainless steel makes for easier cleanup & maintenance
The extra-wide spatula is very sturdy
The hamburger press is wide and flat on the bottom
Seasoning shaker comes with a plastic lid
Cons:
No heat resistant handle on hamburger press
Walmart & Ace Hardware exclusive
Final Thoughts
This kit was a pleasant surprise. The quality of the parts for the price makes it a good value, and it gives you everything you need to make regular burgers and smash burgers on your Blackstone griddle or whatever brand of flat top grill you may have. If you're interested in another griddle burger kit option, check out the Cuisinart CSBK-400 Smashed Burger Kit as an alternative to consider.
If you love cooking burgers or smash burgers on your gas griddle and want the best tools for the job, you won't be disappointed with this offering by Blackstone. As with most griddle cooks, the number of tools and accessories you have continues to grow, so be sure to read our Blackstone Cook and Carry Griddle Caddy if you're looking for a good storage option.