Tailgaters and backyard grilling enthusiasts alike will love the Blackstone 1819 Griddle & Charcoal Grill Combo; the sheer versatility and convenience are quite impressive!
You'll never again have to be limited in your cooking decisions. You have the ability to cook on a charcoal grill on one side and a gas griddle on the other. It allows you to enjoy the outdoors with family while cooking a complete meal all at once.
It also has many cool features that we'll discuss that make it very user-friendly for beginners and grilling veterans looking for an addition to their outdoor cooking arsenal.
We'll bring you an overall review of the grill combo; the following is a detailed breakdown of the pros and cons to help you decide if the Blackstone combo is the right choice for you.

Design and Construction
One of the most important features of a product review is the design of the product itself. This Blackstone combo boasts a 17″ single burner griddle and a 17″ charcoal grill.
The griddle top is made of cold-rolled steel, and the grill grates are made of cast iron. You can use the grill side or the griddle side individually, or you can use them simultaneously.
The griddle powered by a 1 pound propane tank which sits conveniently on a shelf next to the cooktop. You can convert the griddle to be powered by a standard 20 pound propane tank with the proper conversion kit. This product also features an adjustable grill grate that can be adjusted closer to or farther from the charcoal to give you more control when you're cooking.
Durability and Longevity
The Blackstone Griddle And Charcoal Combo have a long life expectancy thanks to a powder-coated black steel frame. Why does that matter? The steel's durability is enhanced because the powder coating will help protect against damages more effectively and for a longer period.
It also makes the griddle grill combo resistant to corrosion via rust. As we all may remember from science class, humidity and moisture can really do a number on metal surfaces if left unchecked.
The Blackstone 1819 also features a thick, cold-rolled steel top, an excellent surface finish that is resilient if cared for properly. To help maintain the combo grill, it's important to keep the cooking surfaces oiled after cleaning them and keep the Blackstone covered away from the elements.
This can be done by purchasing a cover or storing it in a garage or shed when not in use. Unfortunately, this model does not come with a lid or cover, which would need to be obtained separately. If you purchase this model and need a cover, look for the 36″ size.
There's a tray located beneath the grill side for the charcoal ashes. It slides in and out conveniently to allow for easy cleaning and ash removal.
There's also a grease management apparatus located behind the griddle, which includes a drip cup. This system can be cleaned easily and prevents a mess once you're finished cooking. I recommend picking up some grease cup liners to make this process even simpler and quicker.
Cooking Performance
The flat-top griddle burner is an excellent choice for breakfast, lunch, and dinner. You can sauté vegetables, make burgers, or toast buns; you can also create delicious 
pancakes
, hash browns, 
eggs
, or 
bacon
 while outdoors entertaining friends and family.
Regarding cooking performance, the griddle side produces 12,000 BTUs.
BTU's, or British Thermal Units, indicate your grill's fuel efficiency. Simply put, it measures how much heat your grill can generate when it's cranked up the highest.
Whether or not your grill/griddle has an optimal amount of BTUs depends on the surface area you're cooking on. A good rule of thumb is that you have a pretty efficient grill if you get at least 70 BTUs per square inch of cooking space.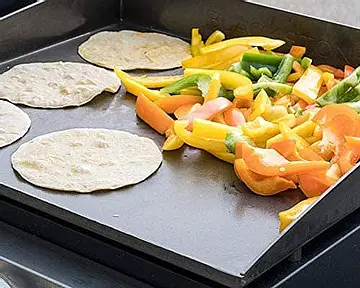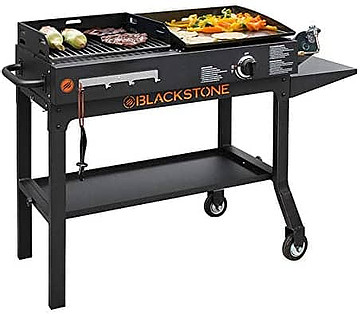 Let's take a look at the Blackstone 1819 Grill Combo; the griddle produces 12,000 BTUs and a 267.76 square inch cooktop. That means you're getting about 45 BTUs per square inch, which isn't the best, but it's definitely sufficient.
For the grill, you get about 10,000 BTUs per pound of charcoal. With a 252 square inch grill surface area and 2 lbs. of coal, you'll have 79 BTUs. That'll last hours when you're trying to entertain friends and family.
This combo grill is seemingly a good option when outdoor cooking for small and medium-sized gatherings and provides great versatility in what you can cook between the grill and griddle.
Portability
A huge factor when choosing a grill is whether or not or can be transported easily from place to place. In the instance that you'd like to take this combination grill camping, there are some considerations to be aware of.
First, this isn't a foldable grill that becomes any more compact than it already is. Some other Blackstone models have folding legs that make them easier to transport.
The grill top and the griddle top can be removed for cleaning and storage purposes, but the shining star with this model is the wheels.
What makes the 1819 model portable and convenient is that it features two industrial strength wheels and a handle for easy transportation and maneuverability. This model is easy to move around your porch or deck but not quite as easy to take with you in your vehicle if you are going camping etc…

Pros & Cons
Here's where we tell you what's good and not so good about the product, the factors that affect functionality, efficiency, and convenience.
Specs & Features:
Dimensions: 50.5″ x 21.25″ x 35.75″
Grill Grate Dimensions 16″ x 15.75″
Griddle Dimensions 17″ x 15.75″
Item Weight: 81.8 pounds
Rear Grease Management System (to support the griddle top)
Adjustable 12,000 BTU 'H' Style Stainless Steel Burner for the Griddle
Charcoal Grate Hook
Additional Hooks on the Front (used for cooking utensils)
Propane Adapter Hose
Wheels
Handle
Side Shelf
Pros:
A combination grill means increased functionality and versatility
Easy to maneuver
It doesn't take up much space
Great for beginners looking to purchase their first grill
Cons:
The grill doesn't include a cover; it must be purchased separately
Legs can't be folded; must disassemble before transporting
The divider between the two sides limits additional cooking space on either side
Final Thoughts
All in all, we'd say the Blackstone 1819 Griddle & Charcoal Grill Combo is worth investing in. The versatility of the combination of burners and ease of use make it a nice addition to your backyard. It easily fits on a patio or deck and can be moved from place to place.
If you like having a griddle and grill combination but prefer not to use charcoal, Blackstone also offers their Tailgater model. This model is also a griddle and grill combo, but both are powered by propane.
This can be a great pick-up for yourself or makes for an excellent gift idea for any outdoor cooks in your life. The Blackstone 1819 is efficient, has a sleek design, and gives you traditional grilling flavor at an affordable price. This combo grill is user-friendly, high quality, and of course, very versatile.