If you're in the market for a tabletop griddle, then the Blackstone Adventure Ready 22″ Griddle with Stand and Adapter Hose may be just what you're looking for. This is one of the most popular Blackstone griddle models available for a variety of reasons. 
As discussed in our gas griddle buyers guide, there are many things to consider when purchasing a flat top grill. We'll cover everything you need to know in this in-depth review of the Blackstone Adventure Ready 22, so you can decide if it's the right gas griddle choice for you.

Blackstone Adventure Ready 22 Design & Construction
The Blackstone Adventure Ready 22 is a tabletop griddle with a sizeable 361 square inch cooking surface made of rolled steel. It's propane-powered, and the 'H' burners produce 24000 BTUs for fast and even cooking. 
This model offers dual cooking zones allowing you to set the heat level of the left and right sides of the cooktop to different temperatures. Multiple cooking zones are a great feature when cooking different kinds of foods at the same time that require different heat levels, such as bacon and eggs.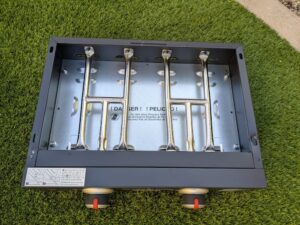 The griddle has a rear grease management system on the back of the cooktop, making clean-up nice and easy. The grease trap is removable, so disposing of excess grease and food scraps can be done quickly. I recommend picking up some grease cup liners for less mess and faster cleanup.
The Blackstone Adventure Ready offers some excellent features. It comes with an attached hood that has a non-slip grip handle. It also comes with two propane adapters which provide lots of versatility. 
Having multiple propane adapters allows you to cook using small 1 pound propane tanks, perfect for camping trips and similar on-the-go activities. The bulk propane tank adapter is ideal when you're stationary and allows you to use a much larger propane tank. 
If you're using the griddle at home, you'll want to use the bulk propane adapter and a standard 20-pound propane tank so you can get more cooking sessions between refills. Switching between the two adapters is quick and easy, so you take advantage of both options.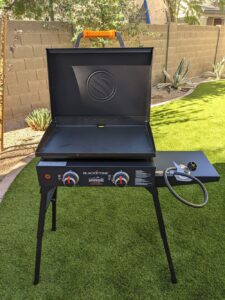 It also comes with a griddle stand that you can adjust the height of, and it has folding legs for convenient storage and transportation. The stand has a removable side shelf to place your food or griddle accessories on. You don't have to use the stand if you prefer not to. The griddle lifts off quickly and can be placed on a table or cart like any other tabletop griddle. 
Overall the build quality is excellent, and the Blackstone Adventure Ready 22 has some great features that enhance it and give it a leg up on competing tabletop griddles from Camp Chef & Pit Boss. 
Blackstone Adventure Ready 22 Cooking Performance
The cooking capabilities of the Blackstone Adventure Ready 22 inch griddle are outstanding. For a tabletop griddle, it has a huge cooktop, and the dual cooking zones provide you with additional flexibility compared to a single zone griddle. 
The dual burners heat the cooktop reasonably quickly, but the griddle heats up even faster if you keep the lid closed. The griddle does a great job cooking breakfast favorites like eggs, pancakes, and French toast and tasty lunch and dinner foods like smash burgers, stir fry, griddle sandwiches, and more.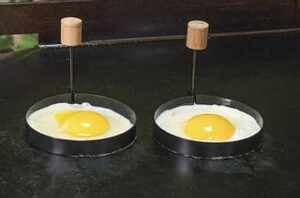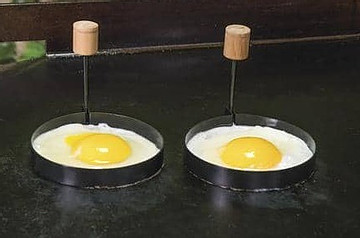 The built-in griddle hood also provides a lot of benefits while cooking. Many gas griddles don't come with a hood, but the Blackstone Adventure Ready 22 fortunately does. Like a standard gas grill, having a lid/hood keeps heat in, which cooks food like an oven. This capability is especially helpful when cooking thicker cuts of meat like whole chicken breasts or thick-cut steaks. 
Blackstone Griddle Cleaning & Maintenance
As with any gas griddle, you'll need to clean and maintain it to prevent rust, corrosion and to ensure the griddle lasts a long time. While cooking as well as when cleaning, you'll scrape excess cooking oil and food scraps into the rear grease management system using your griddle spatula or, better yet, a griddle scraper. 
Cleaning the griddle consists of using a griddle scraper to scrape the cooktop surface clear of grease and remaining food scraps into the grease trap. Then using water and paper towels to wipe up any remaining residue. 
Once the surface is clean, you'll apply a very thin layer of cooking oil to protect the griddle cooktop until next time. We have a complete breakdown on cleaning and maintaining the Blackstone Adventure Ready 22 or any flat top grill from Blackstone. Check out our article on how to clean a flat top grill. 
Last but not least though the griddle does come with a built-in hood, you're going to want to pick up a Blackstone Adventure Ready 22 cover as well. Unfortunately, Blackstone does not include a weatherproof soft cover with the griddle; however, it's essential to have one if you'll be leaving it exposed to the elements outside.
Blackstone Portability
The portability of the Blackstone 22 inch griddle is one of its best features. Larger models like the Blackstone 36 inch griddle with air fryer and hood are very large and heavy, so relocating them anywhere is tricky. Smaller models like the Blackstone 22 are designed with mobility in mind.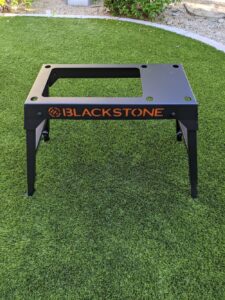 The Adventure ready 22 is highly portable, making it an excellent option for an RV griddle, camping griddle, or tailgating griddle. It provides a large cooktop surface while still being small enough and light enough to relocate quickly. 
It's a tabletop griddle, so it can sit on any flat surface though one great feature is the folding griddle stand that is included. The stand is adjustable, so you can set it to whatever height you prefer to have the griddle sit. It also collapses easily and folds up, so it's easy to take it with you and set it up again at your destination.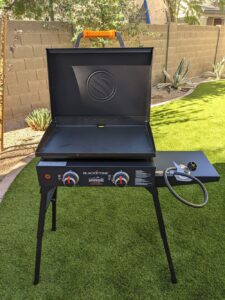 Suppose you are looking for maximum portability and don't mind sacrificing cooktop space and some features like dual cooking zones and the griddle hood. In that case, you'll want to check out the Blackstone Adventure Ready 17 offering, which is also a Walmart exclusive.
Conversely, if portability and compactness doesn't concern you, I would consider one of the standalone models, such as the Blackstone 28 inch griddle and Blackstone 36 inch griddle. These are less portable but provide larger cooktops allowing you to cook more food at a time.

Review of the Blackstone Adventure Ready 22 Griddle
We've covered the many aspects of the Adventure Ready 22 in our review. Here's a breakdown of the griddle's specs and a recap of the pros and cons to be aware of when deciding whether or not this is the right flat top grill for you.
Specs:
Assembled – 43.6″ L x 22.5″ W x 39.7″ H 
Weight – 64.5 lbs
361 square inch cooking surface
Dual "H" burners
24,000 BTUs
Rear grease management system
Built-in hood 
Pros:
Large griddle cooktop
Dual cooking zones
Built-in hood
Includes an adjustable and collapsible stand
Comes with both a one-pound propane adapter and a bulk propane adapter
Priced well
Cons:
A Walmart exclusive product
Heavier and bulkier than the smaller 17″ Blackstone model
Some complaints of defects out of the box
Blackstone Adventure Ready 22 Final Thoughts
The Blackstone Adventure Ready 22″ Griddle with Stand and Adapter Hose is one of the most popular models sold by Blackstone. It manages to be a sweet spot in the large spectrum of gas griddles. Not too big, not too small, but just right.
It's also widely enjoyed because of the additional features you don't get with other models. The dual cooking zones, built-in hood, adjustable griddle stand, and multiple propane tank adapters make it stand out from other tabletop griddles available.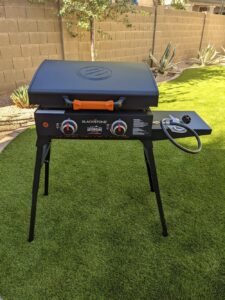 I, like many people, already own a larger standalone Blackstone griddle but purchased the Blackstone 22 because of its versatility and portability. I use my Blackstone 36″ griddle when cooking larger amounts of food or when entertaining larger crowds and the Blackstone 22″ griddle for smaller meals or when camping.
And don't forget to pick up some Blackstone Adventure Ready 22 accessories as well! You'll want good spatulas and a scraper at a minimum, but there are so many other great flat top grill accessories available to enhance your griddle cooking experience!