An electric griddle can be a great addition to any kitchen, whether you are preparing a large breakfast for the family with bacon, eggs, and hash browns or having guests over for hamburgers and hot dogs. The right griddle can help you deliver a perfect meal your friends and family will love.
Large electric griddles will allow you to prepare a feast all in one place. You won't have to worry about multiple pots and pans or not having enough space on a smaller griddle. 
You can use an electric griddle to prepare vegetables, meat, fish, and so much more. The best griddles ensure heat is distributed evenly across its flat surface. A jumbo electric griddle is great for hosting a buffet-style meal.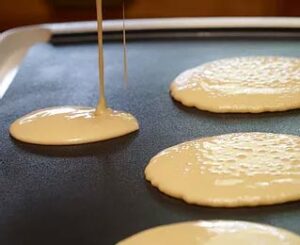 One of the biggest selling points of an electric griddle is its easy cleanup. All of the electric griddles in this article come equipped with nonstick surfaces, saving you a lot of time. 
One bonus of the nonstick surface is that fat quickly drains from the food you are cooking, making meals healthier.
Shopping for a large electric griddle is not an easy task. There are many griddles available, making it essential you are well-informed before making any purchasing decisions. 
Many electric griddles brands appear to have everything the amateur or professional chef could need to create amazing griddle-cooked foods. It is important to do your homework, so you make an informed decision.
We will help you sort through the noise and identify the best large electric griddle on the market to meet your needs.
Broil King PCG-10 Professional Portable Nonstick Griddle

Costzon 35″ Electric Teppanyaki Table Top Grill Griddle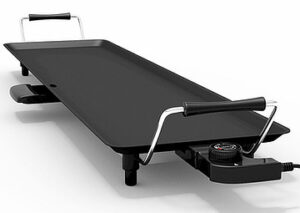 Presto Slimline 22″ Griddle
Presto Tilt'n Drain BigGriddle Cool Touch Griddle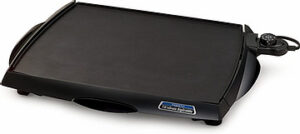 BLACK+DECKER Family-Sized Electric Griddle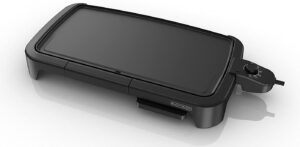 Broil King PCG-10 Professional Portable Nonstick Griddle
Costzon 35″ Electric Teppanyaki Table Top Grill Griddle
Presto Slimline 22″ Griddle
Presto Tilt'n Drain BigGriddle Cool Touch Griddle
BLACK+DECKER Family-Sized Electric Griddle
Top 5 Large Electric Griddles Overview
Here's our list of the top 5 large electric griddles. These are some of the best large electric griddles on the market today. Keep reading for reviews of each model including the pros and cons to be aware of.

This professional-grade griddle was designed with the home chef in mind. This extra-large griddle features a stainless steel backsplash, and there is no need for cooking spray since it comes with a high-tech nonstick commercial cooking surface.
The nonstick surface also makes cleaning the griddle a breeze. The unit is fully immersible when the power cord is detached.
You can cook just about anything on this griddle since it heats up to 400 degrees Fahrenheit. It comes with an adjustable dial allowing for easy control of the temperature. The griddle has a thicker surface than other griddles. Thus, it tends to heat up more slowly. However, it does get considerably hot.
Thanks to the thick surface, heat is evenly distributed across the griddle with few fluctuations. The handle stays cool, allowing for safe handling, regardless of the cooking temperature. There's a large grease tray, and the cooking surface can be tilted to facilitate draining grease.
The griddle's surface measures 21 by 12 inches making it one of the largest electric griddles available. The griddle is large enough to cook up to six pancakes and four omelets at the same time. You will want to ensure you have enough counter and cabinet space available before purchasing the Broil King.
Pros:
Large cooking surface
Heat is adjustable up to 400 degrees.
Professional-grade
Easy to clean
Durable
Cons:
Slow to heat up
It takes up a lot of space
Adjustable feet break easily.
Expensive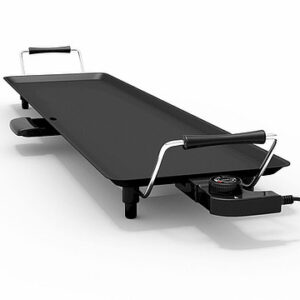 This extra-large electric griddle was designed with healthy cooking in mind. The nonstick surface allows you to cook vegetables, meat, fish, and fried dishes with little to no grease.
If you're looking to cut down on fat, the Costzon griddle can help you reach your goal. The nonstick surface also makes cleaning the griddle quick and easy though its length can make it a bit awkward.
The griddle measures 35 by 9 inches making it quite long but not very wide. The length makes it ideal for barbeques and dinner parties as you can spread the dishes out over a large area. The griddle comes with six spatulas and two egg rings which is a nice bonus.
Excellent addition to your next party, your guests will be entertained watching their meal cooking in front of them. This flat top grill also works well for camping, traveling, or caravanning.
The griddle comes equipped with an adjustable thermostat with five temperature settings. All you need to do is select the appropriate temperature for whatever dish you're cooking, whether fish, chicken, fish, or vegetables. Costzon's thermostat will help ensure your dishes are cooked at the appropriate temperature.
There are insulated handles on both ends of the griddle, allowing you to carry the griddle even when it is hot easily. This extra-large electric griddle also comes with four slip-resistant feet to keep your table safe from the grill's heat while giving the grill an added degree of stability.
Pros:
Cool-touch safety handlebar
Anti-slip feet
Large cooking surface
Easy to clean
nonstick surface
Adjustable thermostat
Removable power cord
Cons:
Difficult to drain oil
Uneven heating
Not wide enough
Small grease tray

The Presto Slimline Griddle is big enough to cook a meal for the entire family. The griddle's surface is made of heavy cast aluminum, making it virtually warp-proof.
The Presto slimline griddle also has a premium nonstick surface. The nonstick surface allows you to minimize the amount of oil and grease used when cooking. It also allows for quick and easy cleaning.
This is a jumbo electric griddle with a cooking surface that measures 13 by 22 inches. The large surface area allows you to cook an entire meal at once. Whether you're preparing breakfast, lunch, dinner, or entertaining, this griddle was designed for large meals.
The griddle features a low-profile buffet server making it ideal for buffet-style serving at a dinner party or a quiet night at home with the family.
The griddle automatically controls the cooking temperature with its Control Master® heat control. The temperatures available with this griddle range from warm to 400 degrees Fahrenheit. You won't have to search for hot spots or avoid cold areas on the Presto Slimline. Thanks to its heavy aluminum surface, heat is evenly distributed across the griddle's surface.
The griddle comes with a removable drip tray to help quickly remove excess grease or food scraps. When the thermostat is removed, the device is fully immersible. Although it is one of the largest electric griddles available, its slim shape and removable handles make it easy to store.
Pros:
Large surface area
Heat is evenly distributed across the surface
nonstick surface
Removable drip tray
Easy to clean
Heat ups to 400 degrees
Easy to store
Cons:
The drip tray falls out easily
The cord is too short
Temperature runs hot
the nonstick coating may flake off after heavy use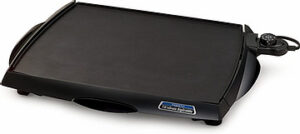 As the name suggests, this is a huge griddle. According to Presto's website, the griddle's huge cooking surface is 50% larger than other jumbo electric griddles, measuring 18.5 by 15 inches.
This griddle can cook up to 12 slices of French toast at the same time. The BigGriddle was made for producing large amounts of food as efficiently as possible.
The grill is made from cast aluminum, which helps the heat distribute evenly across its surface. As with most electric griddles, Presto's BigGriddle has a nonstick surface. This will help you prepare healthy meals while minimizing your use of oil and grease. You'll want to avoid using metal utensils with the BigGriddle to avoid scratching the nonstick surface.
Presto's BigGriddle also features a tilt and drain function. To take advantage of this feature, pull the griddle's handles outward to tilt it, push the handles back in to return to a flat surface.
The tilt and drain feature allows fat and grease to be easily drained while cooking. The tilt and drain function often comes in handy. However, you'll need to be careful when moving the unit.
The BigGriddle takes up quite a bit of counter space, so check to see if it will fit your counter before buying. The griddle is fully immersible, making it easy to clean. The drip tray slides out easily from the base for easy emptying. The Presto BigGriddle is one of the most budget-friendly flat top grills on our top large electric griddles list.
Pros:
The extra-large cooking surface
Tilt and drain feature for easy grease run-off
Easy to clean
Durable aluminum caste surface
Control Master heat regulation
Inexpensive
Cons:
Bulky and difficult to store
Cold spot in the center
Uneven browning
The border quickly becomes stained with grease.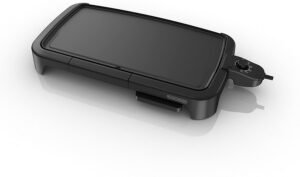 Black & Decker's "family-sized" electric griddle provides a very large cooking area of 200 square inches. It has a sleek design and offers a handful of nice features that make this a great electric griddle option.
The non-stick surface works well and doesn't require much oil to prevent any food from sticking. The removeable drip tray is easy to take off which makes clean up very quick and easy.
The Black & Decker griddle also has a warming tray which is a feature not commonly seen on electric griddles. It allows you to keep completed food warm while you're cooking the next batch or next type of food. 
It comes with a "click & lock" thermostat to set the temperature and shows but Fahrenheit and Celsius. You may find that the griddle's cooktop temperature doesn't always match the number on the thermostat. Just be sure to account for this by adjusting your thermostat accordingly to compensate.
Overall this is a very good large electric griddle option. It will certainly allow you to feed a large family and the warming tray (though a little small) is a nice feature you won't find on most electric griddles. 
Pros:
Large cooktop area
Excellent non-stick surface
Easy to clean
Comes with built in warming tray
Cooks evenly
Cons:
Actual griddle temperature doesn't always match thermostat
Needs a few minutes between batches to warm back up
Warming tray could be bigger

Final Thoughts
There you have it, our top 5 large electric griddles. Depending on your needs, one of these griddles could be the best large electric griddle for you. Keeping it healthy, all of the griddles we've chosen come with nonstick surfaces, helping minimize your use of fats and oils. The nonstick coating also means they're easy to clean.
When shopping for a large electric griddle, you'll undoubtedly be paying close attention to its surface area. After all, this will determine how much food you'll be able to grill at one time.
At the same time, you'll need to consider whether your kitchen countertops and cabinets are large enough to store a large griddle. All of the griddles we've reviewed are big, but some require less storage space than others.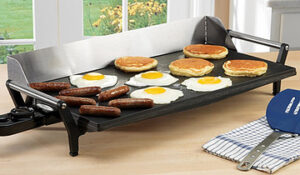 Heat distribution is also critical when deciding which griddle to purchase. Buying the largest electric griddle available won't matter much if you can't fully take advantage of its cooking surface. Griddles that distribute heat unevenly or have cold spots can be frustrating, although there are workarounds.
An extra-large electric griddle is a worthy investment. It can cut your cooking time, ease cleaning, and is an excellent addition to a dinner party. Whether you're a budding chef or seasoned professional, an electric griddle will pay dividends for years to come. We wrote this article to help you decide which electric griddle is the best for your needs and budgets.
Read more of our best-of lists on Griddle Sizzle now!