Gas griddles have their advantages over charcoal and gas grills. They can cook a wider variety of foods, making them an excellent option for backyard cooking with friends and family.
One griddle to consider is the Ace Hardware Blackstone 3 Burner Liquid Propane Outdoor Griddle with Hood. It comes with all of the features you need to cook breakfast, lunch, and dinner, and it's also easy to use, even for first-time griddle cooks.
Not sure if the Blackstone 3 burner griddle is the one you need in your backyard? Let's take a closer look at the Ace Hardware Blackstone griddle.
Design and Construction
The griddle's design and quality are very important. You want a griddle that offers good features and is built to last for a long time.
The Ace Hardware Blackstone 3 Burner Liquid Propane Outdoor Griddle with Hood is constructed from durable steel and sports an intuitive design with plenty of cooking space. 
The 28-inch griddle boasts 613 square inches of cooking space and has three independent cooking zones allowing you to cook different foods at different temperatures. This feature is beneficial as some foods should be cooked on low heat while others should be cooked on high heat.
Unfortunately, the griddle does not have automatic temperature control like the Blackstone E-Series electric models, so you want to be ready with an infrared thermometer, so you know you're cooking at the appropriate temperature.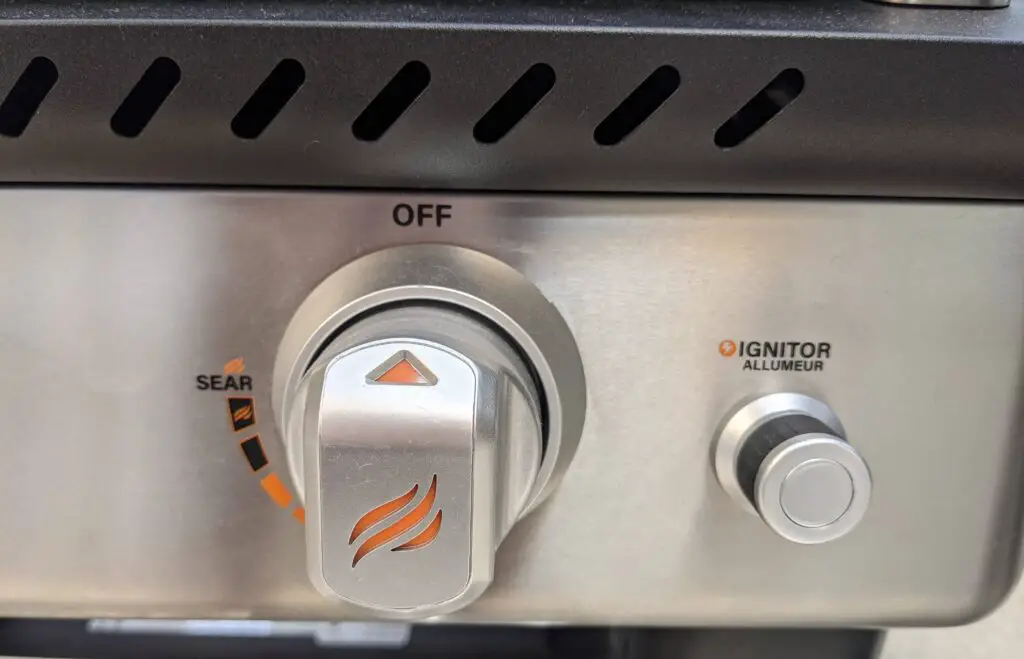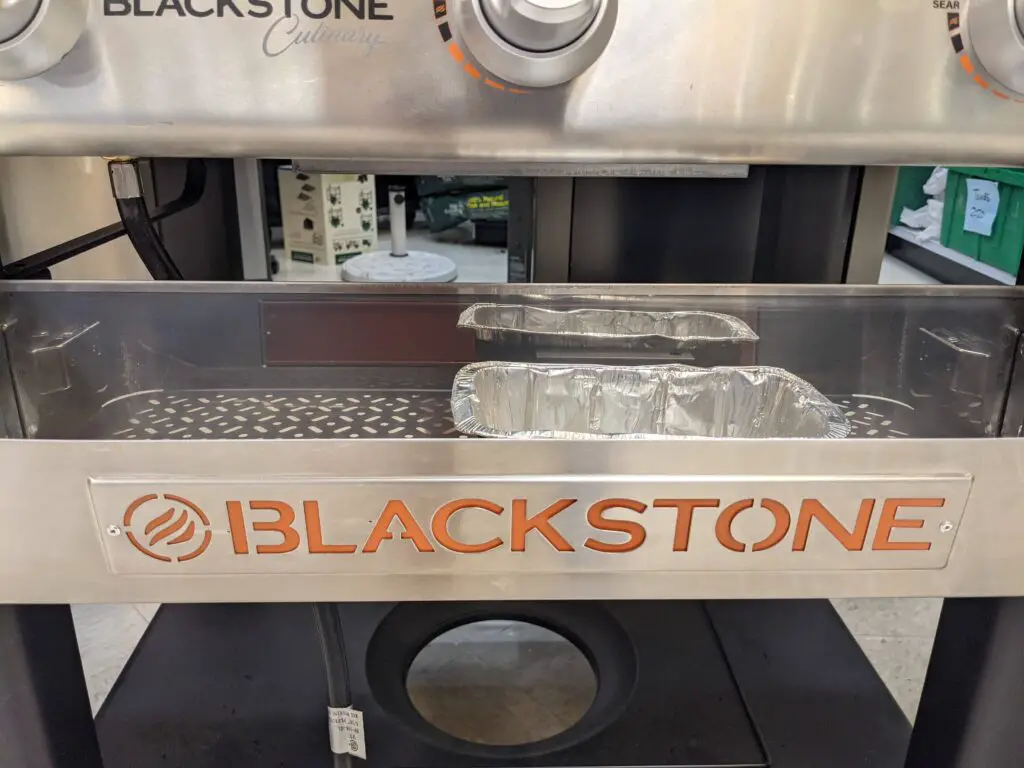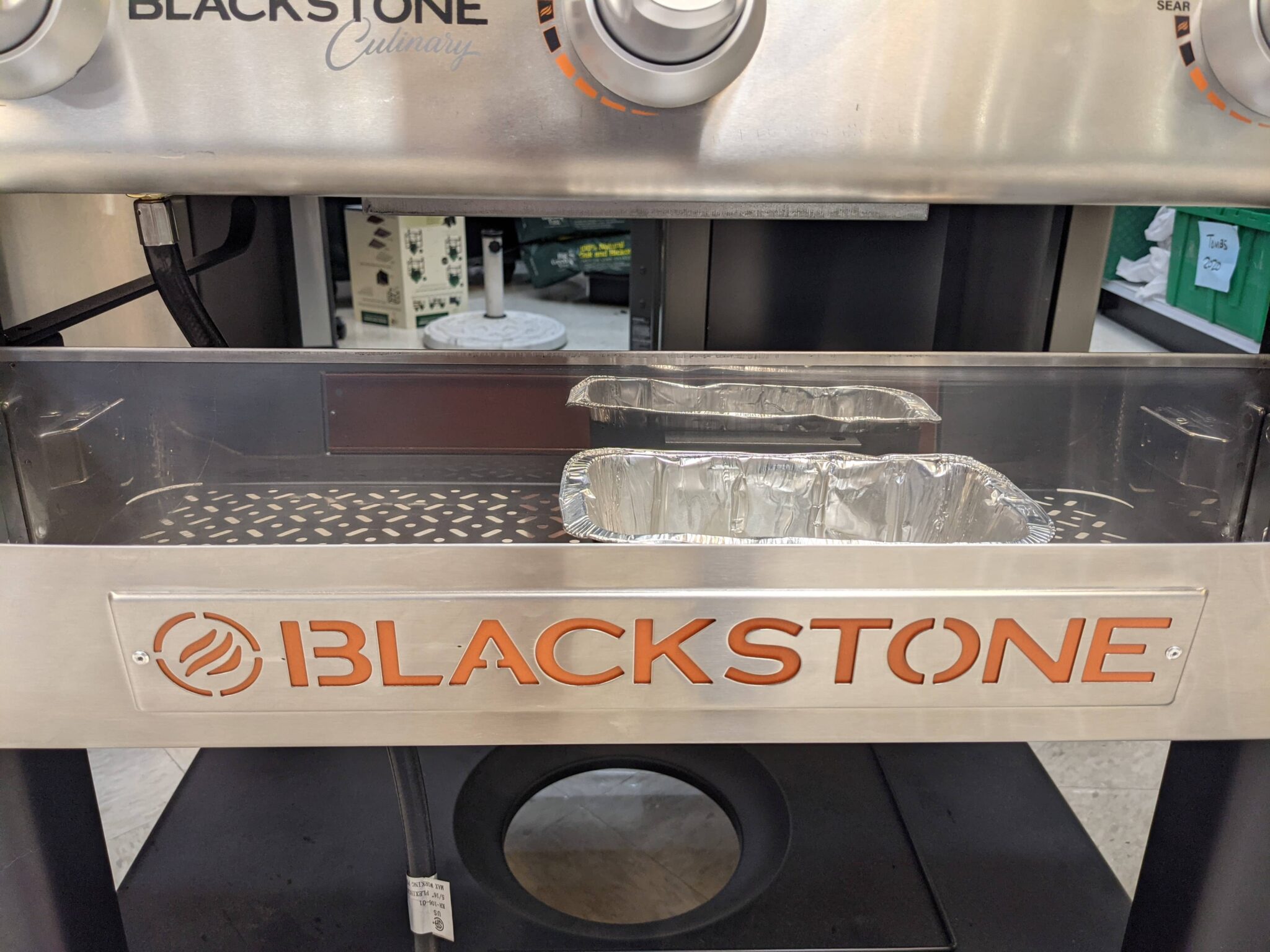 Lighting the griddle is quick and easy. Open the propane tank, hold down the ignition button and use the knobs to turn on the burners. It only takes a few minutes before the griddle surface is hot enough to start cooking.

One feature you will love about the Blackstone griddle is the attached hood. Many griddle models do not offer this, but it adds extra versatility and protection. The hood helps seal in heat when cooking and also helps protect the griddle's cooktop when not in use. 
The griddle has 2 side shelves and even has a paper towel holder. It also comes with a caddy in the front of the griddle to keep oil, water, and seasonings within arms reach while cooking. The propane tank sits underneath the griddle in a handy cutout.
This Blackstone 3 burner griddle with hood is optimal for families due to its large size and quick-cooking capabilities.
Cooking Performance
There's very little you can't cook with the 3 burner Blackstone griddle. It's perfect for breakfast items like eggs, bacon, pancakes, French toast, and hash browns. You can also cook various lunch and dinner items such as steak, chicken, smash burgers, stir fry, cheesesteaks, and more.
Have a vegetarian in the family? No problem, with the 3 separate burners, you can use one side for veggies away from the meat on the other side. 
With a 48,000 BTU (British thermal unit), it has plenty of cooking power to handle anything you want to cook. You'll typically want to cook on low to medium heat because of how hot the griddle surface can get when on full blast. 
Overall the 3 burner Blackstone griddle's cooking performance is excellent. It allows you to cook many different things and yields great results.
Cleaning and Maintenance
When you first assemble the griddle, you'll need to complete a one-time initial seasoning. This process involves spreading thin layers of cooking oil on the cooktop and allowing them to cook-off. 
By doing this, you create a nonstick and also protective coating on the griddle. For more details on seasoning your new griddle, see our full breakdown of how to season your flat top grill.
Griddle cooking can get messy, and you'll need to clean the griddle top after each cooking session. The question is, how do you clean it? Fortunately, the seasoning of the griddle makes clean-up faster and easier. 
One important thing to mention is don't use soap when you are cleaning the griddle cooktop. It will remove the seasoning from the cooktop. Griddles only need water, a scraper, paper towels, and cooking oil to clean. 
Cleaning the griddle consists of scraping off the excess food and oil off the cooktop into the grease trap in the back. You'll use the water to help loosen and cooked on food and remove any additional residue. For full details on the cleaning process, see our article on how to clean a flat top grill. 
The Blackstone griddle 3 burner takes cleaning one step farther with its patented grease removal system. Food scraps and excess grease can easily be moved into a catch-all tray on the rear of the griddle cooktop. The tray is easy to remove for cleaning.
The attached hood is not only helpful for cooking but serves another purpose. It adds an extra layer of protection for the griddle's cooktop. You'll still want to use a soft cover to protect it from the elements so you can leave it outside for extended periods. When the weather turns, four castor wheels make it a breeze to roll inside.
Portability
Thanks to the four wheels, moving the griddle around your deck, patio, or lawn is easy. It is bulky and heavy, so it's not a griddle that's easy to toss in the back of your truck.
If you don't need to transport the griddle to another location, this model is a great option. If you're looking for a griddle that's easy to take with you to a tailgate or camping, you'll want a model that offers better portability. The most portable models are tabletop griddles.
Pros and Cons
Still not sure if the Blackstone three-burner grill with hood is the right choice for your outdoor kitchen? Comparing its advantages and downsides can help you decide.
Specs & Features
Cooking area: 613 square inches
48,000 BTU output
Attached hood
Grease management system
Steel frame
Rolled steel cooktop
Three burners/cooking zones
30-day money-back guarantee
Fuel type: liquid propane
Pros
Easy to ignite
Three independent burners/cooking zones
Large cooking space
Fast cooking times
Wheeled frame
Attached hood
Cons
You cannot convert this model Blackstone griddle to natural gas
The griddle does not offer automatic temperature control
The Blackstone three-burner liquid propane outdoor griddle is sold exclusively at Ace Hardware
Final Thoughts
The Ace Hardware Blackstone Griddle is a worthwhile investment. It is an excellent option for both beginner and experienced griddle cooks. It is easy to use, offers plenty of cooking space for larger meals, and the quality of the food it yields is excellent.
With over 600 square inches of cooking space and 3 individual burners,  you can cook a variety of different foods simultaneously. While it's not particularly portable, the three-burner griddle is perfect for backyards, decks, and patios. 
Best of all, you are not taking a risk investing in the Blackstone three-burner grill. It comes with a 30-day satisfaction guarantee.