Updated: 1/26/22
Grillers who want power, sleek design, and affordability, should look no further than the Blackstone ProSeries 2-Burner 28″ Griddle Cooking Station with Hood. The 2-burner 28-inch griddle is one of the latest offerings from Blackstone, who routinely churns out quality flat top grills. This robust Blackstone 28 ProSeries griddle is no exception.
With intelligent design, formidable power, and several hard-hitting features, the Blackstone ProSeries 28 is just what any griddle cook needs to craft perfect burgers and breakfast favorites like eggs, bacon, and pancakes.

Blackstone ProSeries 28 Design and Construction
The first thing you'll notice about the Blackstone 1858 ProSeries 28 griddle is its design. The Blackstone ProSeries 28 griddle has an eye-catching silver color and a quality finish. Its large base discretely hides the propane tank, so all you see is a sleek grill.
But the design extends far beyond great looks; it also includes intelligent design techniques to make your griddle cooking experience better than ever. For example, the flat top grill has two shelves to make prep work more accessible than ever. The shelves also work as perfect platforms to hold your food & griddle accessories throughout the cooking process.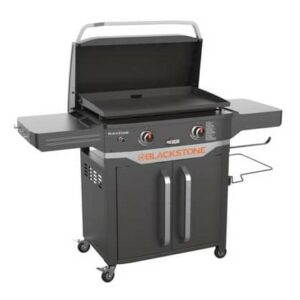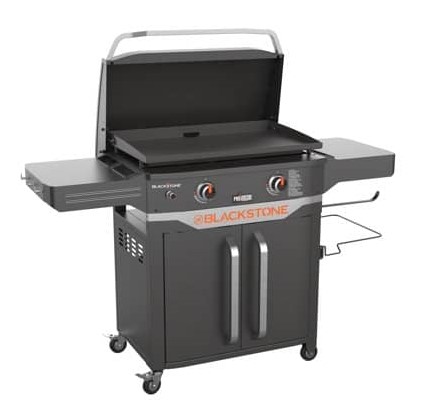 Additionally, the griddle comes with a paper towel holder and a trash bag holder, built-in for your convenience. Plus, Blackstone also includes a magnetic toolbar and built-in hooks for your tools while cooking.
However, there is one design element that we do think Blackstone could improve: a propane gauge. As of now, there's no gauge to indicate when the propane is low, which leaves the propane levels as a bit of a guessing game.
As a result, if you're not on it, you probably won't notice the propane is low until you're completely out of gas. This, of course, can be problematic as it could run out of propane right mid-cook. 
When we compare it to the standard Blackstone 28 griddle, the ProSeries has a leg up. The most significant advantage the ProSeries has over the standard Blackstone is the ProSeries model comes with a built-in hood. The hood can be used while cooking to cover the food and trap in heat. Plus, it also protects the griddle cooktop from the elements which can cause the cooktop to rust.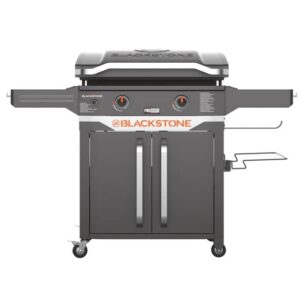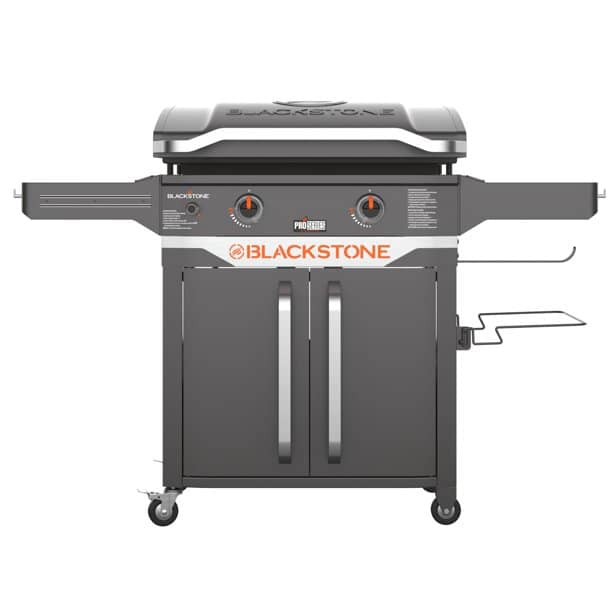 Secondly, the standard Blackstone griddle has smaller dimensions at 448 square inches versus the ProSeries of 519 square inches. While you may not think this makes a considerable difference, that extra space means extra room to cook more items at once and host more people.
In terms of construction, there are many aspects of the ProSeries that are designed well. For example, each griddle comes with stainless steel tube burners, making for a durable machine that will last years and years.
There have been occasional customer complaints about the flat top grill arriving with some dents in it. This is uncommon, but if this does happen, you'll want to reach out to Blackstone's customer service department.
Blackstone ProSeries 28 Cooking Performance
Like any flat top grill in the Blackstone ProSeries line, the Two-Burner 28″ grill excels with its cooking performance. The large surface area to cook with, paired with the dual temperature zones, allows you to cook a wide range of items simultaneously without overcooking or burning anything.
Additionally, the propane heats the cooktop fast, so you'll be able to start cooking in no time. The griddle heats evenly, which makes for consistency and overall enhanced quality of food.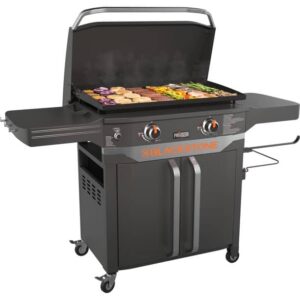 On a similar note of heat, the lid is a remarkable feature that enhances the cooking performance as it traps heat inside the griddle. This tool is handy when cooking thicker items like whole chicken breast or larger steak. In this regard, the ProSeries has a definite advantage over the standard Blackstone griddle as the standard does not come with a hood.
There is one feature of the standard Blackstone griddle that outperforms the ProSeries: its BTUs. The ProSeries 28 has 30,0000 BTUs to fire up the griddle, but the standard has a slight edge with 34,000 BTUs. While that edge is relatively small, if you're looking for more power, the standard has a slight edge over the ProSeries 28.
Cleaning and Maintenance
Like with any griddle, cleaning and maintenance are much easier compared to a traditional grill. However, your griddle does still need some regular care and attention. It's crucial to clean your griddle in between uses.
Always remember to use heat-resistant gloves or tongs when cleaning the cooktop. To clean your griddle, wipe down the surface with a paper towel after use. (Tip: While a dishcloth would work, it will get greasy, so you may have to throw it away afterward).
For those hard-to-clean food bits that get stuck on the surface, pour water on while the griddle is still warm. The hotter the water, the easier the food will come off.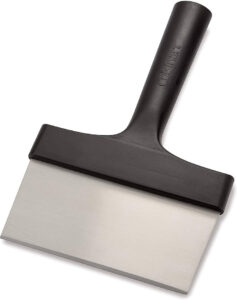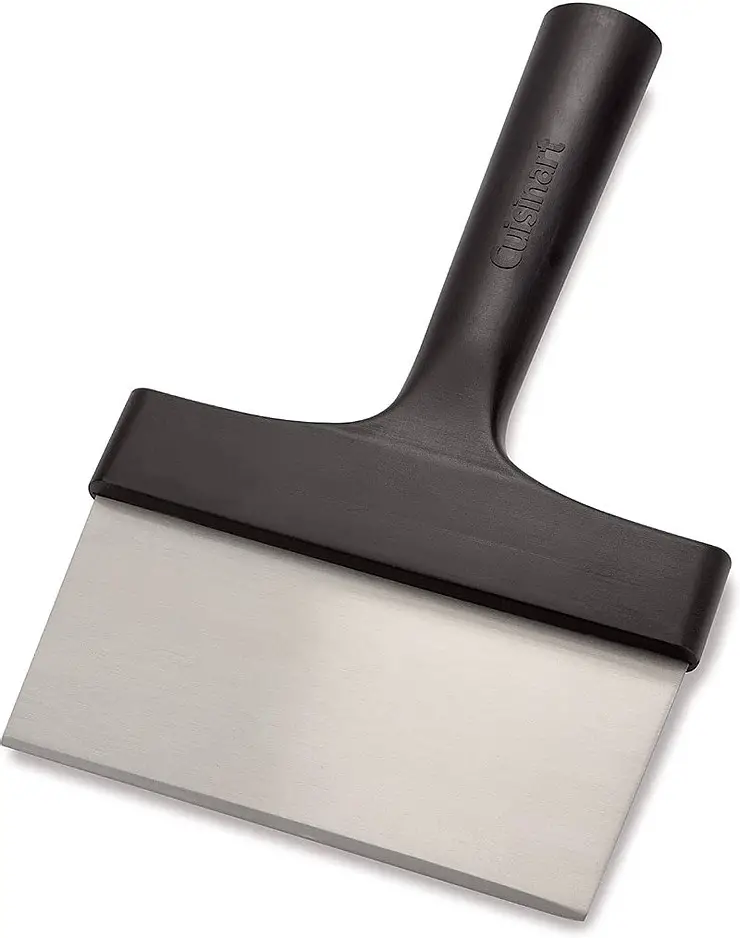 Then, use a griddle scraper to scrape off any stuck-on food. Rinse again with water, then dry with a paper towel. It's imperative to remember to dry the surface afterward, as leftover water will cause your grill to rust.
After your grill is dry, apply a thin layer of cooking oil. We recommend using either the Blackstone Seasoning & Cast Iron Conditioner or Blackstone Non-Stick Cooking Spray.
The most crucial point to remember is to protect your grill from rusting, which can prove to be a challenge if you live in an area with high humidity (like near a beach). The ProSeries is great because it comes with a built-in hood that goes a long way in preventing rust. To be extra safe, make sure to cover it with a soft cover between uses.
Portability
The ProSeries is large and heavy. It's a cumbersome, heavy piece of equipment. Because of this, you will probably need a second person to help set it up and move it onto its wheels.
However, the grill has industrial-strength wheels, so it's easy to move around once you have it set up. Plus, the wheels lock securely when cooking, so you never have to worry about it moving while cooking.
It's best kept in one area and not intended to be transported for camping, tailgating. If you need a portable griddle, consider purchasing a tabletop griddle instead.

Pros & Cons
There are many excellent advantages in the Blackstone ProSeries 2-Burner 28″ Griddle Cooking Station with Hood. Its features make this a standout griddle, and most customers seem thrilled with their purchase.
Pros:
Quick, easy assembly
Dual Burners
Great cooking quality
Convenient cooking features (paper towel holder, magnetic tool holder)
Well priced
It comes equipped with a hood
Cons:
The top hood isn't very secure (it doesn't come secured with bolts and can fall off easily)
It doesn't have as many BTUs as the standard Blackstone 28 flat top grill
Some customers report receiving their griddle with dents or damage
Final Thoughts
The Blackstone ProSeries 2-Burner 28″ Griddle Cooking Station with Hood has some excellent features that make it a standout griddle and a worthy investment for those looking to take their griddle game to the next level.
The powerful dual burners allow users to cook multiple items simultaneously. The propane heat source is effective as it not only heats the griddle fast, but it heats the cooking surface evenly for a more balanced, delicious meal.
Compared to the standard Blackstone griddle, there aren't too many differences in functionality and how the griddle works. The differences are more in that the ProSeries is larger and has better features (like the hood). However, the standard has more BTUs than the ProSeries.
All in all, the Blackstone ProSeries 2-Burner 28″ Griddle Cooking Station with Hood is an excellent option if you're looking to purchase a new flat top grill. If you're in the market for a new griddle, consider the Blackstone ProSeries 28 inch griddle for all of your grilling needs.