Whether you cook on a Blackstone griddle or an alternative brand of flat top grill, you're going to have a lot of tools and accessories you'll be using. One way to help organize everything and make hauling everything out to the cooking area is Blackstone Cook and Carry Griddle Caddy. 
The Blackstone griddle caddy is a Walmart exclusive and may be the perfect tool for you to use to store your ever-growing collection of griddle tools and accessories conveniently. Here's a list of some of the many tools you may have for cooking on your Blackstone griddle:
Tongs
Heat resistant gloves
Squirt bottles
Basting dome
Infrared thermometer
Grease trap liners
Paper towels
Basting brushes
Seasonings
As you can see, there's a ton of tools you may be using while cooking, and keeping them consolidated to a convenient griddle caddy can be a huge help. Keep reading for more information on the design and functionality of the Blackstone Cook & Carry Griddle Caddy.

Blackstone Cook and Carry Griddle Caddy Design
It's no surprise that Blackstone did a nice job developing the caddy as it's designed with gas griddle users in mind. It's large enough to accommodate the big griddle accessories like a basting dome setting it apart from other grill caddies available. 
In addition to the main storage compartment, there is also a bottle holder that can accommodate 2 squirt bottles, as well as a spice pocket for storing your go-to seasonings.
The caddy base is watertight, so it's not a problem if you place it on something wet. The handle makes it easy to carry the caddy, even when fully loaded though it is removable if you prefer to take it off once at your griddle or leave it off altogether.
There are 360 degrees of webbing on the outside of the caddy, so this allows you to move your bottle holder around or add additional accessories. Overall the caddy is well built, sturdy, and large enough to handle a considerable amount of tools and accessories.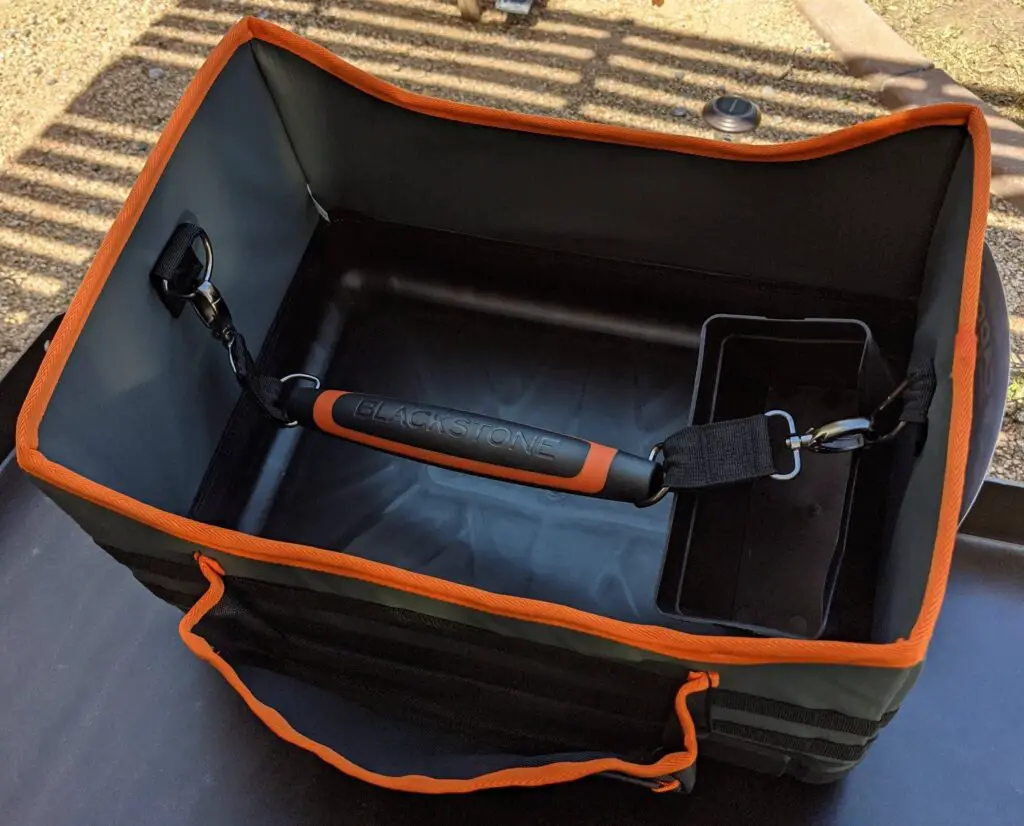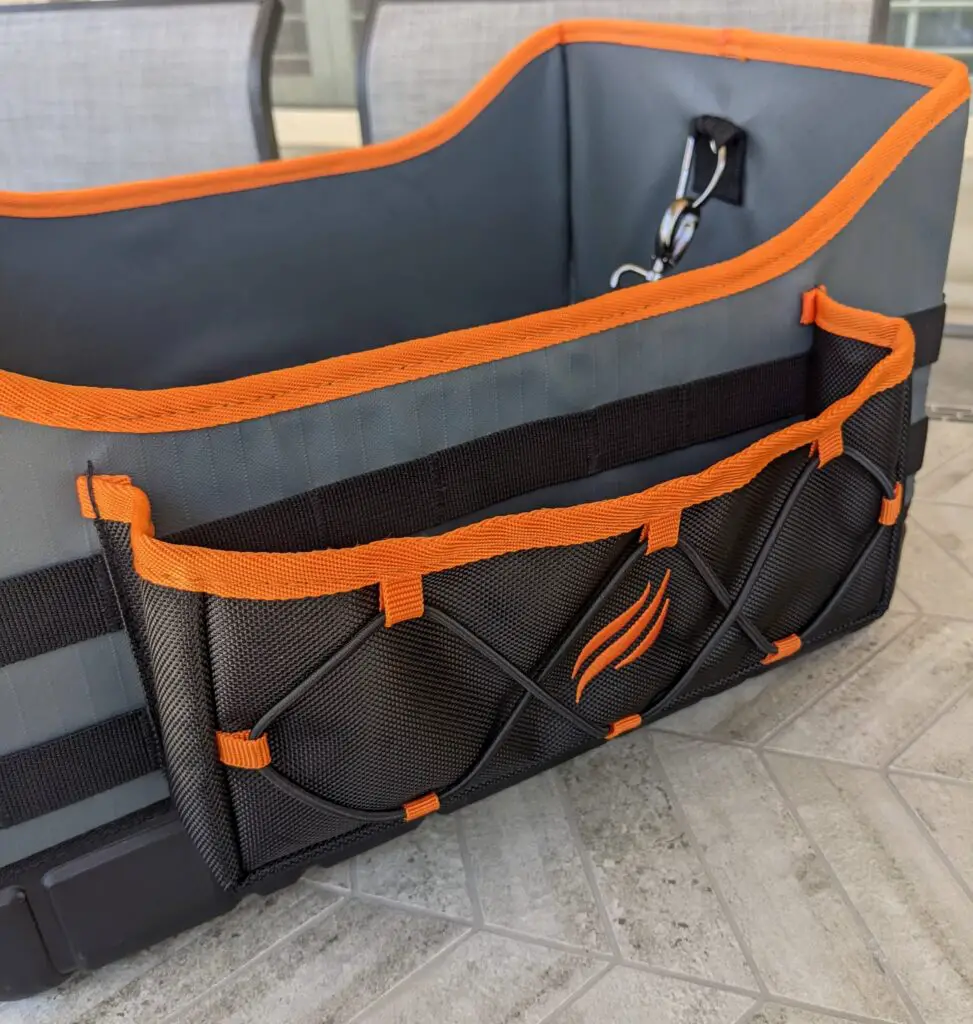 Blackstone Cook and Carry Griddle Caddy Functionality
Because of how much it needs to hold, the Blackstone griddle caddy is fairly large. It will take up a decent amount of space but keeps everything you need when cooking in an easy-to-grab container. 
Once your done cooking and have cleaned your tools, place them back in the caddy and store them until next time. When you're ready to cook again, you can quickly grab the caddy and head outside with everything you need to work with. 
The removable handle is a helpful feature. Once at the griddle with the caddy full of tools, I recommend unhooking the handle to give you easier access to your tools inside.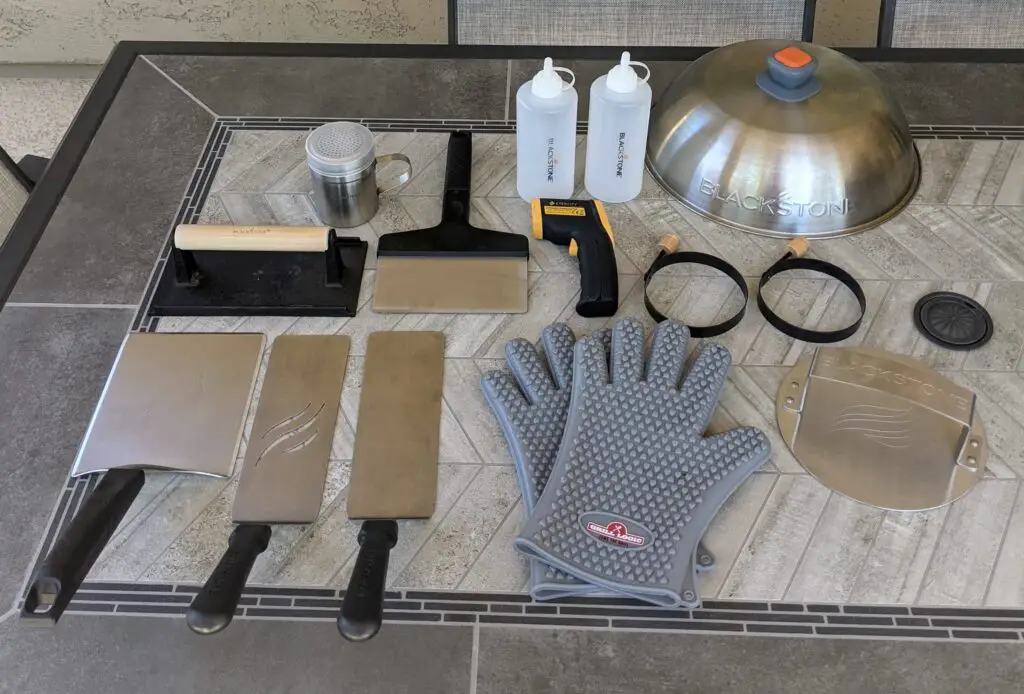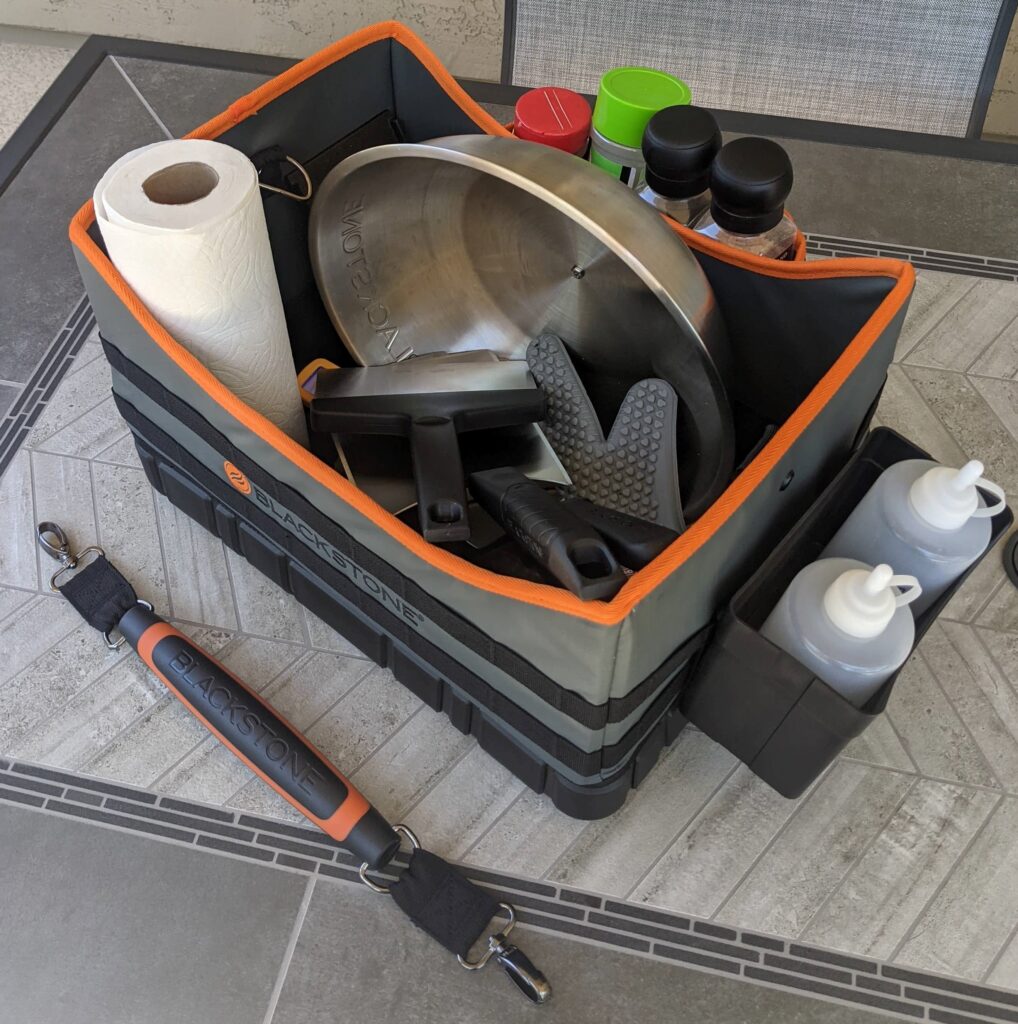 Having the bottle caddy and seasoning pocket on the outside is nice, so they are separated from the tools, and you can avoid any potential messes that might occur if they were in the caddy with all the tools and accessories.
Using the griddle caddy has certainly kept things more organized and made transporting my "kit" of tools out to the griddle quick and easy. 
Pros & Cons
After having used Blackstone's Cook & Carry Griddle Caddy for a few months now, here are the main pros and cons to be aware of when deciding whether or not to purchase it. 
Specs:
Dimensions: 17.00 x 12.00 x 11.00 Inches (L x W x H)
Weight: Approximately 6 lbs.
Pros: 
Large caddy designed specifically for griddle tools
Convenient bottle holder & spice pocket
Watertight base
Removable handle
360-degree webbing
Cons:
A bit bulky because of its size
On the pricey side
Final Thoughts
This griddle caddy really is an excellent option for carrying your ever-increasing amount of griddle tools and accessories. After having used the the Blackstone caddy, it's definitely made my cooking experience much easier. I always have everything I need on hand simply by grabbing this caddy out of my pantry. 
It's a bit on the pricey side, but I will say that it was worth the money. It's very well built, and other griddle/grill caddy options out there wouldn't accommodate all my tools and certainly not large ones like the basting cover. 
If you're looking for a portable caddy to carry your griddle (or grill) tools, you definitely won't be disappointed with Blackstone Cook and Carry Griddle Caddy.