If you love cooking on your Blackstone griddle or other brand of flat top grill, there are a lot of tools and accessories at your disposal. One of these tools is a griddle press. You may hear these called a bacon press or burger press, but they're all essentially the same thing.
A press is a piece of metal with a handle that can be used for various purposes when cooking on your flat top grill. We'll explain everything you need to know about this great tool and how it can enhance your griddle cooking experience.
The 5 Best Griddle Presses
If you want to skip right to our category winners, here you go! If you're looking for in-depth information about what to look for in a griddle press and detailed reviews of our category winners, keep reading.
Best Overall Griddle Press
Victoria Cast Iron Griddle Press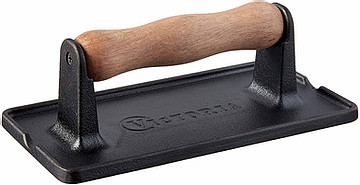 Best Smash Burger Griddle Press
Cuisinart CISB-111 Smashed Burger Press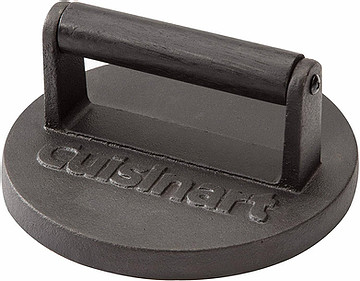 Best Large Griddle Press
Cuisinart CGPR-223 XL Cast Iron Griddle Press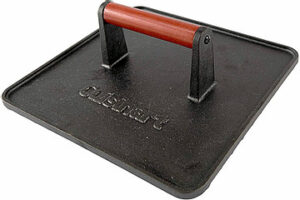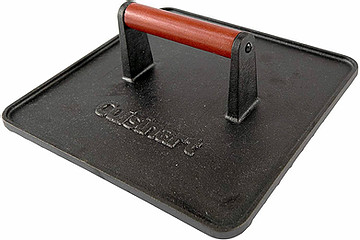 Best Cast Iron Griddle Press
Lodge Pre-Seasoned Griddle Press

Best Stainless Steel Griddle Press
Winco Griddle Press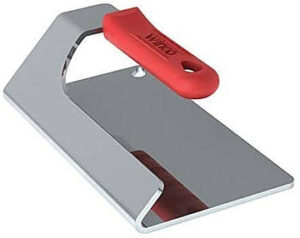 Best Overall Griddle Press
Victoria Cast Iron Griddle Press
Best Smash Burger Griddle Press
Cuisinart CISB-111 Smashed Burger Press
Best Large Griddle Press
Cuisinart CGPR-223 XL Cast Iron Griddle Press
Best Cast Iron Griddle Press
Lodge Pre-Seasoned Griddle Press
Best Stainless Steel Griddle Press
Winco Griddle Press
How to Use a Griddle Press
One of the great advantages of a griddle is the ability to press foods and get a nice even crust across your food's entire surface. The weight of the press helps ensure maximum surface contact between your food and the piping hot cooktop.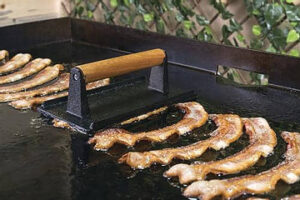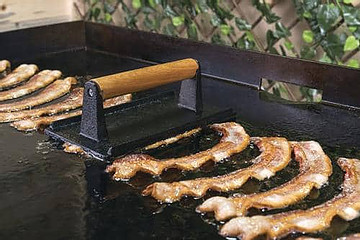 Some foods have a tendency to curl up off the griddle's cooktop (looking at you bacon.) By resting the press on top, you can prevent this and keep your food flush against the cooktop as it cooks. Another way to use the griddle press is to preheat it on the flat top and then place it on top of your food. This will allow you to cook the food from both the top and the bottom at the same time. This saves you time and can help cook your food steadily.
Griddle presses are a great option for foods like smash burgers, bacon, sausage, and panini-style sandwiches. They come in various shapes, sizes, and materials, so we'll make sure you know what to look for when making your selection.
What to Look for in a Griddle Press
When selecting a griddle press, there are a handful of things you need to consider. You'll want to be aware of these before choosing which griddle press to purchase. Let's take a look at these factors.
Material
All griddle presses will be made of metal, but they come in a few different offerings, which each have their own advantages and disadvantages. The majority are made of cast iron, but you can also get ones made of stainless steel.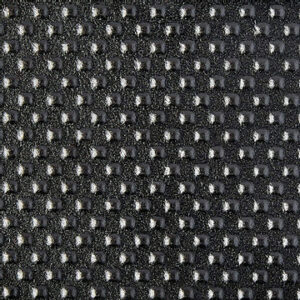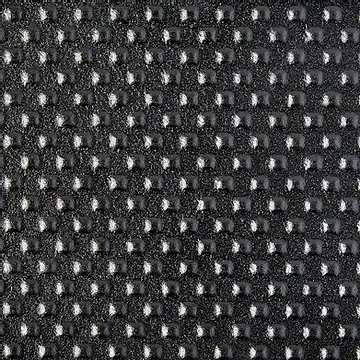 Cast iron will both maintain heat and distribute it more evenly across the press compared to stainless steel. Stainless steel is still effective, and the upside is that it's much easier to care for. Cast iron requires more effort to clean and maintain than stainless steel.
Size and Surface Area
Griddle presses come in different shapes and sizes. Some are circular, some are rectangular, and some are square. They also come in small, medium, and large sizes. These all influence what they are best able to accomplish.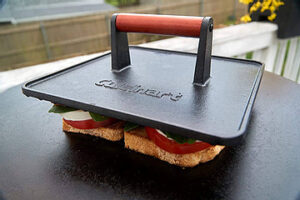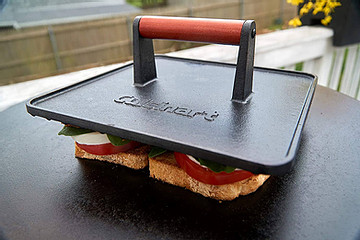 A large square griddle press is great for covering a large quantity of food but less well equipped for something like smash burgers, where a smaller round one is a better option.
Finding the right size press depends on how you intend to use it. Small and maneuverable may be preferable, or something larger that covers more food may be what you are looking for.
Weight
The press's weight is important because of how much pressure it will apply to your food without you actively holding it down.
The heavier the weight, the more pressure it will apply, resulting in better surface contact between the food and the cooktop. Heavier griddle presses also tend to retain and distribute heat better, so they stay hot longer and cook your food more evenly.
The Handle
You might not think this is that important, but the handle's material matters when dealing with a hot griddle press.
Handles may be made of metal, wood, or silicone. The advantage to wood or silicone is they are less likely to get hot, making handling the press without a glove a nonissue.
A metal handle can get hot after prolonged use but is more versatile since it is all metal. This allows you to use the press in the oven and on a campfire in addition to griddles and grills. It also allows you to season it in the oven if needed.
Price
As with any purchase, you need to weigh the cost of the item compared to other options. You may find a griddle press you like that costs about $30 but see a comparable one for half that price.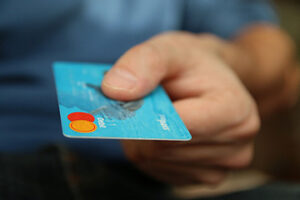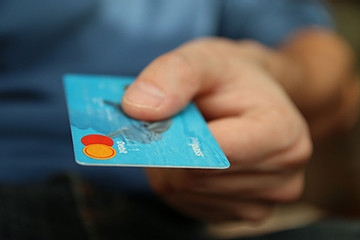 It just depends on what features you want and how much you are willing to spend. You definitely don't have to buy the most expensive option, but you may not mind spending a few more dollars on getting the exact one you want.
Best Griddle Press Reviews
Now you know what to be aware of when looking for a griddle press. We've looked carefully at all the options out there and selected the best griddle presses available. Here are our category winners and a review of each one, including the pros and cons.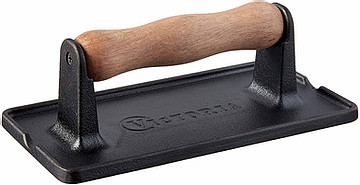 Of all the griddle press offerings, we like the Victoria Cast Iron Griddle Press the best overall.
If you consider all of the things one looks for in a griddle press, it checks the most boxes.
It's made of excellent quality cast iron, has a good size metal surface, wooden handle, and is priced well. Whether you're making griddle bacon, griddle sandwiches, or smash burgers, this press has got you covered.
Some of our other favorite griddle presses excel at certain tasks but if you're looking for the best all-around griddle press, then look no further.
Pros:
Large surface area
Removeable and comfortable wood handle
High-quality pre-seasoned cast iron
Cons:
Requires cast iron maintenance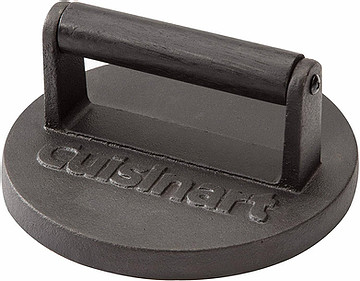 If you are looking for the best burger press to make smash burgers, this is a great option. The Cuisinart CISB-111 is made of heavy-duty cast iron and is specifically designed for making smash burgers.
The wooden handle doesn't get hot when cooking, and the 1cm raised edge helps lock in the juices as you're pressing the ground beef onto the cooktop.
If you prefer smaller smash burgers, the press isn't as effective as it's intended for 1/4 lb. patties. Overall this does a great job if you're making smash burgers, so if you want a press specifically for that or would use the press for that primarily, then you'll be happy with the Cuisinart.
Pros:
Designed specifically with making smash burgers in mind
Cast iron with a wood handle
Raised edge helps lock in the juices while smashing.
Cons:
Less versatility since it's designed specifically for smash burgers
Not as effective if using less than 1/4 lb. of ground beef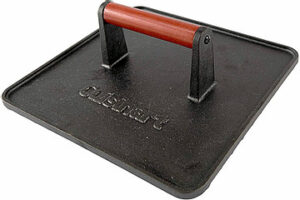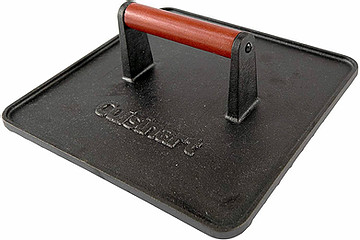 If you want to get more volume cooking out of your press, then this may be the option for you. Because of its large surface area, you can use it on twice as much food as smaller rectangle presses. It can accommodate 2 large panini sandwiches or 2 large steaks at the same time easily.
This is also the best bacon press for making griddle bacon. If you're making a big batch of bacon (as many of us love to do), then you'll need a larger press to cover all of it. Smaller presses can only cover a handful of slices.
What it's offered in size, it lacks in maneuverability. It's bulkier, so it's more cumbersome to work with and isn't ideal for making things like smash burgers. Despite that, if you need a larger press for the volume of food you cook, then this is the way to go for sure.
Pros:
Large size allows you to cover lots of food.
Wooden handle
Well priced for how large it is
Cons:
Less maneuverable than smaller griddle presses
Not ideal for smash burgers

Cast iron is the primary choice for griddle presses, and this is one of the best available.
Lodge is a well-trusted name in cast iron products, and this griddle press is no different. It's 3 lbs. of heavy cast iron, so it maintains and distributes heat really well.
It's smaller, so it's easier to handle, but you don't have as much surface area to work with. Also, you will need to properly clean the press and apply oil after each use in order to maintain it like a cast iron pan.
That being said, it's very good quality and very versatile as it can be used in the oven, on the stove, on the grill, or over a campfire. If you're looking for a pure cast iron griddle press, then look no further.
Pros:
It heats evenly and has excellent heat retention
Very easy to handle and manipulate
Heavyweight for its size
Cons:
Smaller surface area than most griddle presses
Extra work to clean and maintain the cast iron
The handle can get hot after prolonged use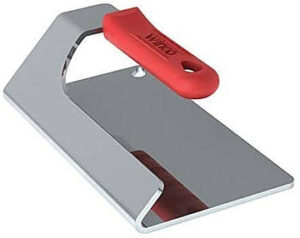 Stainless steel is definitely easier to care for and requires less maintenance vs. cast iron.If you don't want the additional hassle of caring for a cast iron product, then a stainless steel press would be a great choice, and this is the best one available.
It comes with a silicone sleeve handle, which stays cool while cooking. The bottom of the press is flat, which you may prefer over some of the textured bottoms found on cast-iron models.
If you're looking for stainless steel over cast Iron, Winco's griddle press is the best option. It gets the job done and is lower maintenance.
Pros:
Easier to clean and maintain compared to a cast-iron press
Heat-resistant silicone handle stays cool.
Cons:
It doesn't maintain heat as well as a cast-iron press.
It weighs less, so it requires more "elbow grease" to press food down.

Final Thoughts
A griddle press is a great tool to use with your outdoor gas griddle. They can help you cook you food faster and allow you to get that perfect sear you're looking for more easily.
They are great for making sandwiches, steaks, chicken, bacon, sausages and a must have for delicious smash burgers.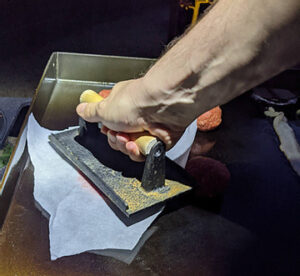 You may even want to purchase more than one so you can handle more food at one time without requiring an extra large press. Hopefully we've provided you enough information to make your selection or you found one of our winners that suits your needs.
Be sure to check out our article on how to use your griddle accessories for more information on using your griddle press and other griddle tools.
Read more expert griddle accessory reviews on Griddle Sizzle now!