An egg ring is a small, circular cooking tool that allows for a uniformly cooked and perfectly round egg when cracking the egg inside. An egg ring produces the perfect egg for placing on sandwiches, burgers, and more. These are practical for those who like the presentation of their food in addition to the taste. So what are the best egg rings? Keep reading to see.
While possible to cook your eggs in a pan, griddles are a great way to produce the perfect, evenly-cooked egg. If you're looking for the ideal tool to help you cook eggs on your handy griddle, we have a list of the best egg rings for griddles. Keep reading to find out which one will work best for you.
Best Griddle Egg Rings
If you want to get right to it and see the category winners, then here you go. After careful review, these were our top egg rings for griddles. For additional information on egg rings and in-depth reviews of each, keep reading!
Best Overall Egg Rings
Meidong Egg Rings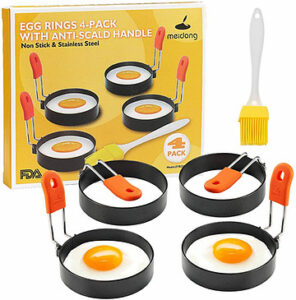 Best Stainless Steel Egg Rings
Aebitsry Egg Rings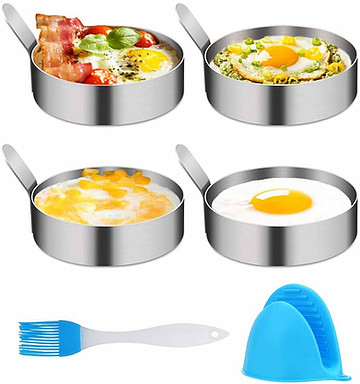 Best Silicone Egg Rings
Blackstone Egg Ring Bundle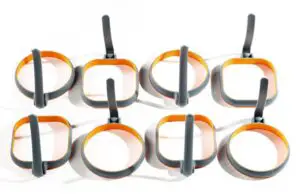 Best Large Egg Rings
Cuisinart Ultimate Griddle Ring Set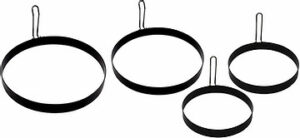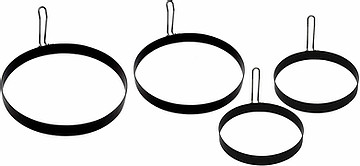 Best Shaped Egg Rings
TGJOR Egg Cooking Rings

Best Overall Egg Rings
Meidong Egg Rings
Best Stainless Steel Egg Rings
Aebitsry Egg Rings
Best Silicone Egg Rings
Blackstone Egg Ring Bundle
Best Large Egg Rings
Cuisinart Ultimate Griddle Ring Set
Best Shaped Egg Rings
TGJOR Egg Cooking Rings
What to Consider
When buying egg rings for use on a griddle, there are few things to keep in mind. They come in different materials, sizes, and shapes and have different advantages and disadvantages to be aware of.
We'll take a look at each of the different factors involved so you can make an informed decision when making your griddle egg ring purchase.
Egg Ring Material
Egg rings may come in a variety of materials though the most common are metal and silicone. When choosing your egg ring material, there are a few things to keep in mind.
With metal egg rings, food is more prone to sticking in comparison to silicone egg rings. If you purchase metal egg rings, remember to use sufficient oil or butter to coat the ring's surface to avoid this.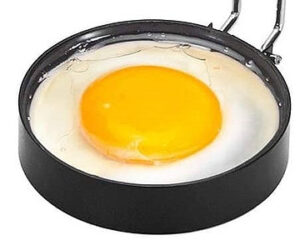 A metal egg ring will also get much hotter than silicone, which is essential to keep in mind while cooking. Some people prefer this as it helps cook the food within the ring, while others prefer silicone which won't heat up.
A metal egg ring provides a more evenly cooked egg, but you sacrifice some of the silicone option's perks. Eggs and other foods are easier to get out of a silicone ring because they are flexible and non-stick.
You may prefer metal rings for some foods and silicone rings for others. It doesn't necessarily have to be just one or the other. Whether you go with metal or silicone, the most important thing is that they lay flat on the surface, so there is no leakage. You want to maintain that perfect circle.
Egg Ring Size
Egg rings come in a multitude of sizes. The width can range anywhere from 2″ to 8," but they can also have different heights.
Some more shallow rings may not be well equipped to handle something like a frittata that has additional mix-ins taking up space in addition to an egg.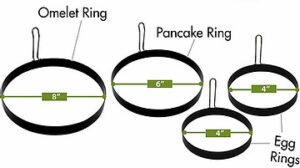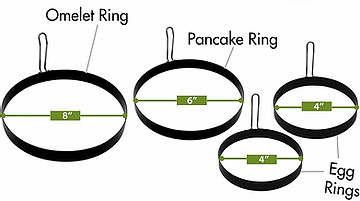 Your typical fried egg on the griddle utilizes a 3 to 4-inch ring. This is what you would see on an Egg McMuffin sandwich at McDonald's, for example. Larger rings may be better suited for foods like pancakes or omelets.
If you're looking to cook eggs, you may not need bigger rings, but the packages available come with various egg ring sizes to give you the flexibility you may be looking for.
How to use Egg Rings on a Griddle
Egg rings allow you to get an evenly cooked, circular egg every time. You can get a perfectly shaped egg to use in an egg sandwich on an English muffin or biscuit. It can also give you the right-sized egg for topping a burger.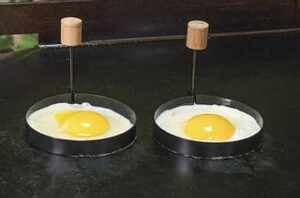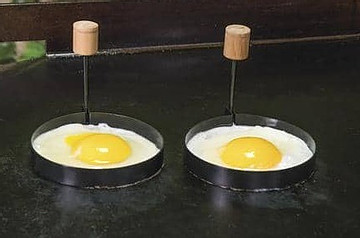 They are frequently referred to as egg rings, but they can be used for many foods. Some examples are hash browns, burgers, patties, pancakes, crab cakes, and crumpets! The rings are excellent for those who want their food to visually pleasing and maintain a uniform shape. Here's how to do it:
Heat the griddle to low and apply some cooking oil to the cooktop.
Brush the egg ring surface with cooking oil and place it on the preheated griddle
Crack an egg into the egg ring mold and allow it to cook for about 3 minutes
(Optional) If you wish to flip the egg, carefully remove the egg and then flip it with a spatula. Allow the egg to cook until it reaches your desired level of doneness.
Egg Ring Reviews
Continue reading our best-of egg ring review to find out which egg rings may suit your household the best! Whether you care about size, shape, or material, our review has precisely what you need to buy the best griddle egg rings for you.
Best Overall Egg Rings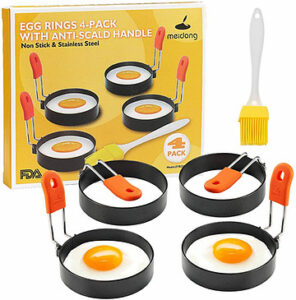 Rated 4 out of 5 stars on Amazon, the Meidong Egg Ring 4-Pack is an egg ring made of stainless steel.
It features a non-stick promise and a scald-proof handle to make sure you don't get burnt. It also comes with an oil brush to help with sticking.
Quite simplistic, brush oil along the inside of your egg ring with an oil brush and crack an egg inside. The Meidong Egg Ring is also dishwasher safe, allowing for easy clean-up.
The handle even folds inwards for an easy-to-store device. The Meidong is 2.95 inches in diameter.
Pros:
Non-stick
Scald-proof handle
Oil basting brush included
Dishwasher safe
Easy storage
Cons:
Non-adjustable, one size only.

Best Stainless Steel Egg Rings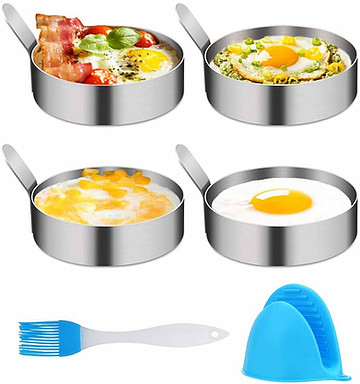 These stainless steel egg rings come with the option to choose either a 4 or 6 pack. There are 2 different size options as well, measuring 3 inches or 3.5 inches in width.
They guarantee a non-stick material that ensures the safe removal of your eggs from the pan and the egg mold quickly.
Along with eggs, these rings are excellent for making smaller pancakes and other breakfast foods. Included is a silicone grip that helps keep your hands safe from burns, as well as a basting brush.
Pros:
Size and amount customizable
Includes basting brush
Non-stick
Money-back guarantee
Cons:
Stainless steel can get extremely hot.
Have to use (included) silicone finger glove

Best Silicone Egg Rings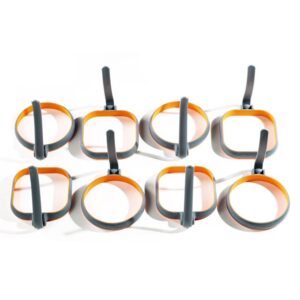 Blackstone is a major player in the gas griddle market, and they have lots of great accessories to go along with their flat top grills. Their silicone egg rings are a great offering that provides a whopping 8 egg rings in total. 
There are 4 round molds and 4 square molds, which is helpful depending on your cooking. 8 Rings may be too many, so that's a potential drawback if you only want a handful. 
Overall they are an excellent quality product. They're dishwasher safe and have foldable handles to make storage easier. If you're looking for silicone egg rings, then these are definitely your best bet.
Pros:
Easy to clean
It comes with both square and round molds
Foldable handles
Dishwasher safe
Cons:
It comes with 8 rings which may be too many

Best Large Egg Rings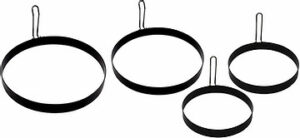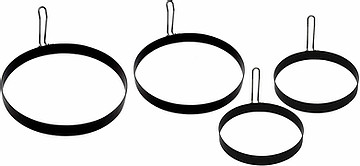 These different-sized egg rings are perfect for those who love eggs and all types of food. This set includes 4 rings of different diameters. It includes (2) 4-inch rings, (1) 6-inch ring, and (1) 8-inch ring.
These rings are ideal for things like eggs, omelets, and pancakes with toppings!
The rings are non-stick to ensure your meals are as effortless as possible. The different sizes allow for multiple-sized pancakes or eggs, depending on your mood. If you want the perfect-shaped cakes or eggs, these are the best large egg rings available. The egg rings are made of stainless steel.
Pros:
Different sizes take into account all your other needs.
Non-stick
Work well for more than just eggs.
Cons:
Handles may get hot
Only one of each larger size ring

Best Shaped Egg Rings
These shaped egg molds are the ideal breakfast addition for young children or those who enjoy cute food ideas! These rings are perfect for not just eggs but pancakes, too. Shaped molds are an ideal treat for your family on a weekend morning.
It comes with 4 different shaped molds and makes cooking pancakes and eggs a lot of fun. They are made from silicone, so these rings come with all the benefits, like being dishwasher safe and nonstick. 
They come with foldable handles to ensure you don't get burned and to make storage easier. Also included is a silicone brush for applying thin layers of oil to the rings and griddle surface.
Pros:
Made with silicone and includes silicone brush
Dishwasher safe
It comes with foldable handles
Exciting for young children
Cons:
It can sometimes leak a little underneath

Final Thoughts
In the end, the egg ring you decide to purchase depends entirely on your preferences. Silicone or metal, small or large, there's no wrong answer. They all will cook the food as intended. Just select the ones that meet your needs and budget best.
Having metal and silicone is also a good route since you can switch between them depending on what food you're using them for.
A set of egg rings are the perfect addition to a breakfast-loving household. If you love making eggs, pancakes, hashbrowns, and more on your Blackstone griddle or electric griddle, consider one of the options above. No matter which egg rings you go with, you're sure to find the perfect breakfast accessory!
Read more expert griddle accessory reviews on Griddle Sizzle now!