One of the most delicious mainstays of French cuisine is the crepe. While nothing beats an authentic French creperie dish, you can capture the essence of the meal at home with a suitable crepe maker.
It seems that crepes have recently crept into American food culture, and their versatility makes them an excellent choice for breakfast or dessert.
Category Winners
Best Overall
Health and Home 13 Inch Crepe Maker & Electric Griddle
Best Stovetop Pan
Nordic Ware Traditional French Steel Crepe Pan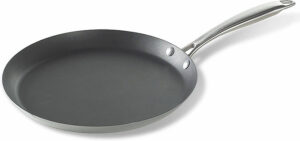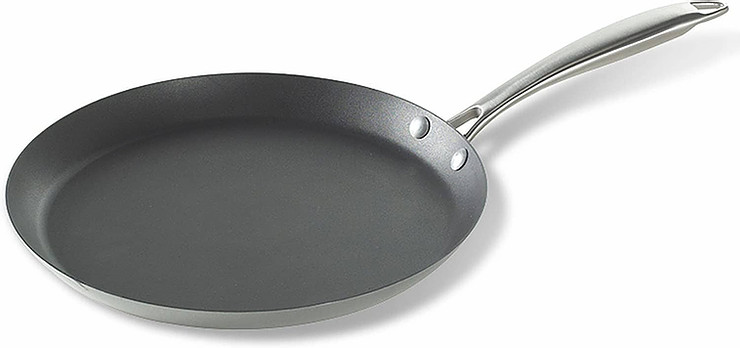 Best Budget
Chefman Electric Crepe Maker Griddle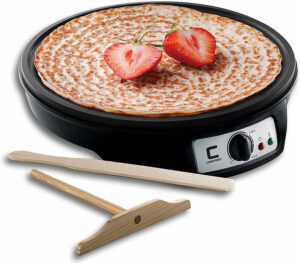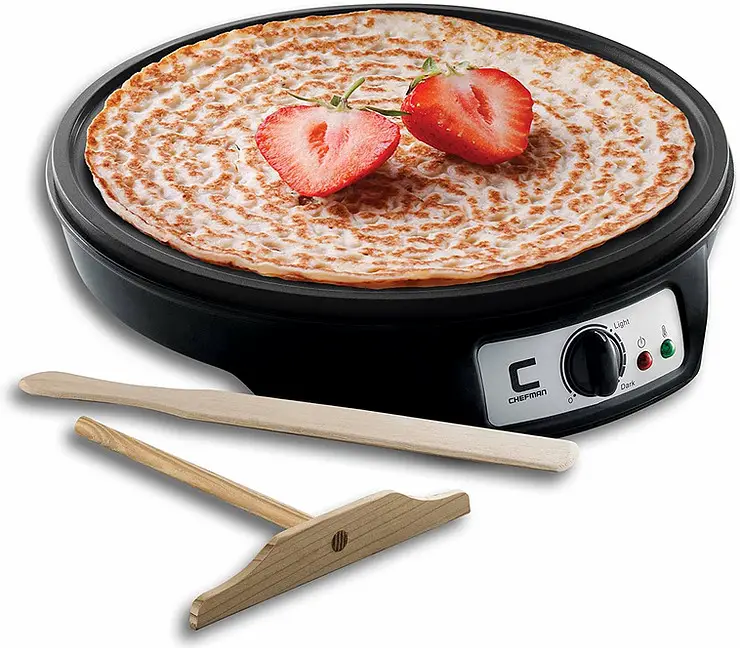 Best Cordless
Salton Cordless Electric Crepe Maker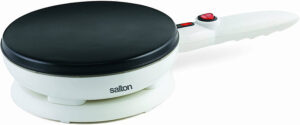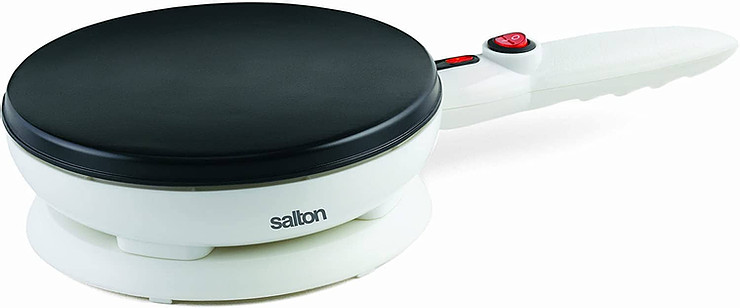 Best Commercial Grade
Waring Commercial WSC160X Heavy-Duty Electric Crepe Maker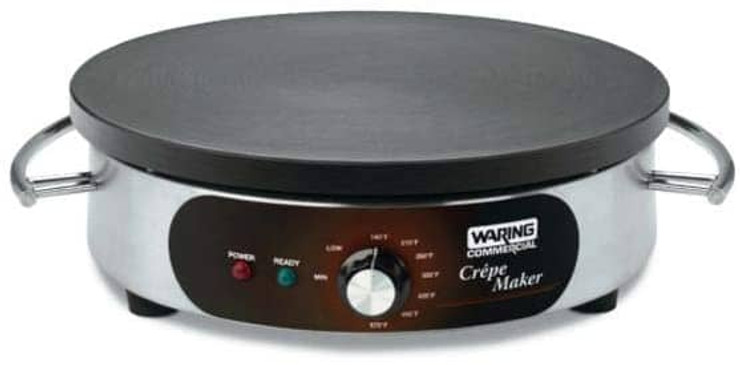 Best Versatility
Cuisinart CPP-200 International Chef Crepe Pizzelle Pancake Plus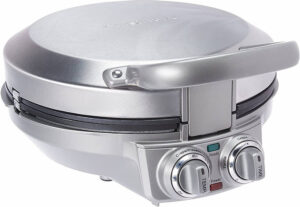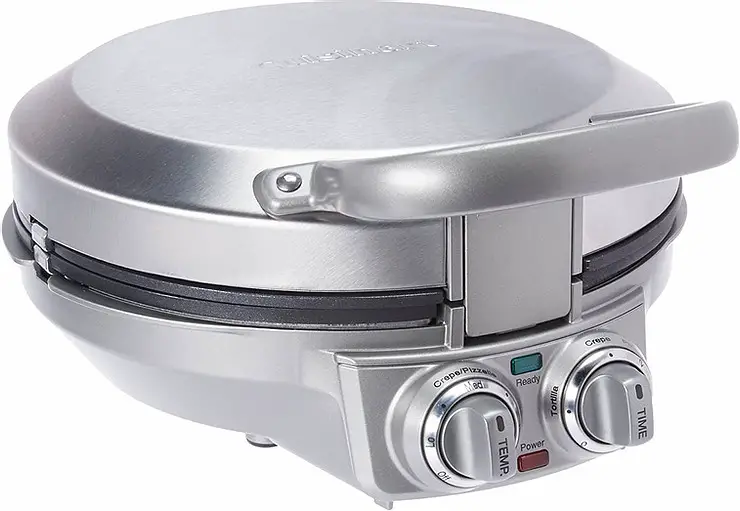 Best Overall
Health and Home 13 Inch Crepe Maker & Electric Griddle
Best Stovetop Pan
Nordic Ware Traditional French Steel Crepe Pan
Best Budget
Chefman Electric Crepe Maker Griddle
Best Cordless
Salton Cordless Electric Crepe Maker
Best Commercial Grade
Waring Commercial WSC160X Heavy-Duty Electric Crepe Maker
Best Versatility
Cuisinart CPP-200 International Chef Crepe Pizzelle Pancake Plus
What are Crepes?
A crepe is essentially a thin pancake. In its most basic form, a crepe has flour, water, and salt. You cook it in a pan with butter or oil and use a scraper to flatten it out. Once formed, the crepe is folded and stuffed.
Crepes originated in Bretagne in the 12th century. This event coincided with the introduction of buckwheat to northwest France. The earliest crepes utilized buckwheat, water, and salt instead of white wheat flour to create a tasty treat.
One of the best aspects of the crepe is that you can make it savory or sweet. Sweet crepes employ a spread of icing sugar, jam, fruit puree, honey, or chocolate. The spread is topped with dry ingredients like coconut, almonds, sugar, or cinnamon. You can also fill crepes with fruits, whipped cream, or cream cheese. Savory picks include eggs, cheese, veggies, and meat.
How to Make Crepes
The easiest way to make crepes is with a crepe maker. You will need a crepe maker, a crepe spreader, a spatula, a mixing bowl, a hand mixer, a ladle, and a pastry brush.
The base ingredients include flour, eggs, and salt, but you can add milk, butter, and sugar. They taste fantastic with a splash of vanilla extract or orange flower water. You will also need an assortment of fillings and toppings.
For griddle crepes, you will need to turn it on medium heat. As it fires up, mix the flour and eggs well. Then pour in the milk to achieve a thick consistency. Here you can add the sugar and flavoring.
Now that you have finished your batter, you will need to brush the griddle with melted butter or oil. Pour the crepe on a griddle with the ladle, and use the crepe spreader to smooth it out. Try not to break the circle and maintain the evenness of the crepe.
Once you see bubbles forming on the crepe, poke the edges with a spatula. When ready, you can lift them. Slide the spatula under the crepe, lift, and flip it upside down. The time to cook varies between crepe makers.
You can either fill up the crepe on the griddle or your plate. You should fill savory crepes while hot to melt the cheese, but you can fill sweet crepes up anywhere. Move quickly to avoid overcooking your food.
You can fold the crepes by rolling them up, folding them in half, or attempting a triangle shape. To finish them off, sprinkle some cinnamon or powdered sugar on top, add some whipped cream, or maybe a chocolate drizzle.
A winning combination we love is these lemon and honey crepes. They don't take long to prepare, and they make a scrumptious breakfast.
What to Look for When Deciding on a Crepe Maker
There are several factors to keep in mind when deciding upon the best crepe maker for your needs which we'll review now.
Type
There are three types of crepe makers to use at home: crepe pans, electric crepe makers, and portable crepe makers.
Crepe pans have a small size, making them easily storable. They provide excellent heat control to cook the crepes to a crisp, golden brown quickly. Pans also make it a breeze to drip off excess butter or oil, and you can cook other things on them.
Electric crepe makers work well for making multiple crepes at a time. These are some of the largest crepe makers, yet they are affordable and lightweight. The biggest issue is their temperature control, but they come with nonstick surfaces for easy cleaning and maintenance.
Portable crepe makers work best if you struggle with spreading and flipping the batter. They cook evenly, require no flipping, and keep the crepes thin. These makers heat quickly, but their highest temperatures are lower than their standard electric counterparts. While they have wipeable surfaces, the gaps between the surface and handle make them challenging to clean.
Size
The best crepe pan or maker will have a size between 7.5 and 16 inches. For beginners, their best bet is to use a 10 to 12-inch pan. To spread the batter, they can pick up the pan and rotate their wrist to spread it evenly over the surface.
Versatility
Choosing the best crepe pan provides more versatility. You can easily use it for other applications, like frying eggs or making pancakes. Many electric crepe makers allow you to use the surface like a griddle. The versatility depends mainly on the size.
Material
Crepe pans often come in nonstick, cast-iron, or enameled cast iron. Cast iron heats faster and hotter than nonstick pans, but they are heavy and have rust issues. Nonstick lets you readily flip your crepe and is less likely to burn your food.
The best electric crepe maker surface will feature nonstick aluminum plates that you can wipe clean without damaging the parts. Portable crepe makers are also typically made of nonstick aluminum, offering the same wipe-clean capabilities as standard electric ones.
Cost
Crepe pans usually cost $30 to $40 because they are thin pans with no intrinsic heating properties. Electric crepe makers vary drastically in price depending on the size and quality.
Larger and more efficient models can cost hundreds, but you can find cheaper ones. Highly rated portable crepe makers cost a few hundred, but you can find them for a low price as well.
Keep in mind that in terms of electric-based crepe makers, you get what you pay for. If you are willing to shell out $200 for one, you will likely get a more durable product that cooks better than the $30 options.
Top 6 Crepe Makers
Below we have rounded up six of the best crepe makers available today. All of them can make amazing additions to your kitchen, depending on your needs.
Best Overall Crepe Maker
The Health and Home No Edge Crepe Maker is the best electric crepe maker we found. It crafts professional-quality crepes for an affordable price. The 1000-Watt heating element and 13-inch diameter allow you to cook large crepes quickly.
This best crepe maker offers versatility as it also works to make tortillas, pancakes, flatbreads, and eggs.
It has a nonstick coating to aid in flipping the crepe and cleanup. The temperature control knob adjusts the temperature rapidly, and a light indicator tells you when the surface has fully heated. It comes with side handles to aid in movement. The Health and Home Crepe Maker also includes a crepe spreader and spatula.
The lack of an edge means you will need to be more selective in your toppings since liquids could slip off the sides during cooking, but it improves the flipping and removal process.
Pros:
Rapidly heats the pan.
Moderate-sized surface to cook larger quantities at once
Versatile
Quality temperature control
It comes with a spatula and spreader
Durable materials
Easy to clean and use
Cons:
Edge-free design limits toppings

Best Stovetop Pan Crepe Maker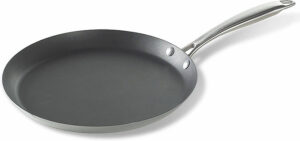 The Nordic Ware Traditional French Steel Crepe Pan features a larger diameter than most pans, expanding your cooking options. It is made with aluminized steel to guarantee its durability, and its nonstick surface makes it easy to clean and use.
This best crepe pan has a design that features an American pan and an imported handle. The sloped edge helps with removing the crepe without tearing, and it keeps the toppings in. Since it is a pan, you can cook eggs, omelets, pancakes, and more with it.
You can wash it in the sink with a mild soap, but it is not something that you can wipe down.
Pros:
Lightweight and durable
Versatile
Easy to use
Large diameter for a crepe pan
Good value for its price
Cons:
Nonstick material chips off after some time
Cannot handle high heats like cast iron

Best Budget Crepe Maker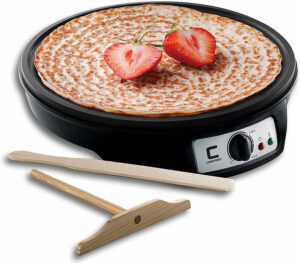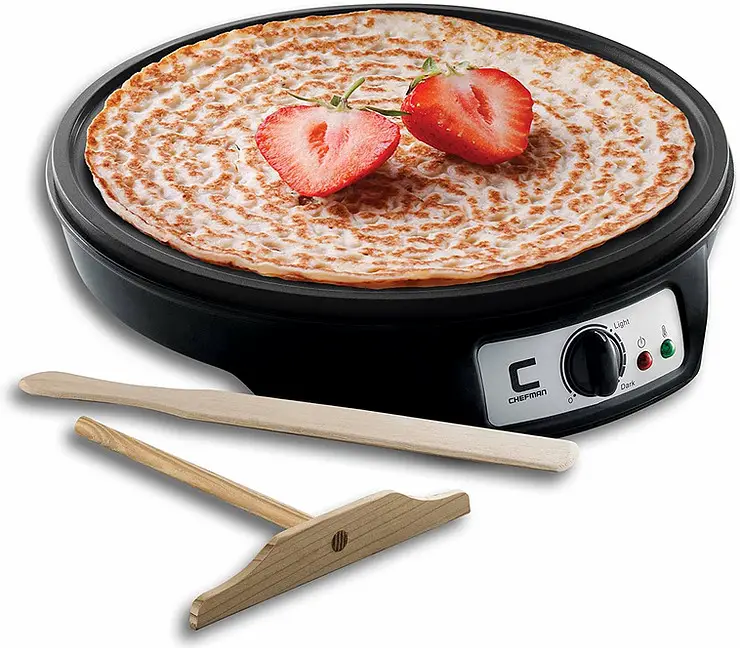 The Chefman Electric Crepe Maker cooks crepes, pancakes, blintzes, bacon, eggs, and more. Its 12-inch nonstick surface increases the quantity you cook at once, and the temperature control knob and light make this budget option a great choice.
It comes with a free crepe spreader and spatula to aid in the cooking process. The griddle features a lip to contain the ingredients better. Its nonstick surface is easy to clean, helping you use it throughout the day.
The Chefman operates at 120 V and 1500 W, making it extremely powerful and hot, especially for the price. It has a 30-day money-back-guarantee and a 1-year warranty.
Pros:
Easy to clean and use
Control over the temperature setting
Indicator light feature
It comes with a spatula and spreader, and access to Club Chefman's recipes
Warranty
Great value product
Versatile
Cons:
Heats slowly
Short power cord

Best Cordless Crepe Maker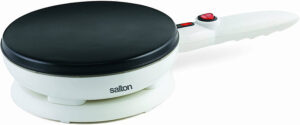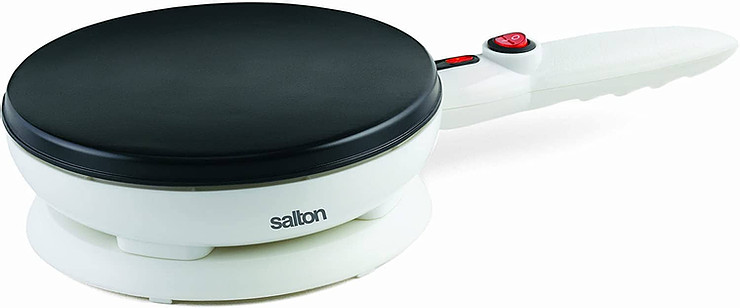 The Salton Cordless Electric Crepe Maker is the best portable crepe maker we could find. The base features a neat cord keeper. The pan is nonstick and easy to wipe clean.
This tiny crepe maker makes 7.5-inch crepes. Because of its small size, it lacks the versatility of many other models. However, you can dip it directly into the batter, making a unique cooking experience. The tray also helps you drip off the excess for extra-thin crepes.
The controls are a simple on/off switch and indicator light. It comes with easy-to-follow instructions and recipes to make delicious crepes. As with other portable makers, the batter can get stuck between the pan and handle.
Pros:
Easily creates crepes
Comes with recipes
Great for beginners
Nonstick surface
Tidy storage
Cons:
Lacks the versatility of larger models
Batter sticks between the pan and handle

Best Commercial Grade Crepe Maker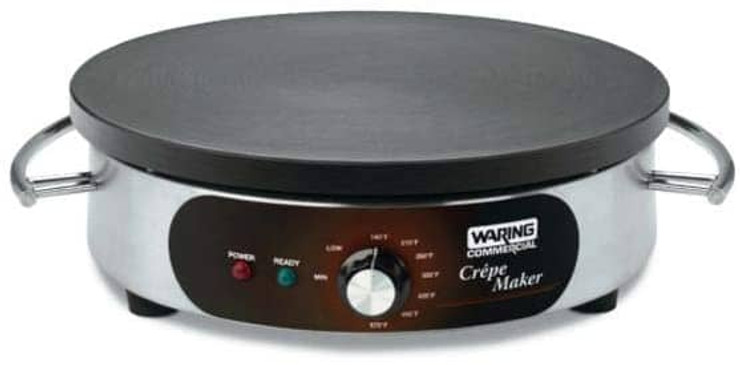 If you have a bigger budget, the best commercial-grade crepe maker is the Waring Commercial WSC160X Heavy-Duty Electric Crepe Maker. With a 16-inch diameter, this powerhouse makes huge crepes.
It has a durable stainless steel base with heat-resistant handles. The cast-iron surface becomes nonstick when seasoned, thus assisting in the cleaning process. The temperatures adjust so that you can cook your food quickly. It is versatile and large enough to let you make a myriad of breakfast foods.
The WSC160X has an indicator light to tell you when it has heated thoroughly. Aluminum was added under the cooking surface, making it more even.
Pros:
Heavy-duty and durable
Cooks quickly and thoroughly.
Adjustable temperatures
Huge diameter
It lets you cook very large or many crepes at once
Versatile usage
Cons:
Needs adequate seasoning to use
Expensive
Heavy pan makes it difficult to store
Cast iron can rust if not cared for

Best Versatility Crepe Maker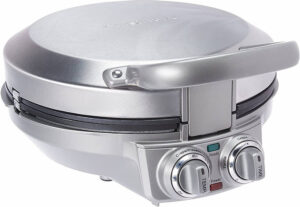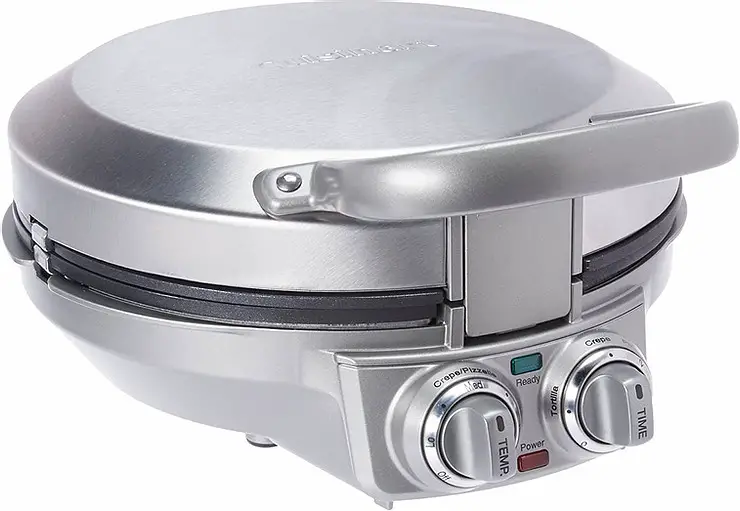 The most versatile crepe maker is the Cuisinart CPP-200 International Chef Crepe/Pizzelle/Pancake Plus. You can tell by its name!
This model is best for someone who wants an appliance that has multiple purposes. While many models let you make crepes and pancakes, this one has reversible plates to make pizzelles. It has a cone roller to make ice cream cones as well.
The CPP-200 features a lid to cook the food on both sides at once, speeding up the cooking process. You can also keep it open to cook on both sides of the pan. It has two knobs to control temperature and cook time, as well as an audible alarm.
The nonstick cooking surface is only 8.3 inches, so it lacks the size of many. However, it comes with a measuring spoon, tongs, and cone roller to make up for it. You can remove the plates and wash them in the dishwasher, adding convenience.
Pros:
Easy to clean and store
Extremely versatile
Dishwasher-safe
Reversible and nonstick
Cons:
It doesn't always cook evenly

Final Thoughts
If you are passionate about crepes, there are countless high-quality crepe makers available to turn your kitchen into a French creperie.
No matter how you like your breakfast classic, a crepe maker makes a useful appliance. Many have multiple functions to cook all of your favorite foods on one surface.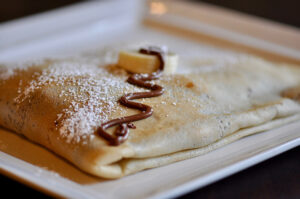 Make sure to consider your budget and skill when shopping. If you are a beginner, look for a low-cost and versatile option. Seasoned chefs may wish to invest in a fancier machine.
No matter what, one of these best crepe makers can make a delightful addition to your kitchen.
Read more of our top lists on our Griddle Sizzle now!