If you love cooking on your flat top grill, there's a ton of awesome accessories available. They can make things easier, help you cook better food, and even protect you.
We'll take a look at 8 more helpful tools out there you can use to make your griddle cooking experience even better.
If you haven't already, don't forget to check out our first article on the top 7 must-have griddle accessories. If you're looking for, even more, see our list of 10 great tools & accessories for cooking on a Blackstone griddle. Let's take a look at 8 additional griddle tools out there and see how they can help enhance your time cooking on the griddle.
Pancake Batter Dispenser
If you love to whip up big batches of pancakes on your griddle, then a pancake batter dispenser might be the tool for you.
These dispensers are an easy way to get your pancakes going fast. All you need to do is fill the dispenser with pancake batter, and then using the handle, you can efficiently squirt the batter on. Some models even have a built-in whisk so that you can make the batter right in the dispenser!
The pancake dispenser allows you to get consistent-sized pancakes cooking on your griddle without some of the mess and dripping that comes along with spooning the batter on. Also, you can make them as small or large as you want to depend on how long you hold open the batter dispenser.
Some people prefer one large pancake and others like a bunch of small silver dollar pancakes. If you're looking to have some fun, you can easily make pancakes in different shapes quite easily. My kids love when I make pancakes in fun shapes or pancake letters of their initials.
I have the Blackstone dispenser that came in their breakfast kit, including egg rings and a griddle press, but there are tons of great options. 

Egg Rings
Looking for an egg that's uniformly shaped and fits perfectly inside an English muffin? Then egg rings are what you're looking for.
These versatile rings are perfect for making eggs but can also be used when making hash browns, crab cakes, and more—anything you want to keep in a neat mold.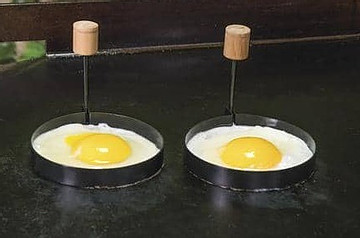 They come in various sizes and different materials—these all over their own advantages and disadvantages. If you love egg sandwiches like the Egg McMuffin and want to make them on your outdoor gas griddle, then these are a must-have.
For more details on egg rings and our favorite options, check out our best egg rings for griddles.

Butter Wheel
A butter wheel is a special tool you may not be aware of. They quickly and evenly add a butter coating to bread and buns before putting them on the griddle. This helps you get a crisp, toasty texture on the bread with an amazing buttery taste.
One of these is perfect for cooking batches of hamburgers, grilled cheese, or griddle sandwiches. Anything you want to apply a nice coat of butter to before cooking can be rolled along with this butter wheel.
You place butter inside the device and place it right on your griddle top. The heat melts the butter, and you can quickly and evenly apply the butter by rubbing the bread across the wheel.
Waiting for butter to soften and spreading it on each piece of bread with a knife is time-consuming. If you have melted butter ready on a convenient rolling tool that coats the bread fast and evenly, it will save you lots of time and do a better job.
If you find yourself buttering bread regularly while using your griddle, then I definitely recommend picking one of these up. I'm a fan of the Cuisinart CBW-201 Butter Wheel, but there are other good options available as well.

Dredge Seasoning Shakers
Whether it's salt, pepper, or other seasonings you want to apply to your food while cooking, shakers make seasoning your food quick and easy.
These are especially helpful if you have a large flat top grill like the Blackstone 28, Blackstone 36, or larger Camp Chef models.
If you're cooking up a large batch of burgers, these make it easy to quickly and evenly season them as you're cooking. You can even use them to apply things like cinnamon or powdered sugar if you're making something like French toast.
It's helpful to have dedicated seasoning shakers so you're not borrowing the salt and pepper shakers from your kitchen table. You can keep these with the rest of your griddle tools and accessories, so you have everything you need.

Basting Brushes
Basting brushes are a great way to apply sauces, mustard, butter, and oil to your food while you're cooking. Often, the food will need one or more of these liquids applied as your cooking, and these brushes are the ideal tool to do so.
Basting brushes also allow you to apply sauces compared to spooning them evenly. Some perfect times to use these are applying things like garlic butter, BBQ sauce, or teriyaki sauce. Any time you need to apply a liquid to your food while cooking, these are the tool you'll want on hand.
They come in different sizes and materials, but I always recommend ones made with longer handles made entirely out of silicone. Long handles are safer as they keep your hands further from the hot griddle cooktop, so you're less likely to get burned. Silicone brushes are very heat resistant, so they won't melt or burn and dishwasher safe, making cleanup a snap.
They come in in a few different varieties and are sold individually or in larger packs of 2 or more. They are pretty inexpensive, so these are a great tool to add.

Griddle Mat
You may have found that as you're cooking, especially extra greasy things like bacon or smash burgers, that oil and grease splatter quite a bit. These drops of grease tend to land on the ground around your griddle, which can stain your patio or deck.
The solution to this is a grill/griddle mat. These mats are specifically designed to protect the floor around your griddle so that any food or grease landing around it is caught by the mat rather than your floor.
These mats are designed to protect the area around your flat top grill and can be cleaned easily as needed. If you keep your griddle on a surface you want to protect, then this is what you're looking for.
I use the Cuisinart CGMT-300 Mat, but there are some other good offerings as well.  Just make sure to get one large enough to accommodate the size of griddle you have.

Lighting
This one may not be the most obvious accessory, but many times, the sun is down while you're cooking, and you need sufficient lighting to whip up dinner. This is especially the case during the winter months when the sun goes down earlier.
You have several options when it comes to lighting your griddle. There are headlamps, grill lamps, and standalone lights.
Headlamps are a simple way to have light aimed at your griddle as you cook. They are handy because they not only keep your hands free but provide light wherever you are looking. I use one of these and find it provides sufficient lighting while cooking.
If you don't want a lamp attached to your head, there are grill lamps you can place around the griddle. It probably goes without saying but don't place them on the actual cooktop, but on the lid (if you have one) or the shelves next to the cooktop. These are a good alternative to the headlamp.
If you want some serious lighting and don't mind spending more, you can go with a standalone work light. These LED lights are great for lighting up the whole cooktop and surrounding area. Additionally, you can use them for various other things when not in use at your griddle, so there's added utility to these.
You won't always find yourself cooking in the dark, but if you do have to deal with this from time to time, you'll be glad you have a proper tool to get the job done.
Apron
Griddling cooking can be a dirty job. Lots of oil and grease sizzling and popping on the cooktop surface. You may not think much of it until one of your favorite pairs of pants or shirts gets a grease stain on it.
I've had to throw out my fair share of clothes because I got grease stains on them I couldn't get out. Having a proper apron can save you money by protecting your clothes from stains you may not get out.
There are many affordable options out there that will allow you to cook without the worry of ruining your outfit.
If you purchase an apron like our favorite from Hudson Durable Goods, it'll come with pockets allowing you to keep things handy, whether that's griddle tools or even just your cell phone.
If you don't have an apron, I suggest not waiting as long as I did, and you go ahead and pick one up.